Alexandra Kaspin – Travel Nurse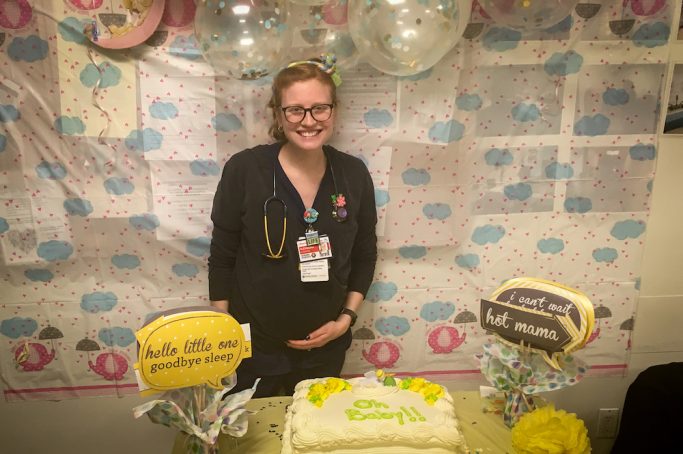 I've noticed today's young couples don't seem focused on accumulating stuff.  Rather than decorating the perfect home, they tend to seize their moments and their days and jump into experiences.  Deciding it was the ideal time in their lives to travel and explore, Alex Kaspin and her husband eagerly declared, "Let's do this!"
Shortly after their marriage, the newlyweds cleared out their Philadelphia apartment, stashed wedding gifts in storage, and sold what worldly goods did not fit in their car.  And off they drove – all the way to San Diego – to Alex's first stint as a travel nurse.
Travel nurses offer hospitals and clinics a creative solution to handle staff shortages during busy times.  "Staffing companies serve as the go-between for the hospitals and nurses," Alex tells me,  "to fill the typically 13-week assignments.  Positions generally require two years of experience in a nursing specialty – surgical, emergency room, operating room, labor and delivery – and a license to practice in the hospital's state," she continues. 
A Drexel University grad and four-year veteran of a Philadelphia pediatric emergency room, Alex's first assignment was in the ER of a San Diego children's hospital.  The animated redhead "really wanted to engage in the California lifestyle," which is a popular sentiment among the travel nurse community. 
Some travel nurses "are in it for the adventure, and others want to make as much money as possible," Alex points out.  This outlook determines their housing direction – either a rent-free apartment issued by the staffing company or a tax-free stipend toward an apartment the nurse finds through a Facebook group or temporary housing site. 
Alex and her husband, employed in information technology and able to work from home, opted for the staffing company housing in San Diego.  "I felt like I was on a vacation and, sometimes, I had to work," Alex jokes.  "I worked three 12-hour shifts a week and had four days off to float in the pool, work out in the gym, organize my wonderful walk-in closet…," she says, laughing.
And time to play.  Thirteen-week assignments go by FAST, and it is easy to picture Alex plotting and organizing and executing the next field trip.  With no time to truly settle in and get her bearings, Alex started checking items off the bucket list –   the zoo and Coronado and the Channel Islands, hikes with college friends. "And Disneyland – every other weekend," – says the vivacious young woman clad in a Mickey Mouse sweatshirt!
Taking the time to explore a week or two between all assignments, Alex and her husband camped their way across the country.  Pitching a tent at national parks and scenic spots- Yellowstone, Mount Rushmore, Olympic Peninsula, Zion, Badlands –  along the way to Seattle and the Pocono Mountains and New York City, "it was the perfect time in our lives to live this way," she recalls. 
It makes sense pediatric hospital emergency rooms, Alex's specialty, overflow with patients during the busy winter flu season.  Summers are quieter, and so is the job market.  As the nurse at a sleep-away camp nestled in the Poconos, Alex lived in a cabin on a lake during the summer months. "We, and our cat, loved it!" Alex says. 
Wondering if it's hard to constantly be the new person in the group, Alex points out "the travel nurse responsibility, personality wise, is to observe the dynamics of your group.  You are not there to change things or impose your own ideas."  A travel nurse's job is to support and assist, and the staff employees are typically truly grateful for the help.   After talking with Alex, I am not surprised at all she was "always welcomed with open arms."
Although Alex did have a coveted NYC assignment at a Columbia University hospital – complete with a charming brownstone walkup! – the timing never worked for a San Francisco stint.  "I was lucky though," Alex admits.  "California is popular on travel nurse wish lists, and I spent two rotations in San Diego." Denver didn't work out either, the avid snowboarder explains, "because everyone else wants to take advantage of the ski season."
The greatest learning experience from her nursing positions around the country? Alex says she "realized you can make your home – and be happy – anywhere, as long as you embrace what the area has to offer."  "My husband and I now have new friends in new cities, and we feel very fortunate.   As hard as adjusting to new things might be, you grow with change, and that is a blessing," she continues.
Completing her Manhattan assignment and moving back to Philadelphia just last week, Alex is excited to establish a routine, plant some roots, and live in a home longer than 13 weeks.  She looks forward to "no suitcases for awhile" – and  becoming a new mother in April. 
Photos courtesy of Alex Kaspin