Erin Donnelly – What Exactly is Kombucha?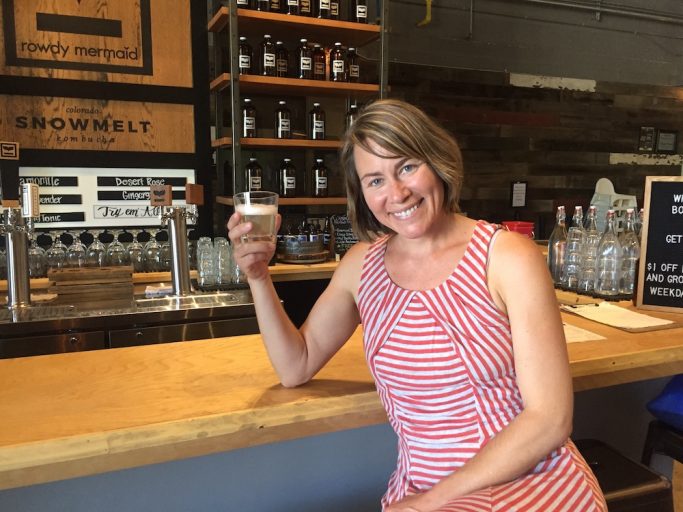 Strolling into the Rayback Collective on a bright, sunny morning, I spot an eclectic array of food trucks, bikers sipping coffee around a fire pit, folks clicking laptops at community work tables, and a vegan ice cream cart.  Combined with a lounge, live music, and an adjacent multi-use trail, this place may be too cool for me…..
Grabbing a stool at the Rowdy Mermaid Kombucha, a kombucha tasting bar inside this restored plumbing warehouse in Boulder, Colorado, Erin Donnelly welcomes me with a bubbly glass of one of her company's concoctions.   Founded in 2013 by her husband, Jamba Dunn, Erin came on board four years later to set up and manage the sales side of their craft-brewed kombucha operation.  With its brewing facilities a few miles away in downtown Boulder, the Rowdy Mermaid Kombucha distributes to grocers and restaurants in 13 states – and the number is climbing.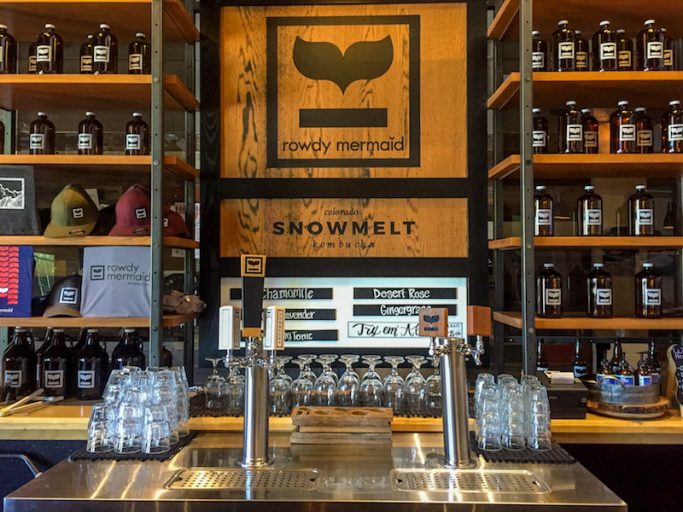 Having no idea what to expect from this fizzy beverage, Erin assures me I am not alone.  According to this personable UC Berkeley Anthropology honors grad, only 14% of Americans have actually tried kombucha in the last five years. Served in a pretty cocktail glass, the mixture reminds me of champagne, a beverage I always enjoy.  Laughing, Erin says their product is often "referred to as the champagne of kombuchas."  "Ours is soft and pretty and sophisticated on the palate," she describes. 
As I sip my inaugural kombucha, I discover it is slightly tart, a bit sour – but in a smooth and delicate and pleasing sort of way. Settling in and relaxing into my new environment, I feel like I am drinking a cocktail (but I'm not!) at 11:30 am.  No wonder Boulder is considered the happiest place in America!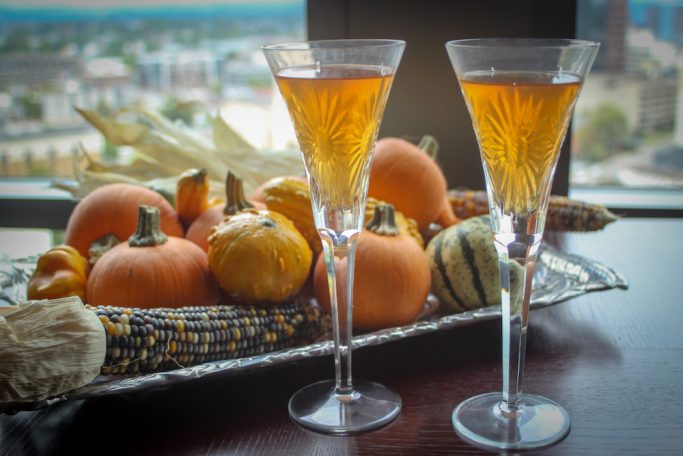 Kombucha is a fermented tea.  Although it's been around for a couple thousand years, the market is just beginning to take off in the US.   Erin explains its origins are "a little cloaked in obscurity," but the roots are believed to be in East Asia, Mongolia, and Russia.  "Kombucha comes from the long tradition," she continues, "of people fermenting foods in order to keep and preserve quality."
Making kombucha is somewhat similar to brewing beer – and that's how Rowdy Mermaid Kombucha came to be.   Experimenting with the home beer brewing kit he received as a Christmas gift from Erin, Jamba eventually started playing around with kombucha brewing.   His mission was to make the perfect fermented tea for their young daughter to enjoy – one with no caffeine and very little sugar.
"In beer brewing you begin with hops and barley and malt," Erin explains.  To this mash, you add bacteria and yeast.  The bacteria and yeast consume the food base, and the by-product of their fermentation is the "beverage we know as beer."
"The process," she continues, "is similar with kombucha, but you start with a base of black or green tea.  To this, we add a different family of bacteria and yeast  – known as SCOBY in kombucha fermentation." Interestingly, the SCOBY consumes the tea's caffeine as one of the food sources in the fermentation process.  The end product after fermentation is a probiotic-rich, fermented tea. Like yogurt, it contains the helpful bacteria and acids especially good for us and our digestive systems.
Possibly due to kombucha's health benefits, over a third of Rowdy Mermaid Kombucha's market is 25-55 year old women. After I thank Erin for kindly including me in this demographic, the savvy artist and former designer tells me their beverage – in flavors like Alpine Lavender and Flower Grow and Living Ginger – is raw (not pasteurized) and is naturally rich in probiotics.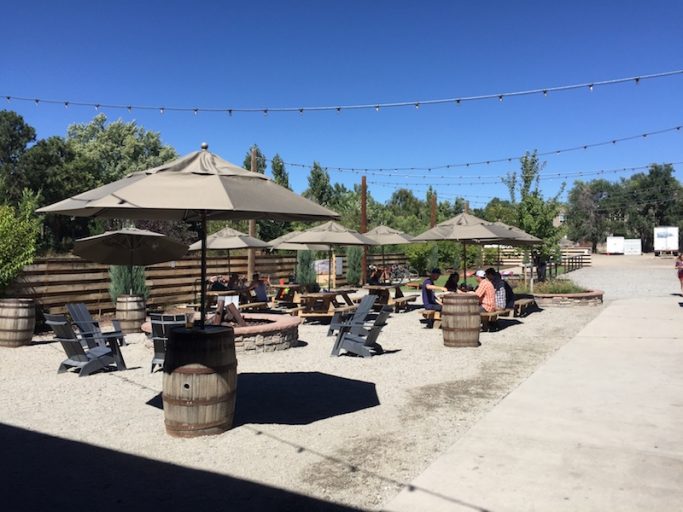 So what about calories, caffeine, and alcohol content?  According to Erin, sugar is only added to the beginning mixture to ensure proper fermentation. Much of this sugar is consumed in the process.   A good estimate, for a 6-ounce glass of their kombucha, is about 30 calories. Certainly less than a glass of wine or a cocktail.  The caffeine level is relatively low also.  Twelve ounces of kombucha contains approximately the same amount of caffeine as a third of a cup of tea.  And alcohol?  It is legally required to be under .5% ABV (alcohol by volume).
Now that I have sampled – and really do like – kombucha, I have discovered a lovely alternative to an extra glass of wine.   Erin and the Rowdy Mermaid Kombucha supply a large number of bottles and kegs to local bars and restaurants.  "There is a burst of interest in having kombucha on tap in bars," she says.  Served in appealing stemware, it is becoming a popular option to choose over soft drinks or club soda.