Mary Laura Philpott – I Miss You When I Blink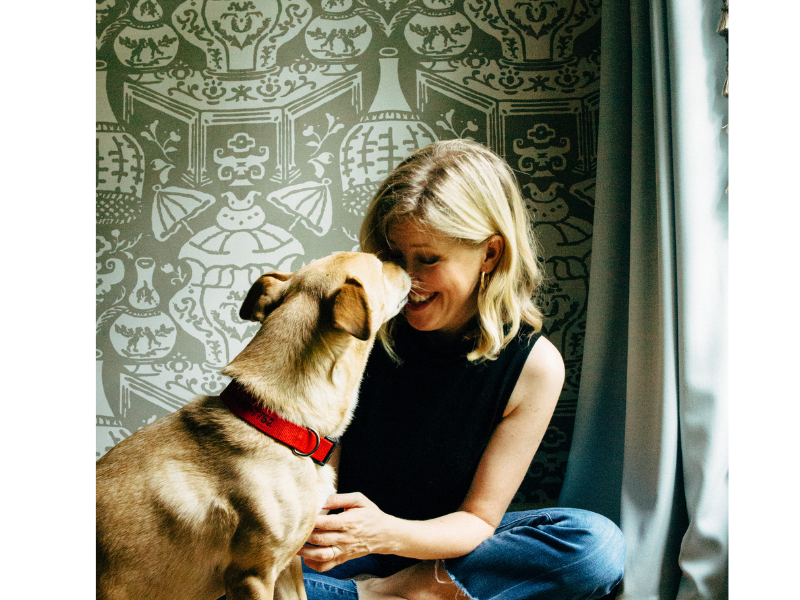 Mary Laura Philpott gets me.
Or at least a big part of who I am. The me who loses my car in the grocery store parking lot, bristles at misspelled words in emails I receive, and counts the steps as I climb the stairs.
In her national bestselling memoir, I Miss You When I Blink, Mary Laura comes across as your best girlfriend or younger sister. Covering topics like reinvention and depression and perfectionism, she convinced me I was normal—when I questioned if I was.
In real life, Mary Laura is as easy to talk with as her book implies. "In 2019, my writing career felt big and outward," she says. After I Miss You When I Blink debuted in April to rousing reviews, she toured the U.S. promoting the personal essay collection.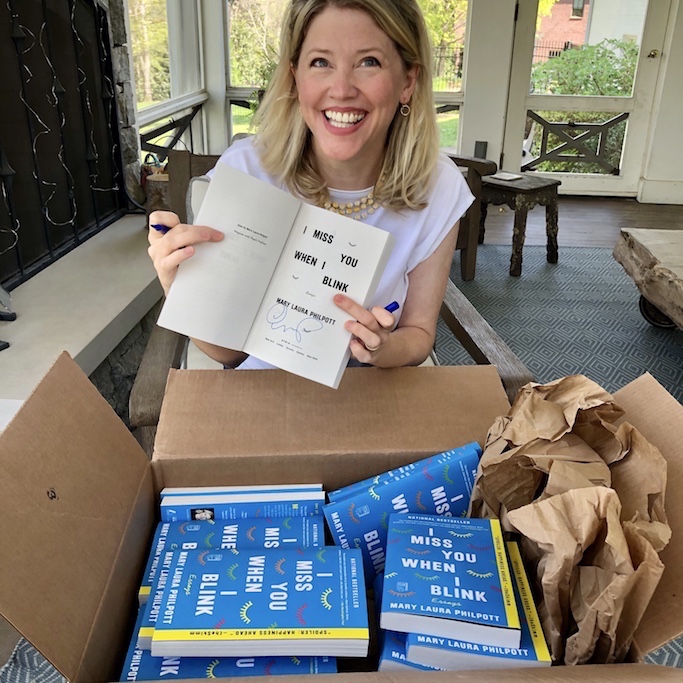 She did her hair and makeup and dressed in real clothes most days. She visited with booksellers and the readers who packed the shops at her book stops and speaking engagements. Women stood in long lines to meet the author who understood them too.
Now it's 2020. After the book's success, it's time for Mary Laura to "come back inward and make life small again." She and her family have settled into a homebound, pandemic routine, with her kids and husband working from various rooms in their Nashville home.
With dogs sleeping at her feet and the occasional turtle rapping at her back door, Mary Laura drafts and tweaks articles on her screened porch.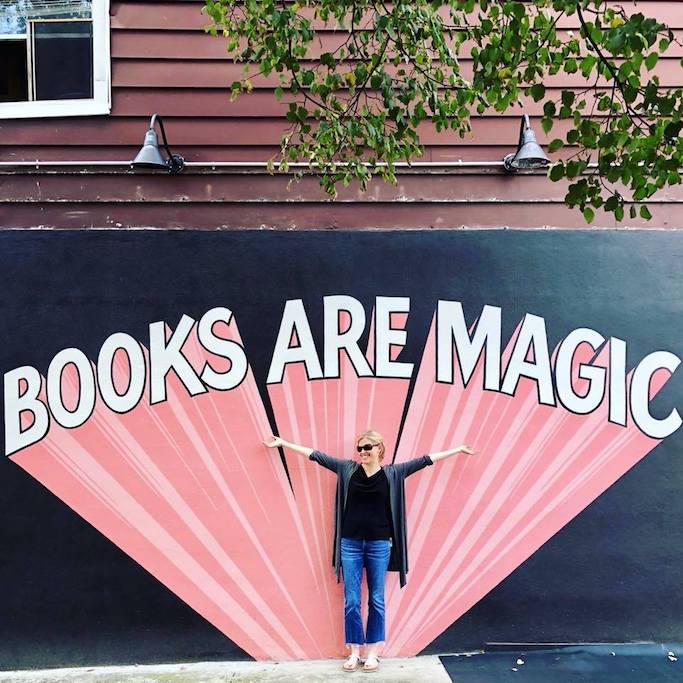 As she cranks out pieces for the New York Times and Real Simple and Garden and Gun, it seems Mary Laura has no shortage of experiences she weaves into stories readers can relate to.
"My brain has two parallel tracks running at all times," says Mary Laura. On the one path, she ponders life transitions, phases we all navigate, and the passage of time. On the other track roll the distracting thoughts that pop into her head. Oh, there's a turtle. Look at the changing leaves. It's peach season.
When she discovers a message to connect her two tracks, Mary Laura can find a story to tell. Those stories involve putting herself—with all her human imperfections—front and center for the world to read.
And the sections aimed at starting over or forgiving yourself are always the parts she writes last. She'd love to describe the funny situations and omit the "personal stuff floating around in my heart and mind," but Mary Laura knows she can't. Or the essay won't work.
The emotional truth resonates with readers. How did she feel when her son admitted his mom's alma mater wasn't the right choice for him? And how did she handle saying goodbye to Atlanta—and all her friends—to start life anew in Nashville?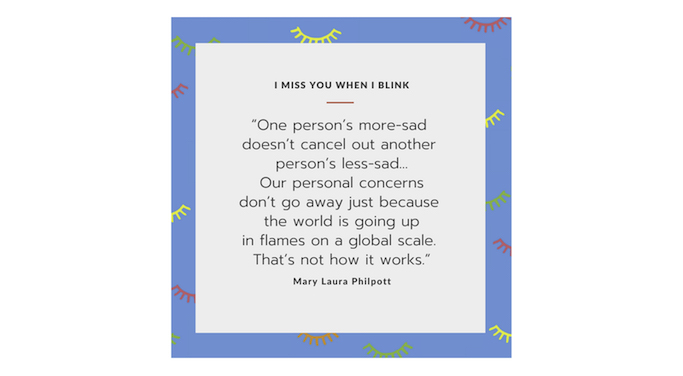 I Miss You When I Blink consists of 32 essays, all adding up to one big story. But not at first… Over the course of 2 1/2 years, Mary Laura wrote "The Joy of Quitting" and "The Perfect Murder Weapon" and "And Then the Dog Died", but in no particular order. "The frustrating, and really hard, process was to determine what larger story all the tiny stories were telling," says Mary Laura.
For weeks, the pile of essays lived all over the Philpott's living room floor. Mary Laura cut them apart, rearranged them, experimented. "One day, the order finally clicked. I had a narrative arc, a storyline," she says. "It worked."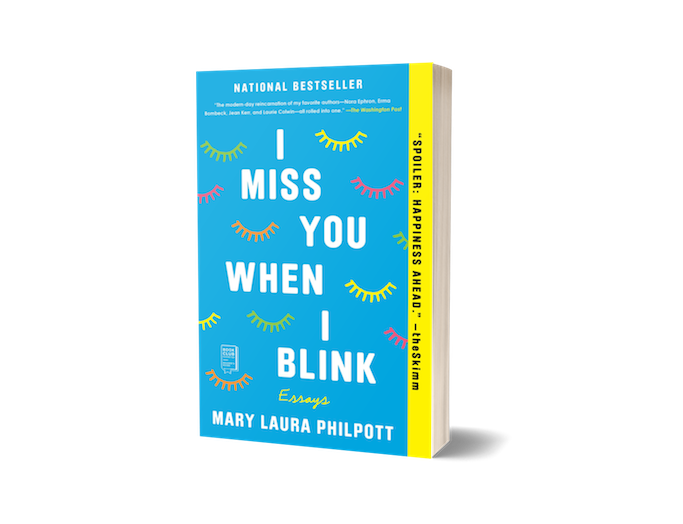 And so does the book cover—with the fun eyelashes—that Mary Laura, a published doodler, pitched to her publication team. "I'm sure they were being polite when they asked if I had any thoughts on the cover design," she laughs. Mary Laura, an Emmy-winning co-host of a Nashville Public Television literary show and former Parnassus bookseller, had plenty of opinions!
With her kids leaving the nest soon, Mary Laura treasures family time. Nowadays, as she works on her second book of essays, she's happy for "the smallness, the togetherness. It's just as hard to write another book," says Mary Laura. "Just as slow. But at least I know the overall theme this time. I know where the book, and I, are headed."
PS—you may also enjoy Younger Next Year
Photos courtesy of Mary Laura Philpott