Kathy Cire – Spreading Joy, Hope, and Peace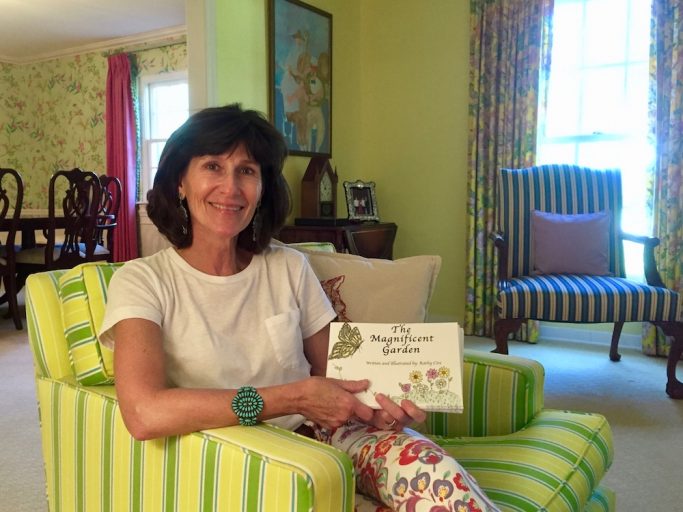 In October 2016, one week shy of her first birthday, Mary Caroline woke up with a fever.  With no health issues, the spirited and curious toddler appeared to have a childhood virus. Her parents and doctors saw no reason to panic.  Until she did not improve.
Three days later, this precious little girl with the infectious smile and big hair bows passed away from a non-vaccine strain of bacterial meningitis. Instead of the family gathering at her birthday party, overflowing with Mary Caroline's favorite pink balloons, they said goodbye to their sweet child.
"We never thought she wasn't going to pull through this," says Kathy Cire. Raised in a tight-knit Houston family, Kathy is close to Erin—Kathy's niece and Mary Caroline's mom.
A mother to two grown sons, Kathy says, "Erin is like a daughter to me." Both women pursued teaching careers and, loaded with patience, are happiest when surrounded by children. They are the type of women who prefer the attention to fall on other people, rather than themselves. "And we are both rule followers," Kathy adds with a laugh. 
The healthiest response to life is joy. –Mark Twain
After the heartbreaking tragedy, Erin's friends took charge and planned a beautiful celebration to honor Mary Caroline's life.  "During her short time with us, she brought a lot of joy and smiles to us—and we are thankful," Kathy says.
But Kathy also wanted to make a difference and have an impact. Running the 3-mile loop at Houston's Memorial Park one morning,  she pondered what she could do to keep Mary Caroline's memory alive.
And then an idea came to her. Butterflies, to different cultures and people, represent hope, comfort, or change. Imagining a butterfly with magical, colorful wings, Kathy envisioned it resting in a beautiful and serene flower garden. Running around the track, she planned the book she wanted to write.
As she showed me her original drafts and thoughts for The Magnificent Garden, Kathy explains she rushed home from the park, sat down at her computer, and typed away. "I didn't know how I was going to do this, but I didn't want to simply talk about the idea," Kathy remembers.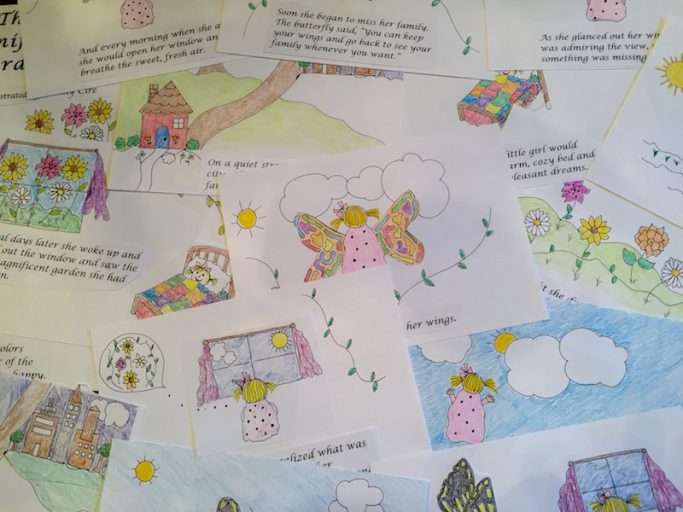 "I was determined to make the book a reality," she continues, "and, throughout the process, I kept telling myself I can do this." And it was a process. Two years of Googling and asking questions and accepting help. Every step of the way was a new challenge.
The second-grade teacher, who has a feel for what appeals to young children, tackled the book's illustrations.  She needed to draw them—for Mary Caroline and Erin. Kathy wanted her drawings to be safe, comfortable, and warm. And she learned illustrating a book is a complicated undertaking. All along the way, people jumped in to help.
Hope is being able to see there is light despite all of the darkness.  –Desmond Tutu
During the two-year endeavor, it seems everyone she encountered had experienced their own heartache—or knew folks who'd lost little ones.  "It was amazing how many people this topic seemed to touch," Kathy says.  A woman helped Kathy scan the illustrations and clean up their imperfections. And told Kathy a friend's daughter died recently. The young woman who guided Kathy through the printing phase mentioned she'd lost a brother while growing up.
The Magnificent Garden Resonates with Kids
When she read the developing story to her second-grade classes, the kids responded to the book, engaged with it.  They "got the message" the little girl in the story was in a safe and peaceful place. At the time of her death, Mary Caroline's older brother was three years old. Hicks was confused and didn't understand his younger sister was not coming back. Kathy hopes her "simple, little book will make a difference and help people, especially children."
This tiny and astute grandmother remembers the moment her book became available on Amazon. As she tutored a young math student, his mom raced into the room and announced she'd purchased Kathy's book.  She planned to give it to a friend who'd suffered a recent loss.
Five-year-old Hicks has a new baby brother now. Erin "can't imagine a better gift than Aunt Kathy's touching story." Determined to honor Mary Caroline and bring hope to families who have lost little ones, Kathy is content. "I've had the privilege of teaching school for years, and I wrote this book—my life is good!" she laughs.
Kathy's book, The Magnificent Garden, is available on Amazon