A Few Days in Portland and Willamette Valley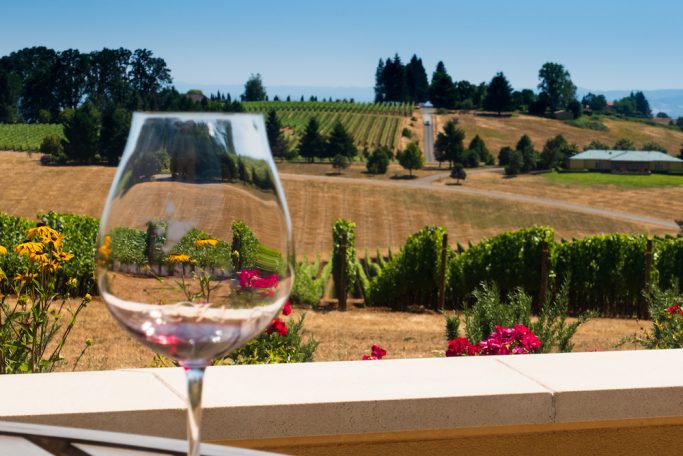 Loaded with hiking trails, bike paths, coffee shops, and craft breweries, Portland, Oregon is a laid-back, long-weekend getaway. Although we didn't time our visit to coincide with the region's fall foliage, blooming lavender fields, or bountiful tulips, we still had plenty to see. Here's a quick roundup to exploring Portland and a couple of points beyond.
WALKING
Downtown's Pearl District offers lots of easy walking among scattered wine and beer tasting rooms, tea shops, and outdoor equipment suppliers. With a coffeehouse on nearly every corner, we didn't have to go very far to find our morning lattes or afternoon pick-me-ups. 
I could spend an entire day in Powell's Bookstore, the world's largest independent bookseller, now third-generation family-owned. Occupying a full city block, it's easy – and fun – to get lost in the maze of color-coded rooms stuffed with books of every imaginable title and genre. You'll also find journals, planners, greeting cards, and Portland merch.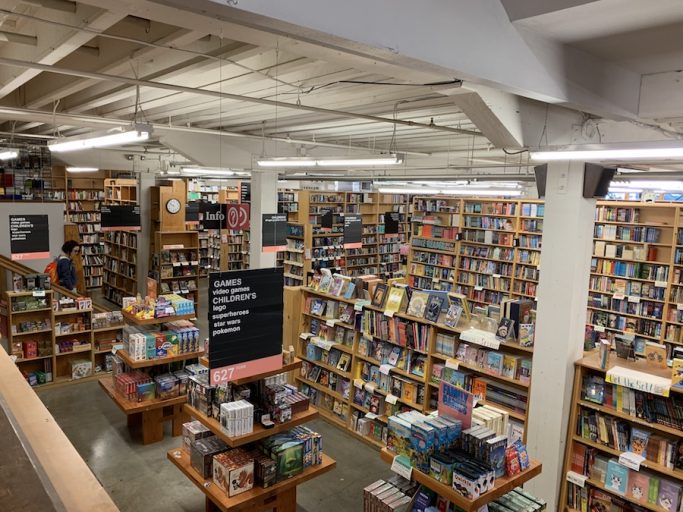 Yep, they are just doughnuts, but these creations are a happy way to start your day. Voodoo Doughnut has other outposts now, but the Portland shop is where it all began. I opted for the rather simple (but tasty!) chocolate coconut cake, passing on the Oh Captain, My Captain (vanilla frosting and Captain Crunch cereal) and Dirt (with oreo cookies ) and Voodoo Bubble (topped with bubble gum dust) until the next trip.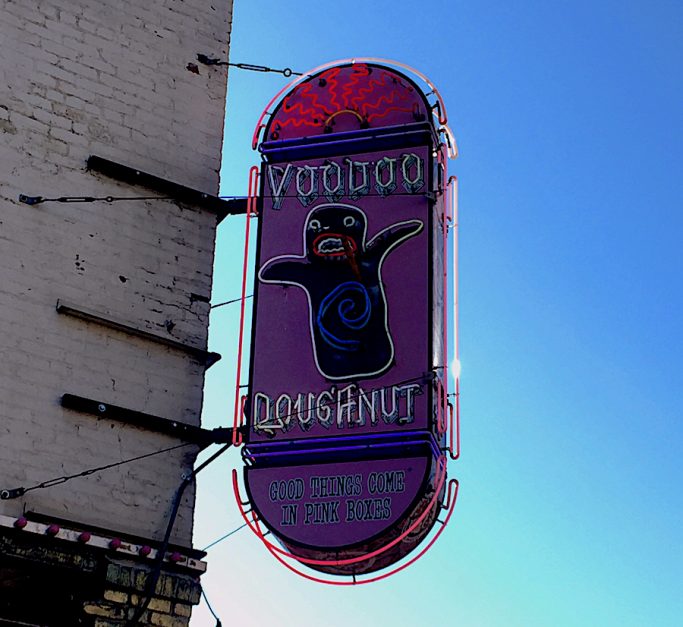 A special oasis in the middle of the city, Washington Park is home to gardens, museums, the zoo, and walking trails. Taking the time to meander through the Portland Japanese Garden for an hour or so, I enjoyed the pleasant and peaceful respite. Same with the International Rose Test Garden. In bloom May through September, you only need a few minutes to appreciate the flowers and their fragrances. A point to remember – parking is limited in Washington Park, but a shuttle service operates within the park.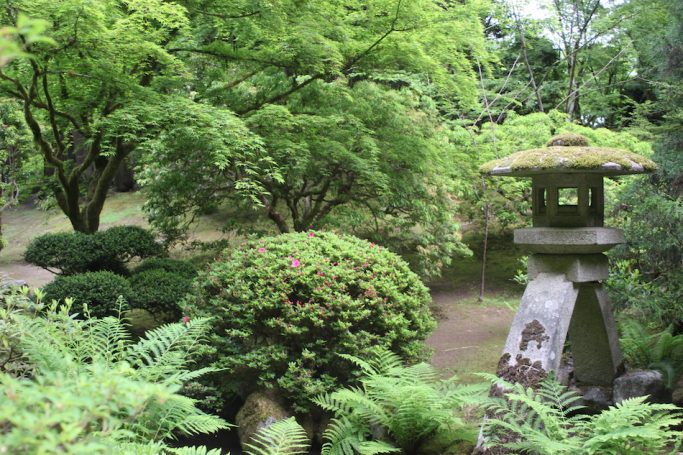 EATING
Both Wednesday and Thursday night dinners were a bit off the beaten path, and I have a millennial friend, Robert, to thank for the wonderful recommendations.
Le Chon – Perched at a high top, close to the busy chefs, we had a bird's- eye view of the wonderful aromas and wood-fired South American cuisine pouring out of the kitchen. This waterfront restaurant offers an extensive array of tapas, empanadas, and sausage and steak plates. Fear not non-carnivores—you will also be happy here.
Ned Ludd – Our foodie group loved everything about this intimate restaurant in the city's historic King neighborhood. We ordered a feast for the table and couldn't agree on a favorite dish. I still think about the fresh-picked cucumber/snap pea salad, and my husband was a big fan of the herb-infused seasonal potatoes on the menu that evening. (Update 2/2022: After 13 years, this restaurant closed. Cafe Olli has taken over the space and comes recommended by the Ned Ludd staff.)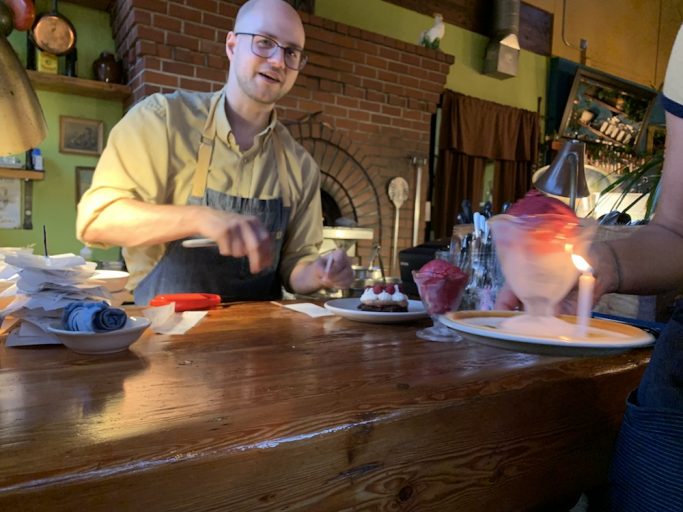 We will save Robert's other recommendations for future travels:
Andina – Peruvian cuisine
Mediterranean Exploration Company  – Eastern Mediterranean, think seafood, chickpeas
Ava Gene's – Serves great pasta and wine
Nostrana – Italian, popular pizza spot
The Departure Lounge in the Nines Hotel has a rooftop bar – a nice spot to grab a drink and watch the sun set over the downtown area.
We stumbled upon the Domaine Serene Wine Lounge, a relaxing space in the Sentinel Hotel, one late afternoon. Darko, our hospitable host and server, encouraged us to return to the actual winery in Dundee the following day. The Lounge is open the latter part of the week, and reservations are helpful, but not necessary.
DAY TRIPPING
Multnomah Falls, a forty-minute drive from downtown Portland, is the tallest of the seventy-seven waterfalls in the Columbia River Gorge National Scenic Area. The Gorge is an 80-mile long, up to 4000-feet deep river canyon, slicing a route through the Cascade Mountains. The beautiful waterfall is a short walk from the freeway and parking lot, or you can hike to the upper level for an even lovelier view.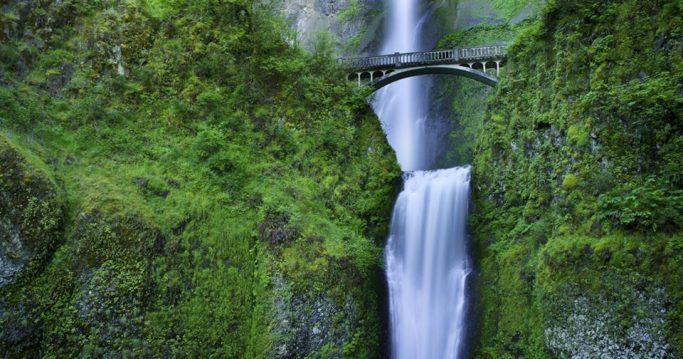 Although we were lucky to slip into Multnomah Falls Lodge for a late lunch, I suggest making a reservation. The historic restaurant features staple foods of the northwest – salmon, burgers, trout – and was our country's first National Historic Landmark.
Ninety minutes west of Portland is Cannon Beach, loaded with boutiques and art galleries and lots of historical plaques.  The charming coastal town is home to Haystack Rock, a 200-foot tall rock surrounded by tide pools and a whole slew of puffins.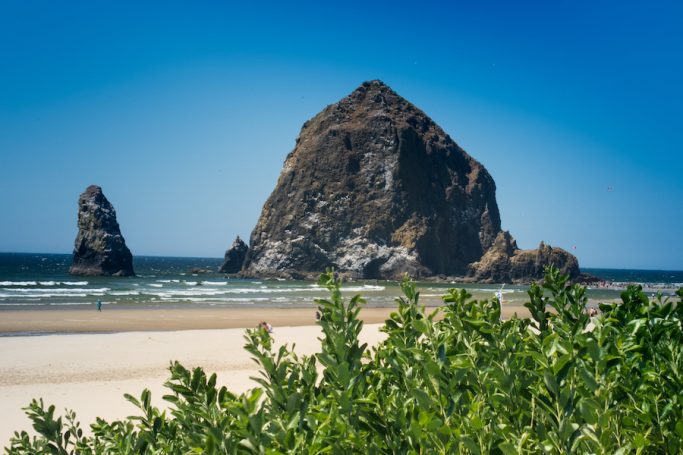 I must give a shout out to Center Diamond Fabrics, along the Cannon Beach main drag. Stocked with every sort of cute and colorful cotton print imaginable, this is a haven for quilters, crafters, or those who sew. With bolts featuring sharks, dolphins, boats, and whales, you might consider a new hobby after meandering through this shop.
Lunch like a local, and grab a quick sandwich at the casual Cannon Beach Hardware Store. Where else can you buy nylon rope or power tools, and then sit down for a beer?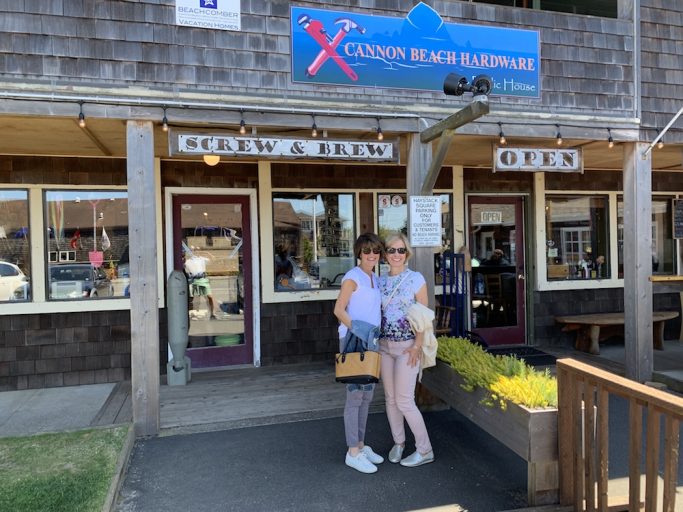 WINE TASTING
Our home base for two nights in the Willamette Valley wine country—a 45-minute drive from Portland—was Jory House at Legacy Hill Vineyard in Dundee. Booked off VRBO, the home was perfect for two couples. Sipping our morning coffee on the quiet patio, we watched hot air balloons soar over the valley and winery workers begin their days in the vineyard.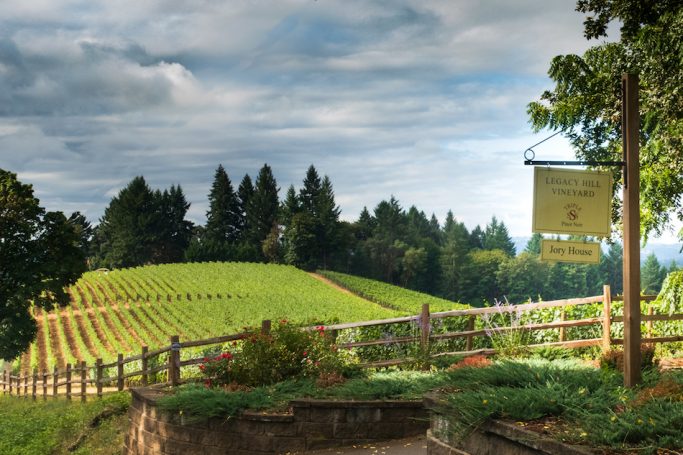 Allison Inn and Spa, about 20 minutes north of Dundee, was also recommended by a friend. A tip—pick up coffee, milk, and breakfast items before you arrive in town. We found out the hard way—supplies are not plentiful in Dundee!
The wineries we visited—Domaine Serene, Stoller, Lange, Torii Mor, Penner-Ash—all had lovely views, decks, incredible wine, and their own distinct personalities. The Willamette Valley is known for pinot noir, pinot noir, and more pinot noir. If you are a white lover, don't despair. You will have some wonderful choices also. But pinot reigns supreme.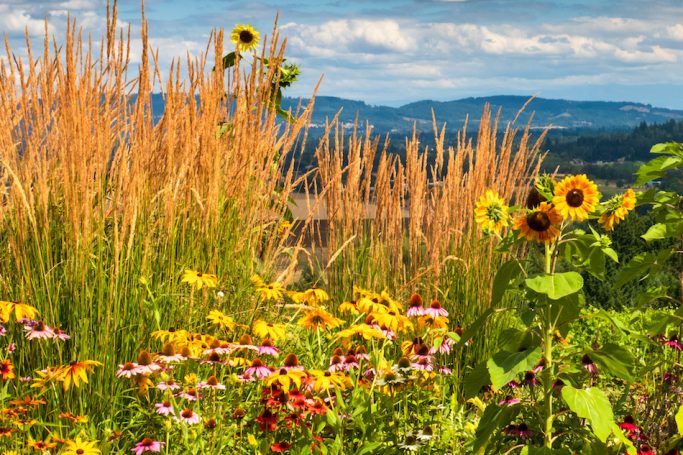 Pack a picnic lunch from Red Hills Market or Trellis Kitchen to enjoy at one of your winery stops. Tip—call your order in ahead. The wait for walk-in service can be dreadfully long.
We had lovely dinners at Tina's, in Dundee, and Recipe Neighborhood Kitchen, in nearby Newberg. All of our entrees—lamb, steak, scallops, pork chops—were fresh, creative, and well-prepared. Restaurants aren't open late, so plan accordingly when making reservations. After a day of wine and sunshine, our group was ready for an early meal!
Please comment below if you have a favorite spot near Portland. And cheers to a great trip!
These opinions are totally my own—I am not receiving payment for the endorsements. 
You may also enjoy reading about a Goldendoodle, living near Portland, who is spreading "pawsitivity" and helping foster kids. Or listening to a podcast episode with Emily McNulty, a Monmouth, Oregon innkeeper.