What Do You Wear in the Garden?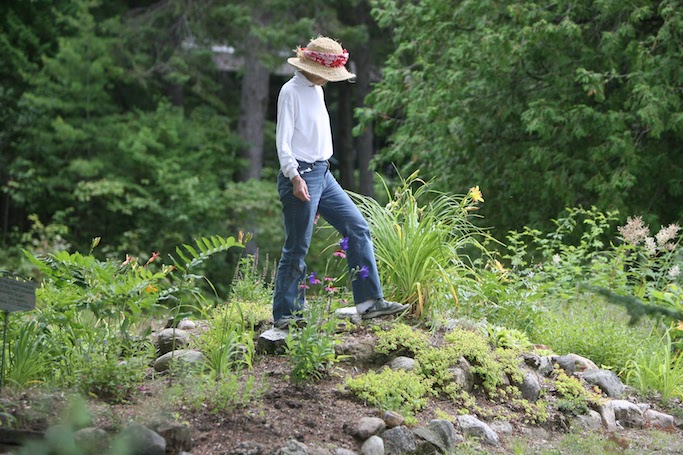 By Janet Dahl
 I am the first to admit that my general appearance, while at home during the shutdown, became increasingly casual as the pandemic wore on. And on.
A few weeks ago, after a morning spent pulling weeds from the flower beds and pruning a few shrubs, I Zoomed with a college friend. Still in my gardening attire, I realized I'd gone—perhaps—a little too casual.
 My good friend laughed politely at my post-gardening state—smudges of old and fresh dirt smeared on my frayed jeans and faded top, my wild hair, my makeup-less face.
 After we chatted, I took a minute to consider my garden, which is not just a hobby, but also my sanctuary. 
I love working in my yard, it is therapy for me. I love the abundance of colors, the hum of activity from the bees and bugs, the scents that make you smile as you recognize them. I love the excitement and anticipation of what's going to bloom next.
What I do not love is caring how I look while I'm dividing perennials or trimming a tree. But…should I? My neighbors are out and about, and delivery drivers are a regular sight. I don't want to scare these folks away!
Garden fashionista I don't need to be, but why not see about upgrading my look?  I reached out to some fellow gardening enthusiasts and asked…What do you wear when you work in the yard?
 A quick response came from a friend's mom, an avid gardener in British Columbia. When she snips rose bushes and digs in the dirt, she dons "an old pair of jeans and a sweatshirt. If it's hot, I pull on blue shorts I've had for years. But—always—a big straw hat for sun protection."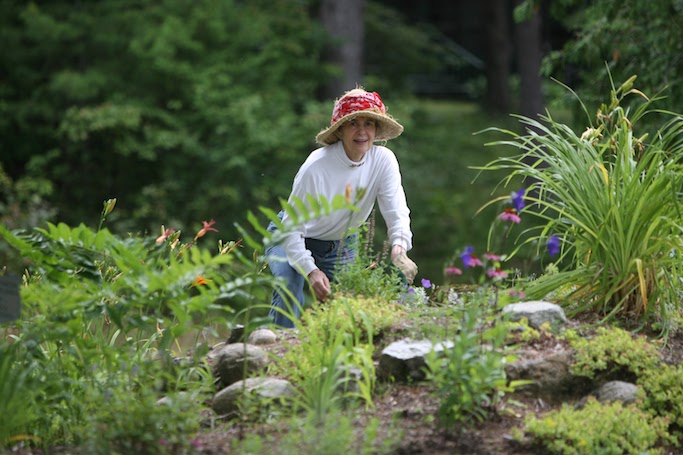 Dee, a landscape designer in the Pacific Northwest, works in the rain often. She "invests in high-quality waterproof shoes and rain pants. Comfort and practicality are key," she says. Dee relies on her Eddie Bauer high-waisted weatherproof guide pants to keep her cool in the summer months. Lots of pockets are a bonus.
 Donna is never without her large-brimmed sun hat. "I love the neck cord to make sure it stays on tight if need be," she says. The hat is sturdy enough for her Northern California hikes and stylish enough to "toss it on with a sundress." Another must-have is a good pair of gardening gloves, because "who needs to scrub nails and apply endless amounts of hand lotion?"
 "I get into trouble because I garden in whatever I happen to have on. I've ruined several things," says Libby. If she makes a plan for the day, she'll throw on leggings and a top or two, so she can shed as the day warms up. And, like Donna, Libby never repots or trims or pulls weeds without her favorite pair of gloves.
 "Because I'm almost always in jeans and a denim shirt, my favorite attire is garden-ready," laughs Cindy. Although she has a pair of old, worn-out sneakers—designated for tromping through the dirt and muck—she forgets to put them on. So, often as not, she's wearing a pair of shiny white sneakers she has to scrub afterward.
 A nursery and landscaping company owner in Washington state spends long days outside. She loves pants from Carhartt, a durable workwear and outdoor apparel company.  She's also a big fan of Duluth Trading Company tank tops. "They are longer, and I haven't had a lower back tan line since I started wearing them," she laughs.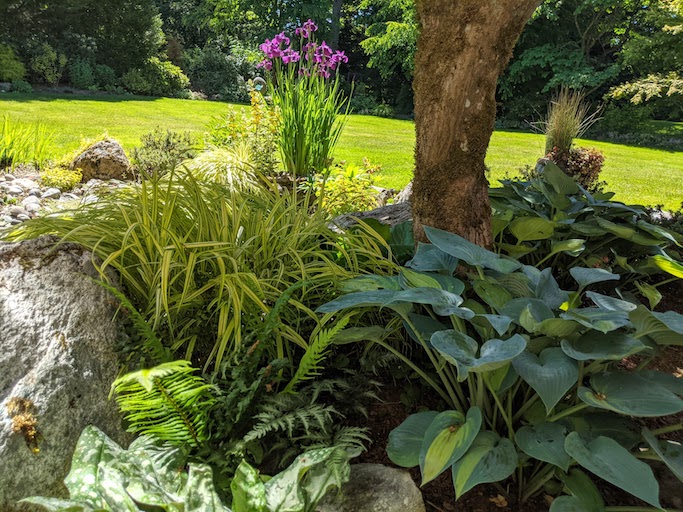 Audrey sometimes putters around her backyard (never her front yard!) in pajamas. Like all gardeners, she finds it hard "to sit and enjoy my morning tea once I spot a weed poking through the beds or a spent flower bud to pinch back." When she does PLAN to work in her beautiful California yard, Audrey wears "an apron I use just for gardening, which helps keep my clothes clean. The pockets hold my clippers, gloves, and phone. I usually listen to my audible books while in the garden." She also likes to have her phone handy in case she needs to identify a plant or weed on an app. (I like this one.)
 So—My "fashion" isn't so terrible after all! It's more about comfort and protection than what we look like. I'm sure there are more essentials to add and I'd love to hear – What are your must-haves when you are in the garden?
 PS—Travel shoes, a master gardener, and a fashion minimalist