Cody Durham – High-Rise Window Cleaning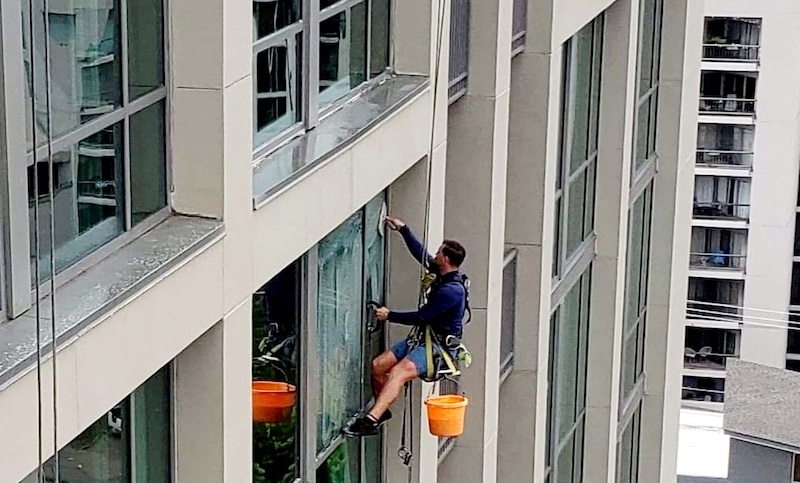 Every few months, I hear a THUMP THUMP against the side of my 13th-story window. I pull back the drape and wave to the man (I've yet to see a woman!) dangling from the side of my building. He cleans and swipes, pausing to wave back, smile, and pose for a photo. "High-rise window cleaners see some crazy stuff," says Cody Durham. "And, believe me, it's hard not to look."
How in the world does one get into the scary business of hanging from a 30-story building?
Cody was 18, and he needed a summer job. His buddy worked at a window cleaning company. "Are you scared of heights?" he asked Cody one day. "Nah," Cody replied.
Cody's brother, nervous about any place above the ground floor, was not enthusiastic about his younger brother's new job. "He thought I was crazy," says Cody. After his training period, Cody spent the rest of the summer suspended from buildings, cleaning windows and pressure washing. "And," he says, "I been doing it ever since."
Nowadays, that same heights-averse older brother and Cody are in business together. At Summit Window Cleaning, big brother does "no hanging at all." Chad is the behind-the-scenes guy, handling insurance, invoicing, and administrative aspects. Cody manages the job sites and employee training, ensuring all goes well 30 stories up.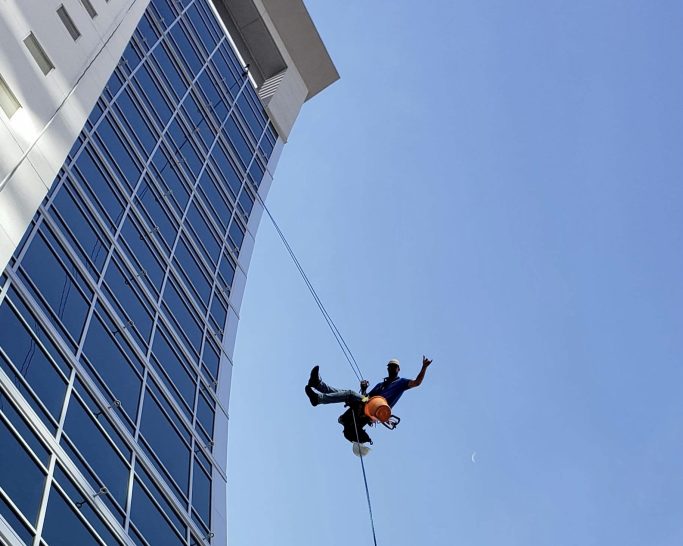 "When we started Summit five years ago, we struggled to get our feet in the door," says Cody. Many companies in the Tennessee/Kentucky area cleaned windows and pressure-washed one- or two-story homes and businesses. It was tough to break into the market.
"But swinging from the side of a skyscraper is not everyone's cup of tea," says Cody.
So the new business owner reached out to managers of high-rise buildings in the Nashville area. And there were loads of them. As Nashville exploded with new growth, hotels and office buildings shot up on every corner.
"All of a sudden, those office tower and hotel managers began contacting me," says Cody.
Summit's employees begin their training on the ground, and the first step is to learn the proper way to clean a window. Cody's secret recipe includes a few drops of Dawn dishwashing soap and a squeegee.
A Bosun's Chair
As scary as it looks, high-rise window cleaning is regulated and not considered dangerous. Cleaners, starting from the rooftop, drop down the side of the building in a Bosun's chair—a contraption once used to paint and clean the outside of cruise ships. The chair's four-point connection system, harnesses, clips, safety belts, and two different rope lines ensure a safe trip as cleaners work their way down to the ground floor.
"It's a gradual process," says Cody. When employees seem ready to "leave the ground," they go to the rooftop of a hotel, condo building, or office complex. High above the first floor, the newbies tie knots, secure ropes, and attempt to get comfortable with the thought of dangling among the clouds. "We can tell by the looks on their faces if they're ready to go over the side," laughs Cody.
Before Cody or a team member drops from a building's roof into the Bosun's chair, they inspect the equipment. Every single time. Like an airplane pilot conducting pre-flight checks. Since no official inspections exist, "You have to be on top of things," says Cody.
Although falling is not a real concern, cleaners keep an eye out for birds. Sun can be brutal, and they "don't drop" when winds swirl more than 20 mph. During the rainy winter months, the team moves indoors.
Nowadays, Cody's duties keep him planted on the ground most of the time. But he loves the views from way up high.  "We're all alone up there," he says. "You can't beat the sights—the fall leaves, the  twinkling downtown lights at twilight."
Photos courtesy of Cody Durham
PS—a female funeral director, package-free shopping, and plant-based cooking