Brian O'Connor – Good Dye Young and a Farm with a Purpose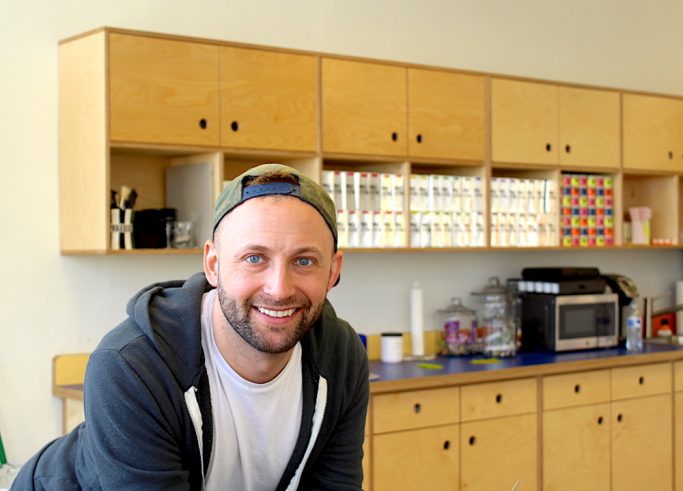 Thirteen years ago, Hayley William's hair stylist was out on leave, and Brian O'Connor was her next available option. Making small talk as she sat in his chair, Brian asked Hayley the basic questions about what she was doing and where she was working. Laughing now, as he recalls their initial conversation, Brian said he secretly rolled his eyes when Hayley told him she wrote and sang songs.  Of course you do, he thought.  After all, music is what most of Nashville does.
Brian quickly figured out Hayley, the lead vocalist for the rock group Paramore, really does know a little something about the music business.  Their evolving friendship, and working relationship, created opportunities still causing Brian, 32, to pinch himself.   Along with serving as Paramore's hair stylist and makeup artist on their world concert tours, Brian keeps busy prepping hair and makeup backstage for awards shows, music videos, and television talk programs. 
It doesn't take me long to figure out Brian is one of those endlessly curious people who enjoys reading about new things and then exploring them further.  Maybe even giving them a try. It all began, reflects Brian, when the two conspired to come up with new ideas and colors for Hayley's "stage hair."  Brian experimented with bold, vibrant, "high fashion colors"  – think highlighter green and blue. Weaving red, yellow, orange, and blond streaks through Hayley's hair,  "it literally looked, to concert audiences, like her hair was on fire," he explains.
Not long after, Brian took his first trip to Los Angeles to style the singer's hair for her new music video.  Only licensed to do hair for one year, Brian admits he was "young, relatively inexperienced, and a nervous wreck."   For the record, all went well, the song became a hit, and Hayley (and her hair) looked great in the Crushcrushcrush video.
Becoming Hayley's go to person for makeup came a few years later.  Wanting to know more about cosmetics and the art, Brian devoured books by celebrated makeup artists. He studied and practiced.  He sheepishly tells me he even took a part-time job doing hair and makeup at an inexpensive, somewhat amateurish photography studio.  Brian laughs when he tells people about the job, but admits he learned a great deal.  "I didn't stay there long, but I learned about lighting, angles, how different photographers set up, how to work within time constraints," he remarks.
We meet in his hair studio, part of an airy, light filled building in a newly developing area of Nashville.  Besides coloring hair the traditional blond and brunette way for everyday folks and a slew of music artists, Brian is the creative force and co-founder (along with Hayley) behind Good Dye Young.  Resulting in 4 long years of trial and error, the company provides vegan, cruelty free, high fashion (bright green, blue, pink, orange) hair dye.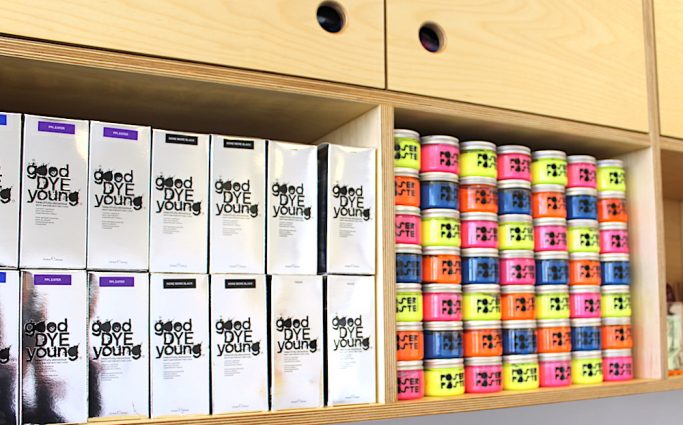 Realizing I am most likely not the target demographic for neon orange and blue hair dyes, I ask him who is?  "You'd be surprised," he smiles in his relaxed and likable way.  High-fashion types, teens going to concerts, musicians, party go-ers.  Soccer moms trying to be festive and cool at kids' games.  And football fans – Brian playfully suggests I try their Poser Paste the next time I head out to a Titans game.  This product has "no commitment" and washes out easily, allowing me to be blue for an afternoon.
"Can you believe I, literally, have a job where I stand in front of a mirror most days?"
When I inquire how he develops and tests the Good Dye Young colors, he assures me he does not experiment on friends and customers.  He stretches out a long strand of weft hair – human hair purchased in bundles from his development lab.  Brian explains he cuts this strand into 2- inch test pieces.  "When I have a shade in mind, I start mixing and playing and then send my favorite samples of that color in a weft to the lab. They will color match and send back a few samples for me to choose from," he continues.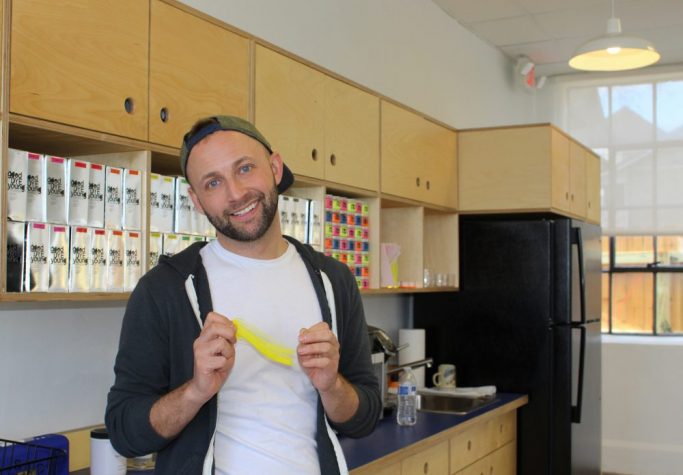 Far removed from the fast pace of tour buses, performance schedules, and company issues is Brian's newly renovated farmhouse outside Nashville.   Roaming around the ten acre property, and serving as a peaceful hobby for him, are a dozen cochin bantams.  After reading and learning about these squatty, ornamental chickens with plumage at their feet,  Brian decided to set up his own coop.  He tells me the chickens are not raised for meat and lay eggs about half the size of a supermarket egg.   
The farm is his sanctuary and his way of escaping the "chaotic-ness" of his daily routine.  Along with raising chickens, a miniature donkey, and a couple of gypsy vanner horses, he and his partner work hard learning how everything on their farm can serve a purpose.  He excitedly talks about planting alfalfa blend grass to feed the horses and planning their future vegetable garden.  He perks up as he thinks about canning and composting and soil enrichment.  Brian says, "It feels good to be a part of producing this."
Brian will have some time to read up on farming and gardening in the next few weeks.  Armed with suitcases full of hair and makeup supplies, he's off to Australia, New Zealand, Honolulu, and Manila with Paramore.  And also Tokyo, a bucket list destination for him.  "Lots of fun fashion and hair and beauty products there," he smiles.