Intrepid Sojourner Beer Project – Denver, CO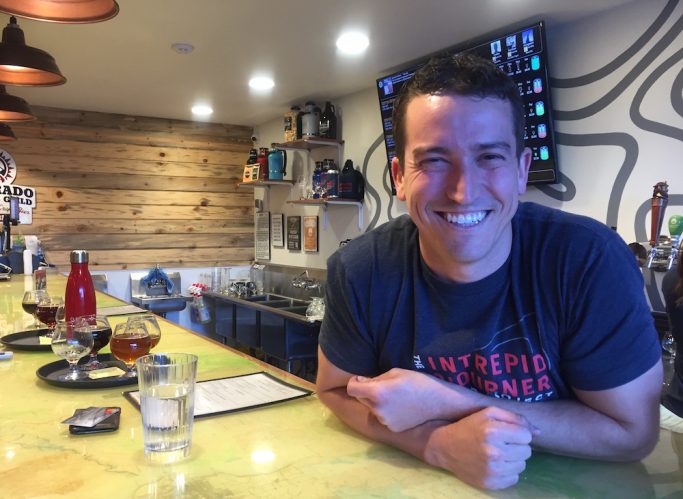 I became of age in a Heineken, Budweiser, Michelob world – and Coors, brewed with "Rocky Mountain spring water," was something a little more special.  Admittedly, ordering a beer used to be a simple task.  Nowadays, deciphering choices in the craft beer world can be complicated and overwhelming.  Lager, ale, IPA, hops, barley, amber, abv, malt, mash – I just want something I actually like to drink. 
In a city known for clear, sunny days and a vibrant cultural life, more than 15 new craft breweries have set up shop in Denver this year.   The Intrepid Sojourner Beer Project opened its doors, in a former bright pink laundromat, in the Santa Fe Arts District in May.  Ben Gettinger and Andrew Moore hope their international and travel niche will be the ticket to success in this district brimming with galleries, studios, and creative businesses.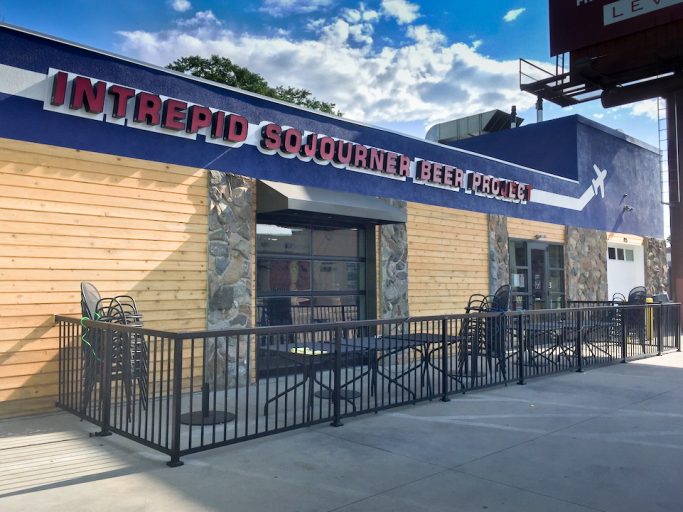 You immediately feel comfortable with Ben.  Easy going and relaxed, he grew up in a small, southern Indiana farm town.  From a close knit family, he left his Chicago options trading desk to help run the local family newspaper.   When their mothers, former sorority sisters at Indiana University, connected Andrew and Ben on a "blind business date," Ben's dream of embarking on an entrepreneurial venture began to take shape.
As I smell the malted grain simmering, Ben points out they make all of the beer on site at Intrepid Sojourner.  Ben has spent the last few years "absorbing all things beer" from Andrew, the brewmaster and beer expert in their partnership.  Animatedly gesturing with his hands, Ben says Andrew continues to teach him about different styles of beer, how they are made, and even what the beers are supposed to taste like.   Inspired by the history and culture of Australia, New Zealand, Asia, and Europe, Intrepid Sojourner offers 17 types of beer on tap.  You may find a hint of apricots or dates or chamomile in your beer.  The Sahti from Finland is dark and sweet and has a chocolate-type flavor.   The immensely popular Basil IPA complements, or for some people's palettes, covers up the standard bitterness of an IPA.   
Later that evening, we get down to the fun business of sampling a few flights of beers.   I listen carefully as Ben explains each beer's alcohol volume, adjuncts (additives to balance or enhance the flavor), and hops level (aroma or bitterness), – trying my best to keep everything straight.  Served in pretty glasses with airplanes etched on them, I love the Australian Sparkling Ale and the New Zealand IPA.  Light-bodied and only slightly hoppy, I discover these go down quite easily. Ben's favorite, the Gratzer, was traditionally brewed in a small Polish town. After the communist government fell in the 90's, the beer went out of production.  It is slowly making a comeback and has a wonderful smoky taste and smell.
While pouring me a small glass of Garlic Amber, Ben remarks they sell a lot of sampler sizes of this unique beer.  It is not my favorite, but I'm certainly glad I tried it.  When I ask how many of the sampling customers ask for another glass, he laughingly says "not that many."  He and Andrew plan to try the same beer again, using roasted garlic instead of raw garlic, to see if the flavor profile changes.  Ben doesn't seem at all afraid to give things a try and see what happens.  He acknowledges in business, as in life, "you will always have good rolls and bad. Mistakes are necessary to learn and grow."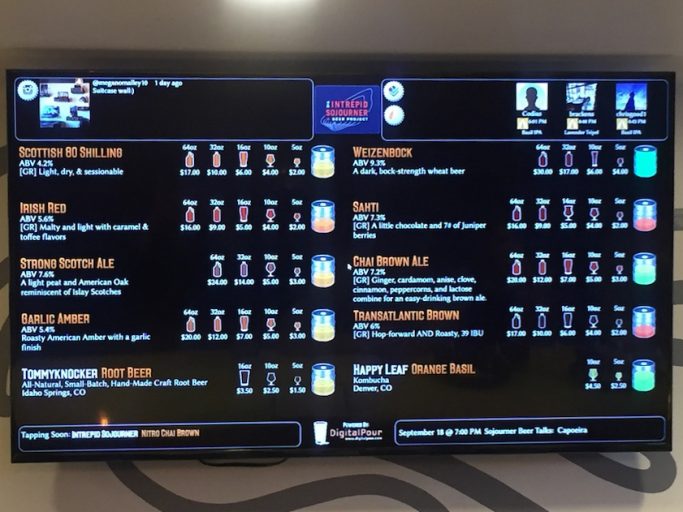 Eager to make the brewery a success, Ben willingly puts in the necessary long hours.  Married just over a year, he feels lucky to have a supportive and understanding wife. Ben pauses and thinks back to a conversation he had while still in college.  His Harvard fraternity brother wondered what Ben wanted to do with his life. Ben's response was quick and definite and came as a surprise to his classmate.   "When I think of myself as an adult, what I care about is having a family to love," he responded.  "Hopefully I do well enough with this place, or whatever else I do, to live a nice lifestyle, but having a family to love is my first priority."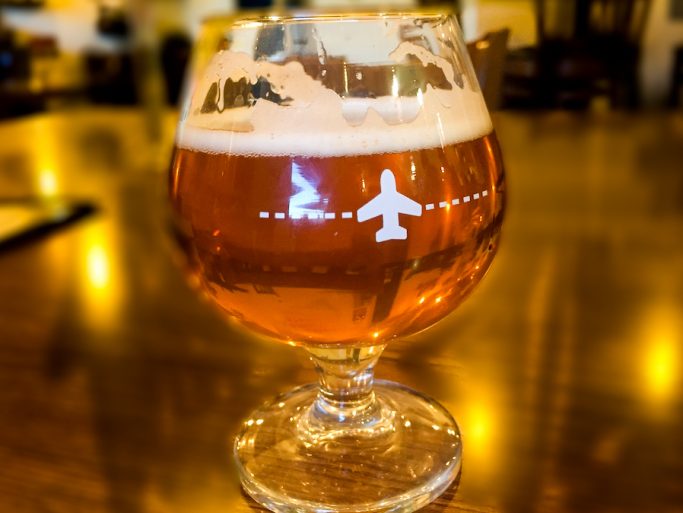 Although tied to his brewery most evenings, Ben plans to visit all the other brew houses in town at some point.  With over 50 in Denver, he has a lot of tasting to do.  Later this year, he and Andrew plan to start distributing kegs to bars and restaurants and building a sales team.  For now, Ben looks forward  to "selling as much beer as we possibly can and spreading the word about Intrepid Sojourner."
Intrepid Sojourner Beer Project is located at 925 W. 8th Avenue in Denver.  On Thursdays, bring your passport for a discount.   And be sure to try the garlic beer.  Cheers!
Update:  Intrepid Sojourner (renamed Next Stop Brew) closed its doors on May 30, 2020–another victim of COVID-19.