Salvador Dali Museum – St. Petersburg, FL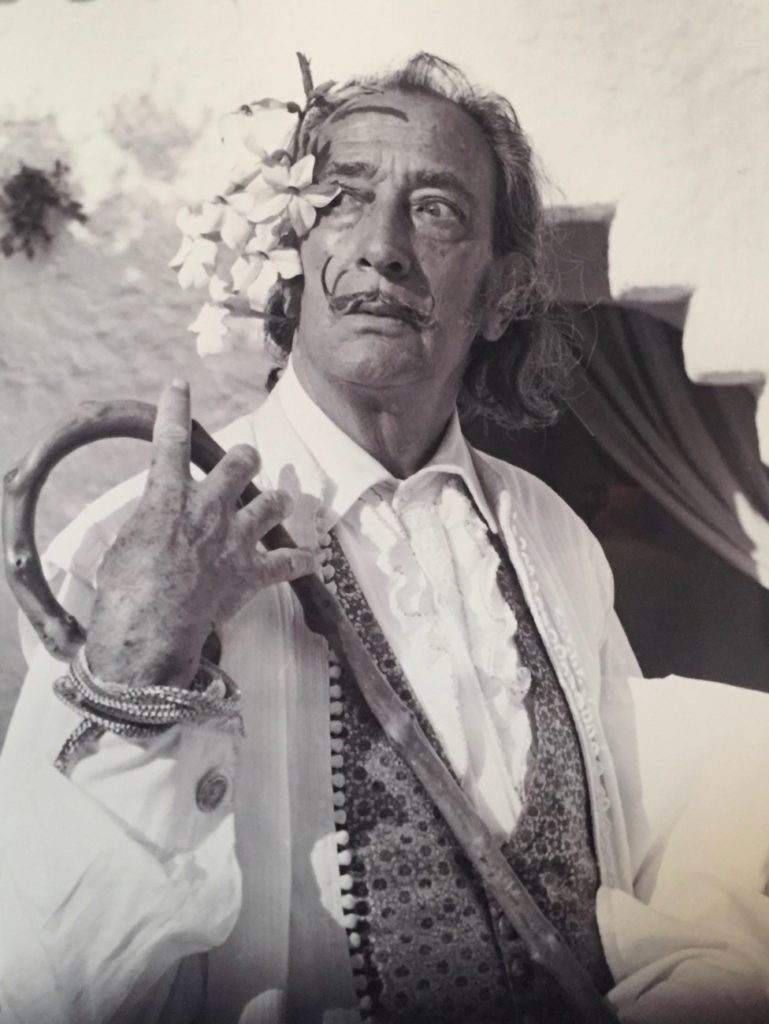 A taxi driver once asked Salvador Dali, the quirky Surrealist painter,  "What drugs do you take?  I want them!"  Dali responded "I don't take drugs – I AM the drug!"   
Ron Knaus, a retired psychiatrist and volunteer docent at the Salvador Dali museum, served as my art instructor on a recent sunny afternoon.  With his superb Dali impersonation and quick wit, he made learning about the Surrealism artist an entertaining undertaking.  Ron, who collects "moderate" art,  confessed he has long been a Salvador Dali fan.  It was clearly evident he enjoyed talking about his subject matter, and his enthusiasm for art education was contagious.
The beautiful Dali museum in St. Petersburg, Florida opened its doors in January 2011.  Located in a pretty downtown area near the waterfront, it is very different from the quiet St. Pete I visited as a child.  The new, emerging "Burg", as Ron refers to his home, is a vibrant and energetic community full of high rises, culture, and walking trails.  The museum houses 1500 works by Dali, the largest collection in the US.  Ron explained, in the former Dali space, the heavy paintings and artwork were packed up and moved inland when inclement weather came to town.  Fortunately, this is no longer necessary.  With its 18 inch walls and rebar reinforcements, the newer building is virtually hurricane proof.
With his signature mustache and outrageous behavior and publicity stunts, Salvador Dali is considered by many to be our greatest Surrealist painter.  Dali painted his first landscape when he was 6 years old and continued to paint until the mid 1980's.   Dali credits his wife, Gala, with making him the success he turned out to be. The couple  moved from Spain to the United States to escape World War II.  "Gala inspired Salvador, and her picture or a representation of her shows up in many of his paintings," Ron said.  "Dali was always pushing the envelope and his imagination," he added.  He pointed out  Dali was keenly interested in science and numbers.  If you look closely, you will see mathematical and scientific models in his work.
Portrait of My Dead Brother is rather haunting to look at and interpret. Obviously still struggling with a lifelong issue, Dali completed this painting when he was 59 years old. Throughout his life, he felt he was a replacement child to his parents. Dali was born 9 months after his brother, also named Salvador, died of an illness.  Many say he developed his outlandish behavior to prove he was completely different from his brother.   Ron added the interesting sidebar that another painter, Vincent Van Gogh,  was born into a similar situation.  His younger brother, named Vincent also, died before the future famous artist was born.
Ron's personal favorite is Hallucinogenic Toreador, a massive painting that contains examples of several genres of art.  The piece represents Gala's dislike for bullfighting and features a beloved Spanish bullfighter  gored to death.  A dead bull does not lie in a red pool of blood but, rather, in a body of blue water.  In the middle of the blue lagoon is a bikini clad woman floating on a raft.  Venus De Milo appears multiple times.  Depending on how you look, you may also notice Gala watching the scene, a Dalmatian dog, a little school boy Dali, different animals in the clouds, and a gored bullfighter. 
Gala Contemplating the Mediterranean Sea which at Twenty Meters Becomes the Portrait of Abraham Lincoln-Homage to Rothko  is a wild title for a painting of Gala and her backside looking out a window.  Or is that Gala?  Step back several feet, and the painting turns into an image of Abraham Lincoln. Science intrigued Dali, and an article in Scientific American prompted him to experiment with grid theory and visual spatial processing.  This amazing painting,  finished before computers could assist him, illustrate the ways our brains and eyes process images.
The Discovery of America by Christopher Columbus is a monumental painting – large in size, endurance, and importance.   Dali arrived at the painting's theme in his typical quirky, "out there" way.  The gentleman commissioning the painting told Dali it was going to hang in a building on Columbus Circle in New York City. He added that Dali could paint what he wanted. So, trying to follow Dali's train of thought –  Dali thought about Columbus Circle, which led him to Christopher Columbus, which steered him to Christopher Columbus discovering America, and – of course! – that brought him to his theme and subject ideas.  To paint this huge 14 ft. x 9 ft. artwork,  Dali  remained seated in one spot as workers moved the canvas around him on large pulleys.
Dali possessed a brilliant ability to capture his fantasies and thoughts in art loaded with symbols and representation.  Like other Surrealist painters, he expressed his imagination and dreams with no rational thought. In an attempt to alter the viewers'  perception, the artist often used plenty of strange and weird combinations to leave us guessing as to what the art actually means. Ron described it as "art representing ideas we want or think about but don't realize we do!"  After viewing the paintings I had to concur, "only a  genius could paint the way Dali did."