Ruby – The Orchid Series – Inspiring Women Over 75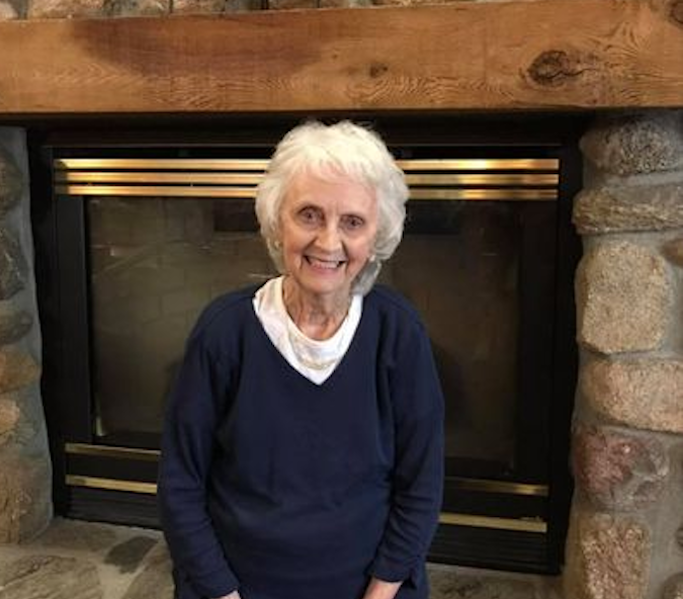 The Orchid Series
A collection of interviews featuring inspiring women over 75 years young. Curious, engaged, active, interesting. The sort of woman I want to be when I grow up!
Many of the women I speak with for The Orchid Series live alone. It's a sobering thought, but statistics show most of us will outlive our husbands or partners by 5-7 years. Not a pleasant point to ponder…
"I'd like to tell you about my husband's mom," a woman wrote me via email. "Ruby is such an inspiration to me. She's sharp mentally and physically and, after her husband passed, she took over all the tasks he used to do."
"She's an expert at encouraging others, lending an ear, and keeping situations drama-free," a grandson said.
An only child, Ruby grew up on a farm in New Hampshire. Her father worked as a weaver in a cotton factory, and her mother clerked in a store. "Raised in a small town during the Great Depression, I learned the value of hard work," says Ruby. "If we didn't save for what we needed, we made do or went without."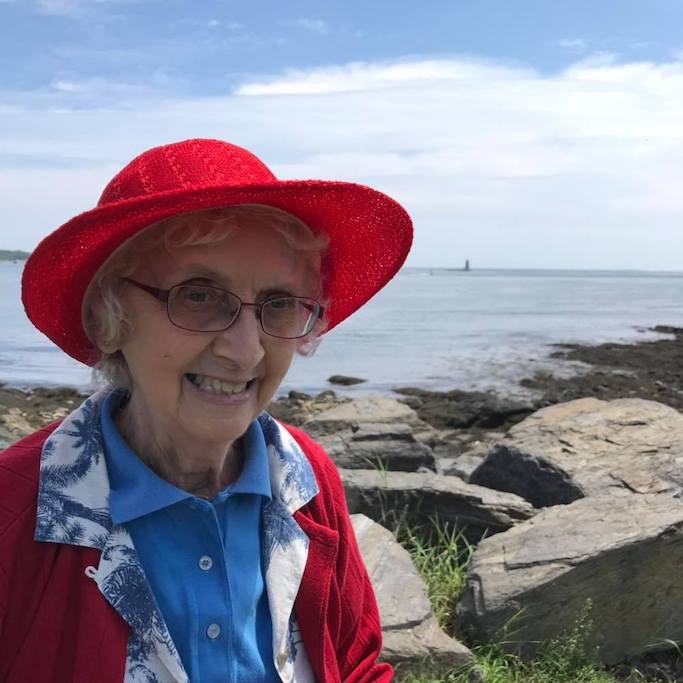 Her dad, afflicted with polio and unable to serve in the military, worried about his brothers and friends fighting overseas. Ruby's family did their part to help the war effort on the home front. "We saved war bonds and stamps and aluminum," she says.
"The Depression shaped much of my generation's background," says Ruby. "We learned we didn't need a lot."
Almost 86, Ruby expected to still be living with her husband in their small lake cottage. They'd escape the harsh New England winters and haul their travel trailer to Florida. They'd visit with family in faraway states.
Her plans changed in 2019 when her beloved husband and partner-in-adventure passed away. But his curious nature and desire to "see the latest and the greatest" have inspired Ruby to keep learning all she can.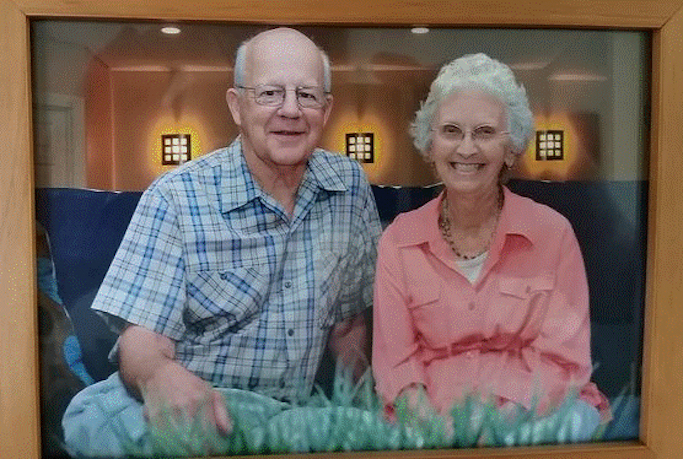 After her prayer time, Silver Sneakers or other exercises, and breakfast, Ruby checks her "wonderful retirement community's" online newsletter for activities. Some days she attends a knitting class or a movie or afternoon tea. She loves the walking group and worship services. Each week, the community hosts a guest speaker. Ruby looks forward to hearing about New Hampshire's stone arch bridges, Niagara Falls, or the Wisconsin Dells. "It's a domino effect," she says. "When I learn about one thing, it always leads to something else."
Has Ruby always been interested in everyone and everything? "Yes, I think so," she says. Growing up without brothers or sisters, she learned to try new activities solo and entertain herself.
Like any group, her retirement community consists of different people and personalities. Some are not thrilled with life and their circumstances. "I try to remember that I'm responsible for my happiness," says Ruby. "We can't expect others to make us happy. I realized that as I got older."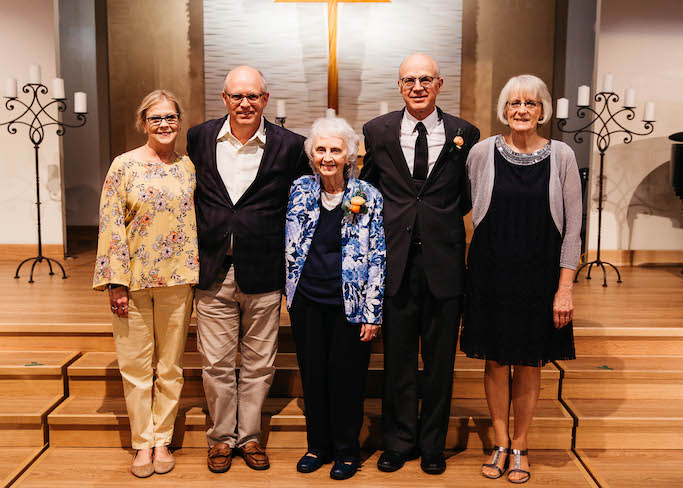 Ruby, somewhat of a tech guru, serves as the go-to person for her friends and neighbors who get stuck with computers or emails or photos. Until recently, she compiled her church's newsletter—no small task. A member for 65 years, Ruby remains active and attends services in the church where she and her husband married. 
She's sharpened her technology skills through a smattering of courses over the years. Some because her longtime position as the Administrative Assistant to the Director of Public Health in New Hampshire required it. And many others for personal enrichment. "Some employees took the courses because they had to. I enjoyed them," she says.
Ruby is not afraid to jump in and make mistakes. When she gets stumped, she calls on the community's IT guy or one of her two sons or eight grandchildren.
She considers it a challenge to cast a movie or Zoom meeting from her computer to her tv. "It took me a while to figure it out, but I did!" she says. She's currently taking an online AARP smart driving course to earn a discount on her car insurance. Yep, she still drives and shops for her groceries and household necessities.
"At this point in my life, I try to do interesting and enjoyable things. Things that make me feel worthwhile," she says. Like knitting baby blankets and hats for her great-grandchild, due this month. Or maintaining her financial records.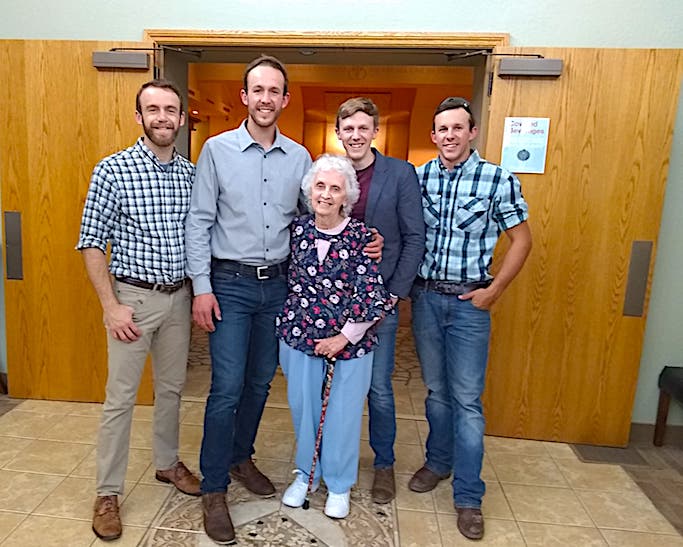 Ruby advises younger women to make even younger friends. "Someone suggested that to me once," she says. She's met some youthful folks through church. But now, with many friends her age in poor health, she "realizes the importance of a group of younger friends."
According to Ruby, technology was extra-important during the pandemic. "I feel bad for people who shied away from it and missed all the Zoom activities our community offered," she says. Ruby is a big fan of "whatever can give you happiness and keep you in touch with people.
"My grandmother—a caring, curious woman who never fails to look on the bright side of life," says another grandson. Beautiful words for this octogenarian to hear.
PS—a man who makes staying fit a job, an inspiring 90-year-old woman, and a New England art theft investigator
Thank you to Ruby's family for the photographs