Rosie – The Orchid Series – Inspiring Women Over 75
The Orchid Series
A collection of interviews featuring inspiring women over 75 years young. Curious, engaged, active, interesting. The sort of woman I want to be when I grow up!
"The pandemic? It didn't bother me," says Rosie as we chatted over the phone one snowy April morning.
"I just took one day at a time," she says. She attended mass, rode her bike around her small, midwestern town, and cut her lawn. "I have five acres of grass so it takes a while," she laughs.
During the shutdown, she finally had time to clean out the closets in the home she still takes care of on her own. She checked in with one or two friends every single day and wrote cards to others. She knitted baby hats and booties for the local hospital and lap robes for skilled nursing facilities. She tested new recipes she'd discovered in magazines—black bean soup, casseroles, dips. And stashed individual servings in the freezer. "A lot of days I'm too busy to make a meal from scratch," says Rosie.
"I got all kinds of things done."
Last year, Rosie celebrated her 90th birthday.
Research suggests people with positive attitudes have a reduced risk of health issues and early death. Those folks who operate with a glass half full mentality have a greater chance of "exceptional longevity"—living past 85. 
People like Rosie.
Rosie gave up her "wonderful job" as a bank teller to get married and start a family. "That was common back then," she says. She had four teenagers when her 47-year-old husband perished in a water-skiing accident.
"You think these sorts of things are absolutely the end of the world," she says. "But you have to make up your mind to go on, especially when you have children."
A widow for six years, Rosie married again. After 22 years, Rosie lost him too. To Alzheimer's. 
"Even though I wish my marriages had lasted longer, I know attitude has a lot to do with happiness," says Rosie.
Although she doesn't live near family, Rosie stays in close touch with all five children (including a stepdaughter, although she detests "that word") and ten grandchildren. David, her only son, is "the chairman." He organizes Zoom or Google Duo calls with the entire crew once or twice a month.
To stay connected to her scattered family, her kids encouraged her to use an iPad and iPhone. Rosie wasn't sure she'd catch on to the popular gadgets. But, after some coaching from daughters and lessons at her local senior center, Rosie navigates the devices like a pro.
"My grandkids call me often," she says. They exchange photos and text messages and emails. "It's not easy, but I try to read about technology and keep up with it. It gives us something in common to talk about," she says.
As I chat with Rosie, she seems like the type of person who can't find enough hours in the day to do everything she wants to do. "That's exactly right!" she says. "The days whiz by."
As long as she's able, Rosie plans to hop on her John Deere and cut that large lawn. "Everyone thinks it's work, and it is, but I enjoy it. I love to be outside," she says. "If I get tired, I quit, come inside and get a cracker and a glass of milk. Then I go back out later."
Like her mother used to do, Rosie walks two to three miles every day. Her family didn't have a car when Rosie was young, so she and her mom walked to deliver casseroles and visit her mom's slew of friends. "Back then, I wondered why we took care of so many. Now I understand," says Rosie.
Rosie still drives, and transports friends who don't, to doctor's appointments. "I'm glad I can help them, and I'm very thankful I have my health," she says.
When we chatted, Rosie had just returned from church, and coffee afterward, with several friends. "I love all my friends," she says. "We talk about getting older, our problems. And books!"
"What are you reading?" is the first question Rosie and her book-trading pals ask each other. She's a big fan of Danielle Steele's romance ("oooooooh, I love them") and Richard Paul Evans' holiday novels. She devoured Kristin Hannah's recent, The Four Winds, and can't wait to share it with her daughter.
Rosie thinks about what lies ahead for her children and grandchildren. "I wish the world was in better shape than what it is now," says Rosie. "The shootings, the meanness…it breaks my heart."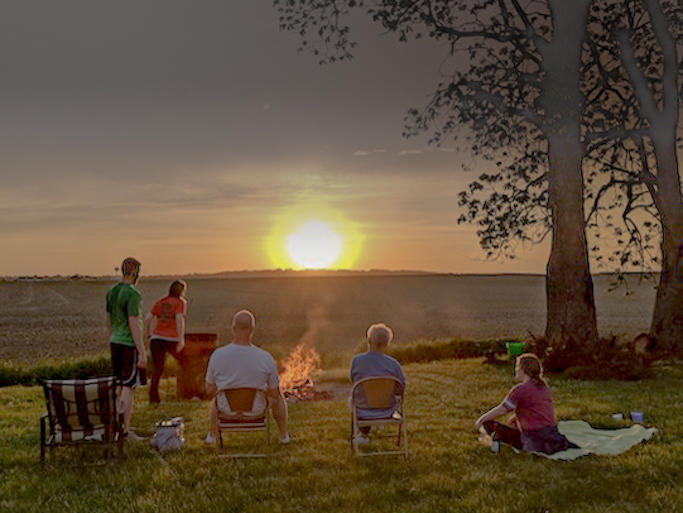 But her kids "seem happy and healthy, and that's all I can ask for," she continues. "I sure am thankful and will take things one day at a time. I'll try my best to stay healthy, make friends, and enjoy each day as it comes." 
Thank you to Rosie's family for the photos
PS—Nashville's Silo Man, a Positive Perspective Exercise, and Lifelong Learning.