Jan – Blessed with a Passion Project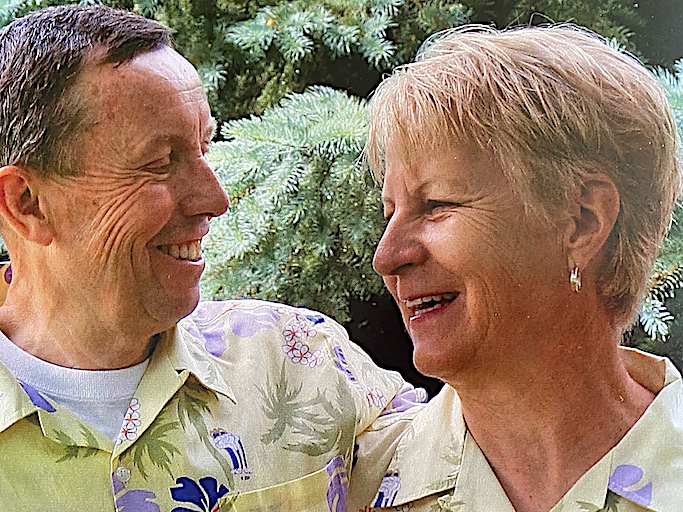 The Orchid Series
A collection of interviews featuring inspiring women over 75 years young. Curious, engaged, active, interesting. The sort of woman I want to be when I grow up!
"God calls you lots of times, and you don't pick up the phone," says Jan.
Twenty years ago, she and her late husband did answer His call. And it transformed their lives.
A marriage counselor once told me he recommends his couple clients dream up a passion project. One they work on together. A joint activity they discuss all year, get excited about, form plans around. An endeavor, not centered around kids or grandkids, that cements their bond and strengthens their partnership.
Jan, now 81, and her late husband, discovered their project twenty years ago.
Reared in Milwaukee, Jan was the first in her family to attend college. After he drove her to Milwaukee's downtown station, her father deposited Jan and her footlocker on a train bound for Ames, Iowa. Back in the days of no college tours, Jan had never stepped foot on the Iowa State University campus.
After college came marriage to her high school sweetheart. The couple settled in the midwest and raised four sons. When the boys grew up and scattered across the country, "We wondered what to do with ourselves," says Jan.
In her Bible Study Fellowship group, fellow members, who no longer had ball games and dance competitions and debate tournaments to attend, discussed how they planned to spend their summers.
"We volunteer as grandparents at a summer camp," said the leader.
Jan went home and researched Royal Family Kids Camp. The faith-based camps offered a chance for school children in the foster care system to build positive memories. For several days, they'd hike and swim and play games. And put aside the trauma many had faced.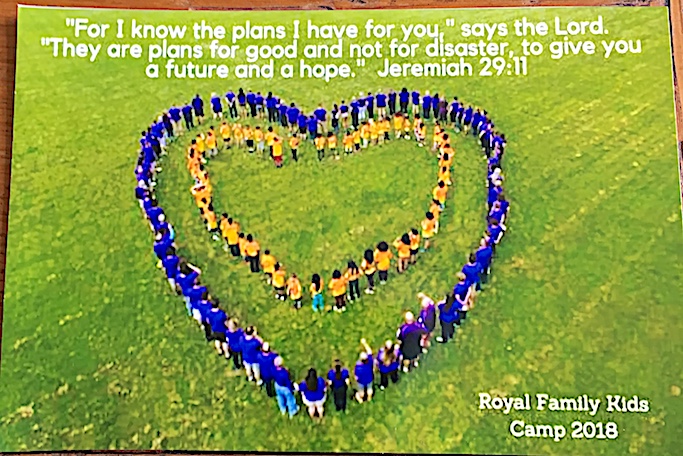 After spending two wonderful summers as volunteer camp counselors, a financial crisis forced Jan and her husband to move to another city. "We were so touched by the camp and its ministry, we wanted to continue," says an emotional Jan.
In their new city, they joined a church with a supportive pastor. He loved the idea of the church hosting a branch of the foster care camp. "Find some folks to help you," he said.
An enthusiastic Jan, and her husband, presented their idea to a Sunday School class. "But we didn't know anyone, and not a single person signed up to help us get things rolling," she says.
"But," says Jan, "it's amazing how God oversaw our lives. He took charge and turned our painful time—of relocating and financial troubles—into a blessing."
Eventually, they convinced another couple to attend a training session with them. "It took us a year to get things up and running," says Jan. More and more volunteers stepped in to help. And the camp took off.
When we spoke, Jan had returned from her 20th year at the church's camp she founded.
"Royal Family Kids Camp tries to make the camp experience as family-like as possible," says Jan. Campers explore "grandparent tents" loaded with Legos, American Girl dolls, craft and woodworking projects. The kids attend chapel and music time. Nurses administer medicine, and social workers are available. Volunteer photographers present each child with a personal photo album at the end of their week at camp.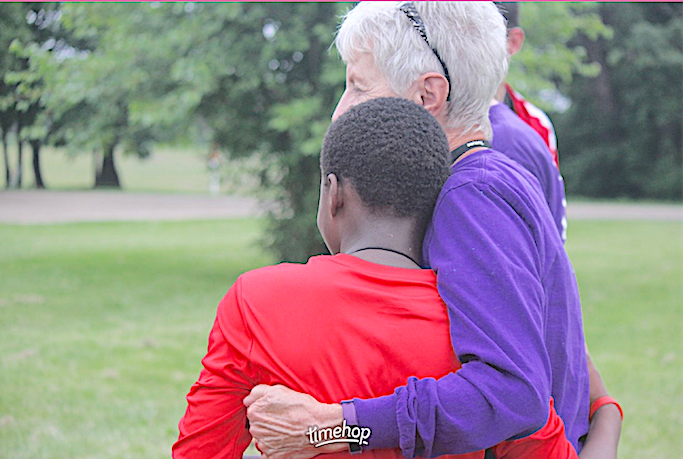 An important rule is Two Deep—an adult is never alone with a camper.
"We had a big vision when we started this little camp," says Jan. About 100 kids a year now experience camp, with another 100 volunteers. "It's unbelievable when I look at it all," she says.
People retire and dream of walking the beach or playing golf. "But," says Jan, "these can be productive years in your life. We can still do important things, we can take charge."
After her husband passed away, Jan found herself with extra time on her hands. She moved out of their family home and settled into a more manageable townhouse. When she visits her sons and their families, her 11 grandchildren have busy schedules and "aren't around as much anymore." "It's another season of my life," she says.
She still creates photo books and gifts them to her grandkids when they graduate high school. The books, full of photos and notes from Jan, document visits and special memories. (I love this idea!) A warning from Jan—"For the first several years, you are a big deal with grandchildren. But as they get older it changes."
So—Jan has found new interests. She coordinates a hiking group through church. She enjoys walking and identifying wildflowers on her Picture This app. Her knitting group meets every Monday to craft various items, including sweaters for children who "don't have everything our children do."
It's often a challenge to find people her age interested in similar activities. The first time she booked a trip with a group travel company, she journeyed solo. Since then, she's found others who also wish to explore Bryce, Zion, Yosemite, and the Grand Canyon.
Other than her marriage, commitment to God, and her children, the camp Jan (and her husband) started, all those years ago, has been the single, most powerful lesson in her life. And that project did indeed strengthen their marriage, gave them a passion, and "blessed us beyond compare."
"One of the things you realize as you grow older," says Jan, "is you must adapt to change, adjust to loss. At the end of the day, my life is a good life.  A different life, but a good one."
Photos courtesy of Jan