Vic Scoggin – Save the Cumberland River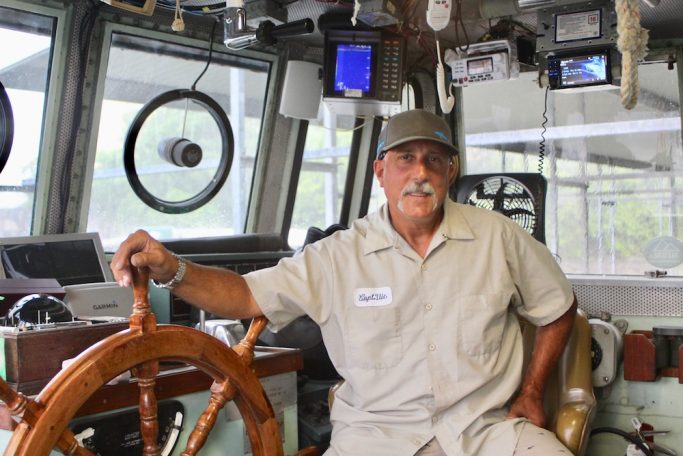 We've all heard it is good to have a passion, a driving force motivating us to get up and moving each morning. Vic Scoggin's love affair with a river, flowing almost 700 miles through the hills of Kentucky and Tennessee, began at an early age.  Growing up along the winding Cumberland River in Tennessee, the waterway was Vic's playground.  "I learned to swim, fish, scuba dive – my life revolved around this river," he says.
After celebrating his 18th birthday far away from home in boot camp, Vic worked the engine room on an 800-foot Naval ship – surrounded by what he loves – water – for several years.  Returning home to Tennessee and a new marriage, he introduced his bride to all his special places along the Cumberland River.  But things had changed over the years – "his river" didn't seem the same.  "It was dirtier, more polluted – I saw bagged trash and a refrigerator dumped on the bank," he continues.  It was unsettling to him, and he resolved to do something about it.
He swam the entire river. 
Attempting to raise awareness and educate people about the importance of clean river water, Vic  jumped in  – and swam.  Beginning in the coal mining areas of eastern Kentucky, dipping into the northern part of Tennessee, and ending in Smithland, Kentucky, Vic's swim took him by  every riverbank and marina along the Cumberland's 696 mile route.  Swimming past beautiful rock formations and tranquil coves, he also saw his share of ugly things – soda cans, fast food wrappers, cigarette butts, and worse.  "If you can imagine it, I saw it," he says, shaking his head.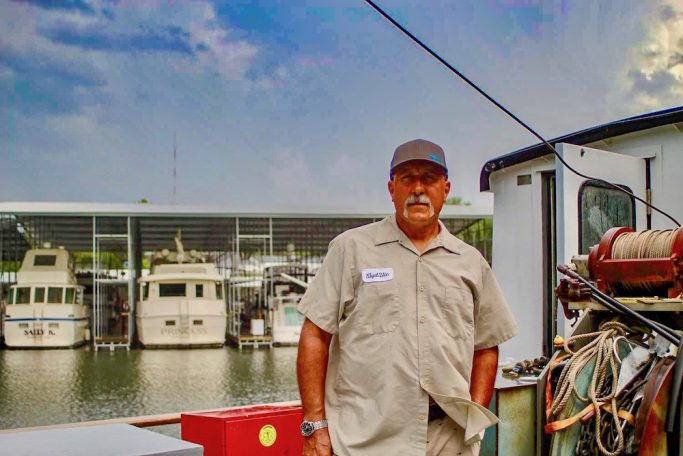 Taking a leave of absence from his powerhouse operator job while he swam, Vic explains his biggest concern was hypothermia.  And if he'd be able to actually hold up the entire way… With a target of 10 miles a day, the first day he only swam 5.   He remembers thinking, "Not a good start, I have already blown this."  Day 2 he swam 25 miles, with daily distances depending on weather conditions and river currents.  "Some currents were so strong,  I couldn't tell if I was even moving," he laughs.
Sixty-five days and almost 700 miles later, he swam into Smithland, where the river joins the Mighty Ohio, on July 4.  Met by a cheering crowd of friends and well-wishers, he deflected the attention.  "I wanted the focus to be on the river," he remembers.
Over 20 years later, Vic still works tirelessly on his mission.  The swimming adventure led to his founding Save the Cumberland, a non-profit dedicated to providing public awareness and education regarding Cumberland River concerns. 
Vic and I talk on board the Eastern Surveyor, a decommissioned naval vessel he purchased 5 or 6 years ago. The Master Captain, recently retired from his 32-year factory job and now a volunteer firefighter, informs me you can indeed buy a Navy boat after it goes out of service.  Along with his brother, Vic boarded the impressive, 80-foot yard patrol craft in Rhode Island.  After 34 grueling days at sea – despite a tropical storm, intense heat, and very close living quarters – the men docked the Eastern Surveyor in TN. "Hardest thing I have ever done," Vic recalls.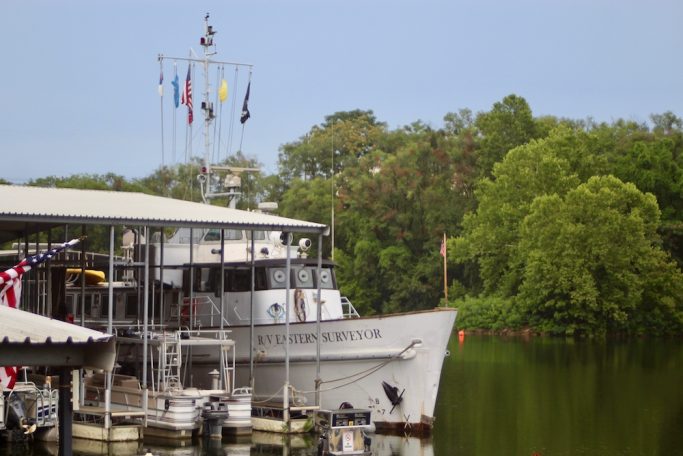 Showing me the letter certified by the Coast Guard, Vic is proud of the fact his 90-ton boat is a limnographic (inland waterway) research vessel.  He offers his vessel  to "universities, government agencies, labs, and research facilities" to study the river and take water samples. He's hosted field trips, volunteer service days, and student conservation kids.  "It's all about getting the word out, bringing attention to the river, educating people about protecting our resources," he points out.
"A smooth sea never made a skilled sailor." – Franklin D. Roosevelt
Vic's goal?  He wants "the Cumberland to be the cleanest major river in America."  He stresses every single plastic bottle or napkin thrown into the river matters.  "We can't wonder," he says, "What difference does my one bottle make? We need to care more, and we definitely can't lose hope."
The third annual Save the Cumberland River Party will be August 18, 11am-7pm,  at Rock Harbor Marina in Nashville.  Boats, jet skis, paddleboards, canoes, kayaks all welcome!  Bands will play throughout the day. For more information, go to www.savethecumberland.org or call 615-429-5351.  All proceeds go to "making the Cumberland River the cleanest major river in America."