Troy Baksh – New York City Flower Market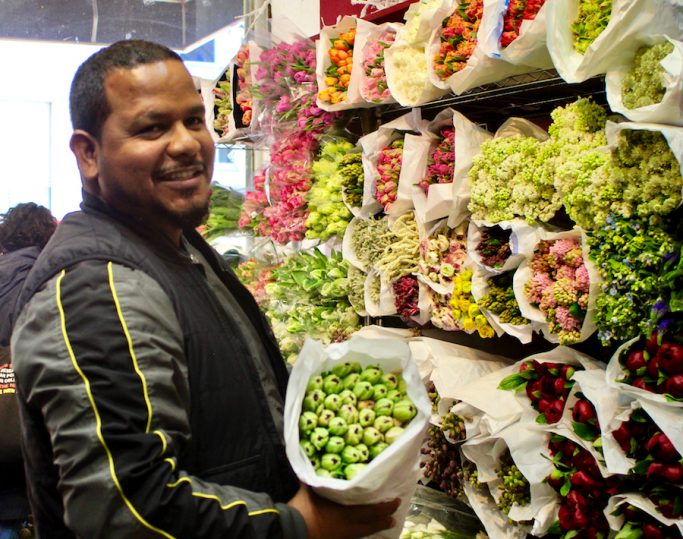 Dodging cartons of cut flowers and drivers unloading boxes of tulips and hydrangeas, I maneuver my way along the crowded – and colorful – Chelsea sidewalk.  Coffee in hand, this truly is a beautiful way to start my NYC day.  As Troy Baksh says – "Who can possibly be unhappy when surrounded by fresh flowers?!"
Located on West 28th Street, between 6th and 7th Avenues, New York City's Flower Market is teeming with people who seem to know just what they are looking for.  Florists and designers and event planners shop here every day – many are stocking their own stores with unique varieties and colors of flowers. A few shops along this street will sell to the retail customer.  Sadly, like everything else, development is shrinking this colorful district.  Hotels and restaurants and office buildings are encroaching on the spaces that used to be all about flowers and plants.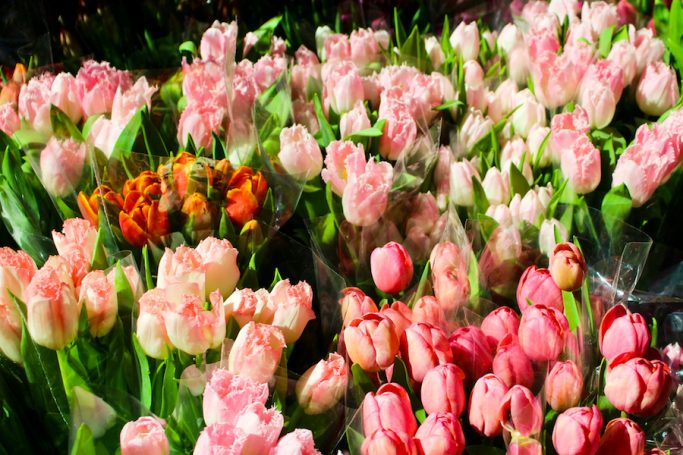 We meet after the morning rush, and long after Troy has opened his shop at 4 am. Surrounded by roses and ranunculus and dahlias neatly arranged along the walls, Troy explains most flowers sold in the US are not grown in our country. Shipments arrive almost daily from Columbia, Ecuador, The Netherlands, Japan, Israel.  "And some from Jersey," he adds.  Among the familiar zinnias, anemones, and pansies, Troy shows me types and colors of flowers I've not seen before – purple lisianthus, blue phalaenopsis, feathery roses, flannel flowers, and orchids so intricate and vibrant they don't even look real.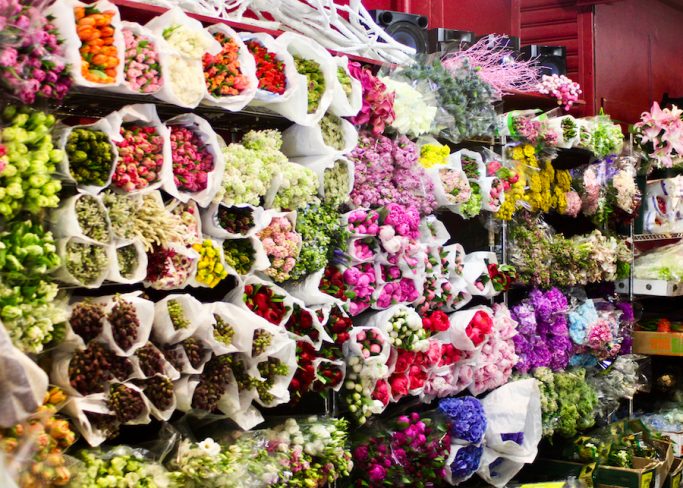 The soft spoken native of Guyana, South America (on the Atlantic, just east of Venezuela), arrived in New York City when he was 14.  Troy, beginning to relax and open up, tells me he swept floors and watered flowers in a Market shop after finishing high school.   When the shop owner needed to cut costs and eliminate a few jobs, Troy volunteered to give up his position. He left so his father, driving a truck for the same company, could continue to support his other family – Troy's stepmom and half-siblings.
Troy tried college classes and, he admits, "they didn't work for me." He made ends meet with odd jobs here and there – helping with deliveries, cleaning tables, working as a home health aide.  When an old friend hired him to work in the Market a couple of days a week, Troy was delighted.  All of a sudden, he was earning more in two days than he'd made in a week.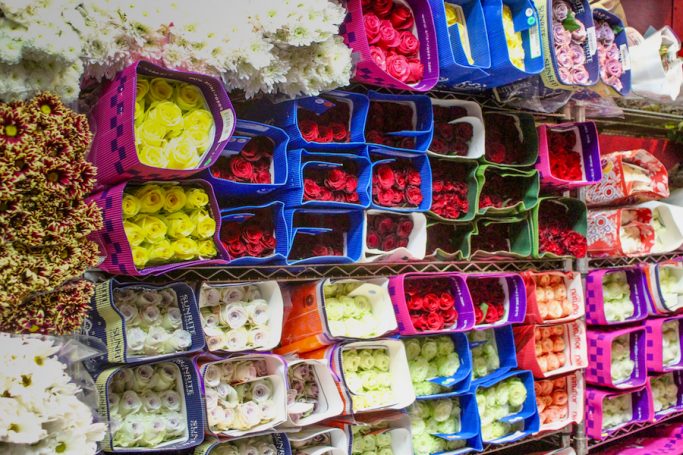 The owner took a liking to Troy, and along came more and more responsibility.  Besides learning about all things floral, he spent the next several years grasping the business end of things – bookkeeping, ordering, and relating with customers.  "I learned something everyday," Troy reflects.  "I always dreamed of opening my own shop in the Flower Market."
Flowers always make people better, happier, and more helpful; they are sunshine, food, and medicine for the soul.  –  Luther Burbank, American botanist
After some hurdles and bumps along the way, Troy opened his very own shop, named after his young daughter, in 2012.   He proudly points across the street to his second store, launched earlier this year.  Rightfully so, Troy is happy with what he's accomplished.  Just 41, he is one of the youngest owners in the Market.  With a big smile, he tells me his two teenage sons are college bound.  Are they destined for the flower business?, I wonder.  Laughing, he says he will let them decide.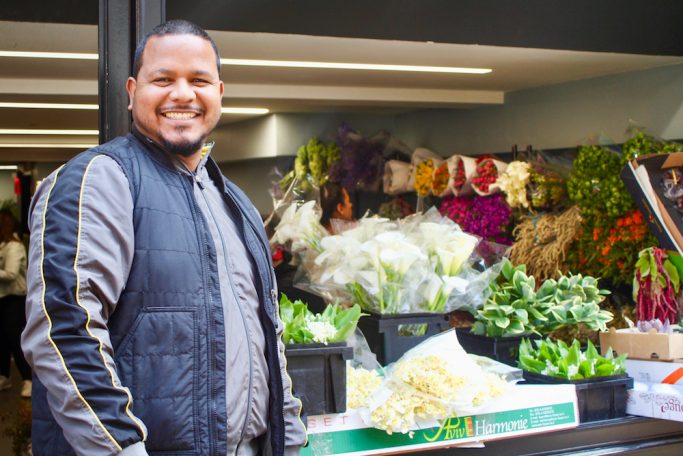 As we chat, his wholesale business is constant, and he greets a steady stream of customers.  Most know him by name and seem genuinely happy to see him.   "A lot of places are missing customer service," he says, and I must agree with him.  Todd tells his employees, "I don't pay your salaries, the customers do."  Definitely a good way to put things. "It doesn't matter if someone spends $5 or $5000," Todd relates. "You never know when the person buying the little batch is going to come back and buy the big batch."
Troy realizes this is a tough business, and all he has can disappear tomorrow.  Flowers are a luxury, after all.  "Nope – no back up  plan," he confesses with a smile.  But that's ok.  "If things don't work out," says Troy, "I will just keep getting back up again and again."