Thomas Persinger – Salmon Fisherman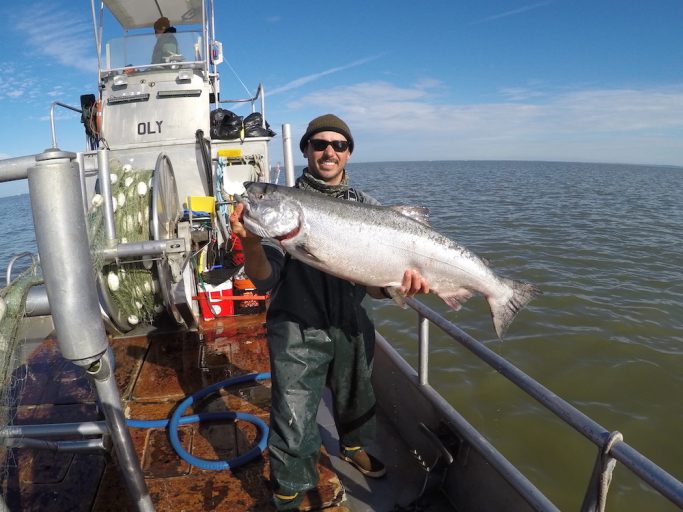 Thomas Persinger's love affair with Alaska – its glaciers, volcanoes, captivating wildlife – began a dozen years ago.  Celebrating his dad's 50th birthday, the family travelled to Anchorage and Seward and Port Alsworth, a tiny fishing village in the Alaskan bush. What was not to love? "We ate breakfast, hopped in a float plane, and caught fish all day," Thomas remembers.
And he was determined to return.  Studying at Auburn University, Thomas tackled an ambitious list of fishing-guide requirements in his free time.   Working hard, he collected a Coast Guard license, CPR and first aid certifications, and a number of boating hours.
Checklist complete, the engaging, likable young man packed his bags and headed back to that same fishing village in the majestic, barren Alaskan wilderness.   As a traditional and fly fishing guide for a local lodge ,  Thomas shared a bunkhouse with other guides, pilots, housekeepers, and chefs for the summer season.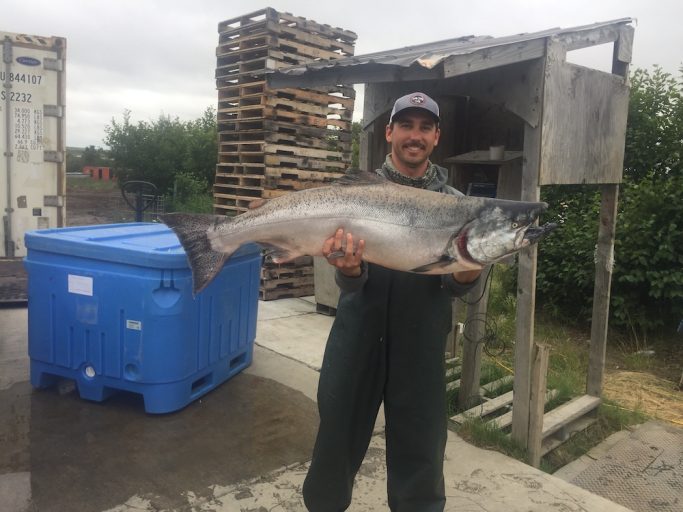 "The great thing about guiding," Thomas reflects, "is I instructed ten new people every week who thought fishing in the Alaskan back country was the most beautiful thing they'd ever experienced."  Even when joined by the occasional brown bear.
The bears keep busy hunting salmon in knee to chest-deep waters.  Except for the rare encounter (!),  the animals are focused on the migrating salmon and have no interest in the human anglers.  "Watching the bears stalk the salmon is indeed an awesome sight," Thomas says.  "Imagine a bear – some are 11 feet tall and weigh 1500 pounds –  pouncing on the salmon, chasing them underwater, and picnicking on the banks. They are having a ball."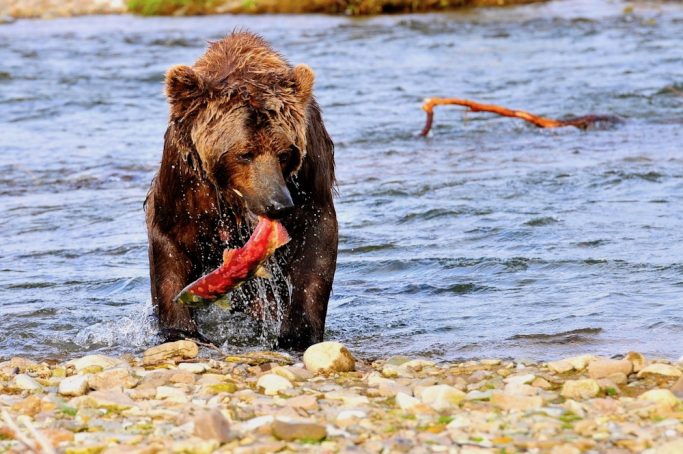 After guiding for five glorious seasons, graduating with a Supply Chain Management degree, and earning a private pilot license, Thomas reached a decision point. After all – long distances, crazy work hours, and time zone differences are tough on relationships and individuals.  Working on his family's Chattanooga farm during the off season, he pondered his next steps.
Deciding to stay put for awhile, Thomas put his logistics education to use with a special project at the Chattanooga Area Food Bank.  Just as he was wrapping up the assignment AND feeling the urge to return to Alaska, Thomas met his next employer – a friend of the fishing lodge owner.  Smiling and shaking his head, he chuckles "You just never know who you are going to meet." 
Thomas' job is to get salmon from the Alaskan waters to our dinner plates.  "Moving the fish is where I come in," he says.  From fishing on commercial vessels to processing salmon in the local plant to distributing nationwide, he sees the entire independently owned enterprise – and fabulous quality control –  from start to finish.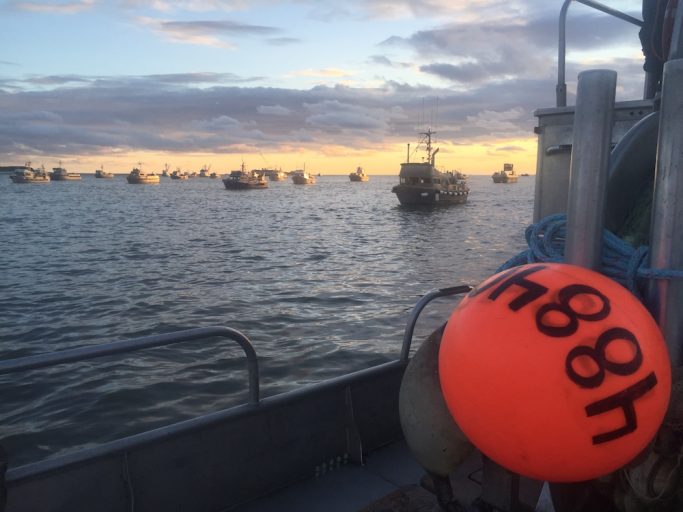 It's not so bad to live on a fishing boat for days and nights at a time when you are surrounded by belugas and humpbacks and orcas.  "And seals – lots and lots of seals," Thomas laughs. "Unfortunately, they eat our catch."
"We fish in remote Bristol Bay," explains Thomas, "which is the largest commercial wild salmon fishing ground (fishery) in the world."  The state  of Alaska closely monitors the spawning salmon in fisheries and river systems before they will give the "go" sign to commercial fishing.
"Then we fish," says Thomas, "as hard as we can, and catch as much as we want."   The king, sockeye, pinks, chum, and coho salmon migrate according to the tides.  "If we have high tide at 2 am, we are fishing at 2 am," Thomas explains.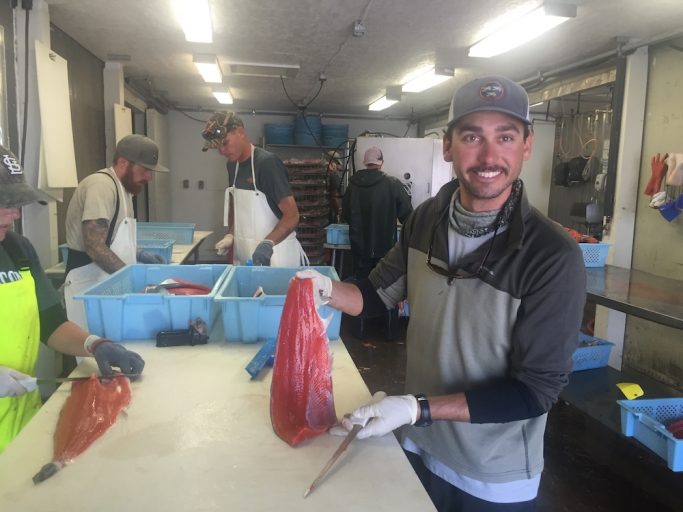 Having eaten – and loved – the salmon from Thomas' company, I wonder what makes their product so pink and tasty.  Thomas doesn't hesitate when responding  – "We bleed the fish."  Once the fish are lifted from the boat's net, the crew members "pop a gill."  One fish at a time – by hand – thousands of pounds each day.   According to my salmon expert, "This takes the blood out of the meat and eliminates a strong iron taste." 
A great captain, good deck hands, and camaraderie make for a smooth operation.  Thomas refers to the fishing, icing, unloading, filleting, and packaging as "a well-choreographed dance." A dance he is very happy to be a part of.
In early 2019, Thomas will hang up his fishing pole and begin a new business venture.  His online sales firm, Marithyme Seafood, will sell delicious, to-your-door wild Alaskan salmon.  Thomas looks forward to this next challenge and living in Chattanooga with his wife and brand new baby boy!
All photos courtesy of Thomas Persinger