Susan Martin – Hiking the Grand Canyon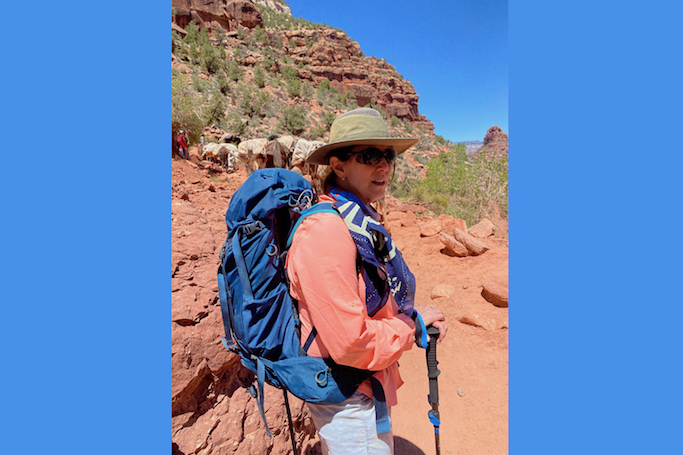 At 5 am, Susan Martin dragged herself out of the cozy hotel bed. She stuffed the final supplies into her bulging backpack–snacks, a lunch, extra tops and bottoms for the next two days and nights. She tugged a jacket over her other four clothing layers and poured a cup of coffee.   
And then she pulled back the drapes to look out the window.
"It was snowing. Hard. And I was not happy at all," says Susan.
Several months earlier, a friend asked Susan if she'd like to join a hiking group. The handful of 60ish-year olds planned to hike eight miles down to the bottom of the Grand Canyon. And twelve miles back up to the rim.
"No thanks, but you all have a fun time," Susan said.
"I was afraid," she says. "I didn't know if I could do it." But she mulled it over the next few days. Susan exercises five times a week. She swims, lifts weights, and does a mix of high-intensity interval workouts. At 62, she's in great shape.
She thought back to something her mom used to say. Take a cookie when they pass the plate. "I decided I didn't want to miss this opportunity. I needed to say yes," she says.
So she called her friend back. "I'm in," Susan said.
When she trained for the hike, lugging a heavy backpack up and down a series of stairs near Houston's Sabine Street Bridge, she didn't plan on wintry weather.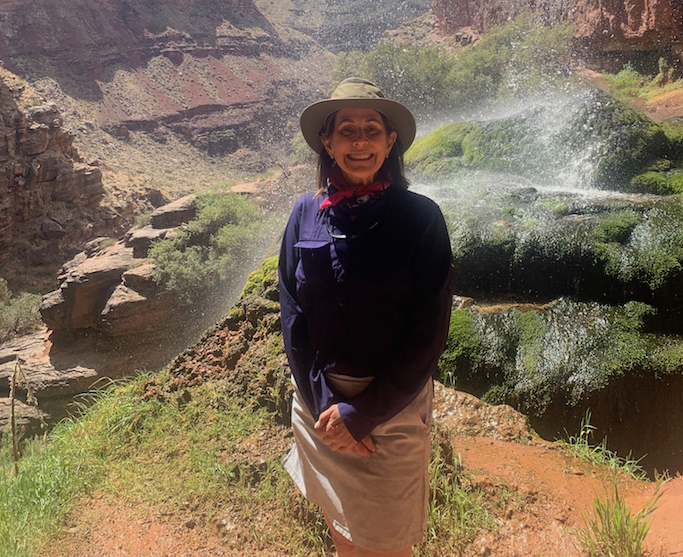 But, facing the snow and cold as her group set out from the South Rim of the canyon, she wondered WHAT she was getting herself into. "I was nervous," says Susan.
The weather didn't bother her fellow hikers—four men, 5 women. "Don't worry," they told her. "Once we get below the rim, it will warm up."
Sure enough, the snow stopped.
For the next six hours, as the group zigzagged along the trail, the snow gave way to rain showers, a downpour, and, eventually, welcome sunshine. With walking sticks clicking along the trail, Susan took in her first views from inside the canyon. Through the fogs and the clouds, she saw glimpses of the Colorado River winding along the canyon floor a mile below. The rocks and sky wavered between shades of oranges and reds and golds.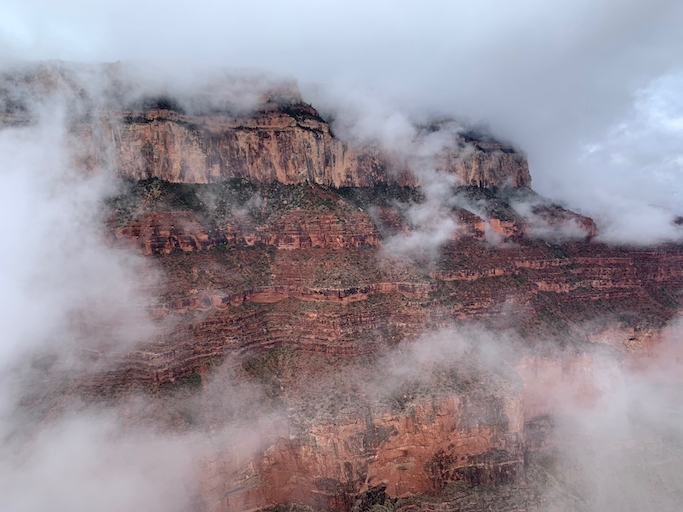 Some adventurous hikers make the trek down and back out the same day. "Not us," says Susan.
Six hours later, Susan and her new hiking friends reached their destination for the next two nights. Nestled at the bottom of the canyon, Phantom Ranch is operated by the park service and the only lodging below the canyon rim. Hikers, Colorado River rafters, and mule riders enter a lottery to reserve the cabin more than a year in advance.
The historic campsite offered bunk beds, one indoor potty, and a single sink. "And wonderful people who cooked for us," says Susan. The park service employees, who live at the base of the canyon for three weeks at a time, prepare beef or vegetarian stew for lodgers. Every night. Breakfast is eggs or pancakes.
Mules deliver supplies to the camp, including a variety of food for the employees, and carry the trash back up to the rim. With no tv or internet— and a payphone a half-mile away—Susan and her group read, talked,  decompressed, and fell asleep early.
"The next day we all woke up stiff and sore," says Susan. "We walked like penguins." They hiked again—only twelve miles this day—on nice, flat land to a beautiful waterfall. "We swam, relaxed, picnicked. We rested and geared up for the next day," says Susan.
At 6 am, the group began their steep climb back to civilization. As hard as it is on the knees and legs to descend into the canyon, climbing out is even harder.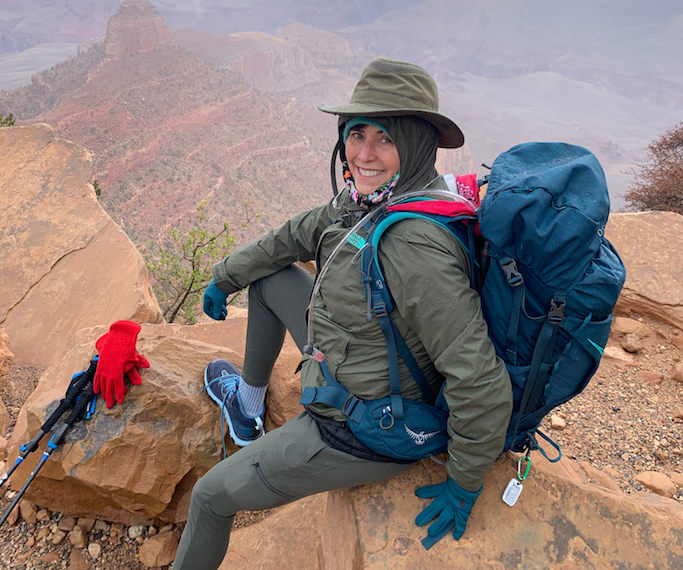 "With lots of stairs and switchbacks and rocks, it was constant—and brutal at times," says Susan. They'd stop to catch their breath and regroup and then move on. Susan and her group "weren't in a hurry and took their time."
She repeatedly asked herself, "Is this almost over?"
When hikers get injured or can't make the climb, park rangers are stationed along the trails to assist. They carry two-way radios and summon mules or helicopters to help.
But Susan finished the climb. Eight miles and six hours down. Twelve miles and eight hours up. Her whole group finished.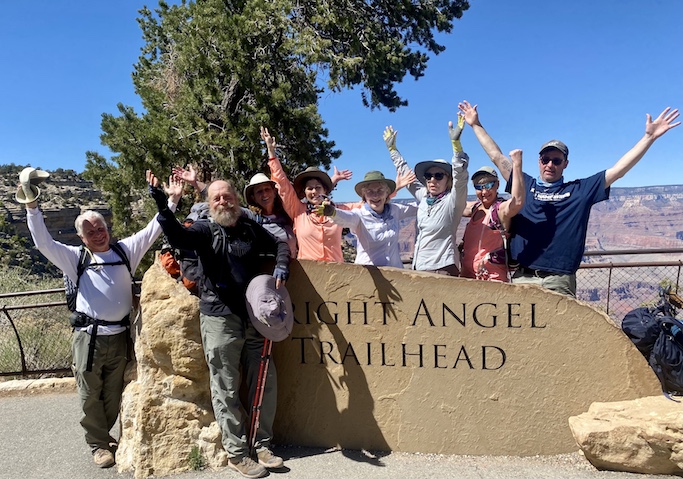 "How many times do we not do something because we are afraid?" says Susan. "I'm proud of myself." Like when she ran the Houston marathon the year she turned 40. Or survived the choppy, treacherous Drake Passage on an Antarctica cruise. She tackled a project which was—upfront—uncomfortable.
Several years ago, Susan listened to a sermon at church. The main message encouraged the congregants to "keep moving, keep doing, make sure you've given it your all at the end." The pastor recommended we die tired. And that's what Susan is determined to do.
Thanks to Susan Martin for the  photos