Roger Senechal – Total Solar Eclipse 2017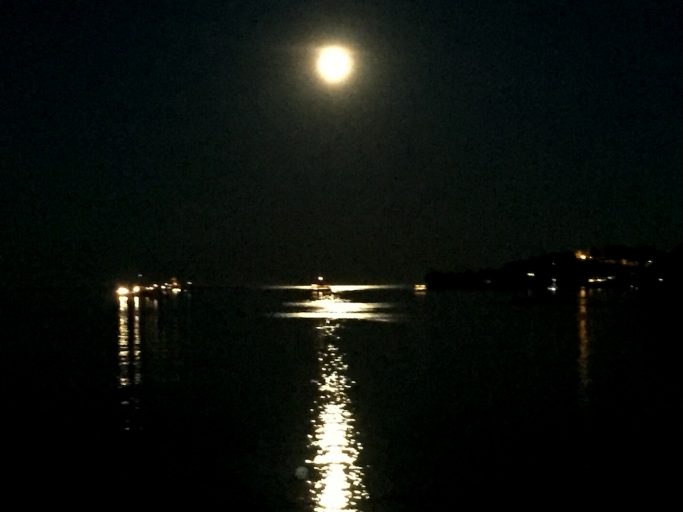 On August 21, 2017, the first coast to coast total solar eclipse in 99 years will sweep across the country.  Most people will see only a partial eclipse – the moon will appear to take a bite out of the sun – an amazing show on its own. The twelve million people lucky enough to be situated along the 50-70 mile band of totality will view, according to Roger Senechal, a "supernaturally overwhelming sight."  The moon will line up just right, exactly between the sun and the earth.  As the moon completely blocks out the light from the sun, the skies will turn dark.  Birds will stop singing, temperatures will drop, the atmosphere will turn eerily quiet.
Roger, a lifelong astronomy enthusiast, lives along the band of totality, just outside Nashville,TN.  A part-time Episcopal priest, he is doing his part and praying for a bright, clear day on August 21.  Although he is officially "semi-retired", this energetic septuagenarian has an enviable zest for life and learning.  He laughs and says he has so many hobbies he doesn't have time to pursue them all.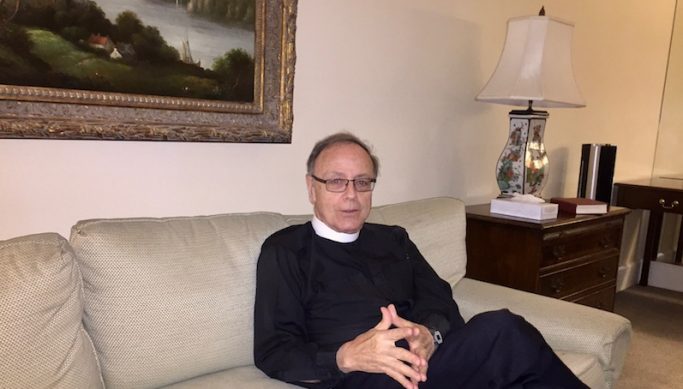 Showing me photos and explaining the various stages of the moon blocking the sun during the eclipse, Roger says he has been following the countdown for three years.  The next total solar eclipse won't occur over the U.S. until 2024 and not in the Nashville area again until around 2500.  Although a total solar eclipse occurs about every 18 months, most are over water or in remote parts of the world.  Roger is grateful this one is "falling into place miraculously well for some of us in Tennessee."
"At the age of 13, I looked through a telescope, saw Saturn, and that was it.  I was hooked."

  
When I ask him what I can expect to see during the total eclipse, he eagerly tells me to prepare for a "life-altering" show.  Trying to keep his scientific explanations as basic as possible, Roger hopes I will be fortunate enough to see solar flares.  These tongues of flame, essentially huge explosions coming off the sun, radiate randomly and will be visible during totality.   He reminds me the moon's surface is not smooth but filled with depressions and craters.  During the eclipse, we may see the sun peeking out through these depressions, creating a brilliant sight known as Baily's beads.  According to Roger, the most spectacular manifestation of Baily's beads is the diamond ring effect.  One of the moon's craters is quite large, he explains.  When the sunlight shines through this depression, it gives the appearance of a glowing diamond ring.
Figuring he is a science whiz, I wonder why Roger pursued a career in theology rather than astronomy?  "The very quick answer," he chuckles, "is I wasn't great at math."   "There was never a day, as far back as I can remember," he reflects warmly,  "when I didn't want to be a priest. I didn't want to be a fireman or a policeman or a soldier when I grew up.  I was comfortable in church and worship settings and recognized my calling." He remembers he was always interested in, what he views as, "the big stuff."
"My favorite part of astronomy is looking through the telescope and seeing God's fingerprints all over our universe."

  
After six decades in the Boston area, Roger and his wife, Diana, packed up and moved to Nashville in 2007.  With his son living nearby and more time to spend with his wife of almost 40 years, Roger says he pinches himself on a daily basis.  Time spent outdoors with his "beyond beautiful and wonderful wife" is Roger's idea of perfection.  They cherish their annual campouts with other astronomy friends – sleeping in a tent, staying up late, examining and exploring nature.  He still rides his bike several hours a week and plays the guitar on occasion.
Planning to watch the eclipse with his fellow staff members, Roger believes it will be the fastest 2 minutes of his life. He may audio record the event, saving reactions and impressions to revisit at a later time.  He wants to simply savor the awe, wonderment, and excitement of this gift God has given.