Passion for Golf + Business Savvy = Apparel Collection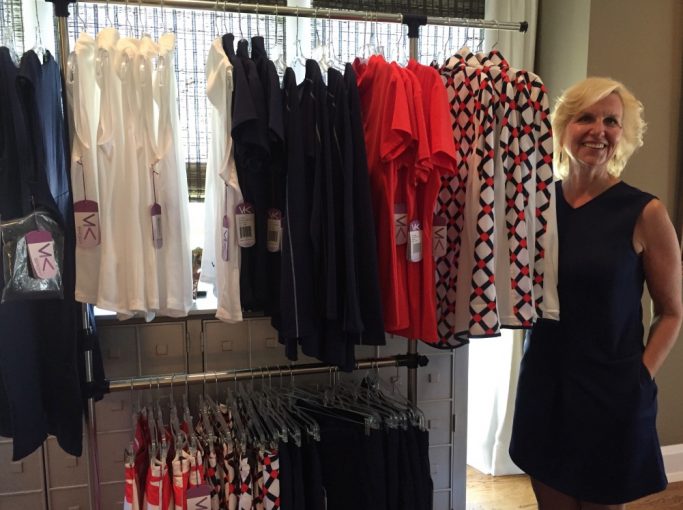 "You have no chance of scoring if you don't take the shot."  Operating on the premise that you have to start somewhere, Victoria Kopyar almost seems to welcome mistakes and problems.  Known as someone who relishes the chance to reimagine or reinvent, Victoria "jumped in with both hands and feet" to improve the look of her golf game.
Growing up in Ohio, Victoria loved pretty clothes and couldn't always afford what she wanted to buy.    She took sewing lessons as a teenager so she could make the beautiful outfits she admired in fashion magazines.  Fast talking and articulate, Victoria remembers how she enjoyed  adjusting patterns and adding unique or surprising touches to her garments – a ruffle, pleats, scallops.   Even as a young woman, she delighted in the challenge of creating something special, building it from the ground up.
Victoria worked two jobs to put herself through college at The Ohio State University.  Along with ringing up sales at a department store in Columbus, she sold home decor and gift items in a family owned boutique.   "The  owner was my mentor and, although I didn't realize it at the time, taught me the discipline of being in a business," she reflects. "She introduced me to merchandising and buying and showed me how things come together."
Armed with her Accounting degree, Victoria did a seven year stint in the financial services industry.  "Operational auditing wasn't my ideal," she recalls.   Determining this career was "not the shoe that truly fit," Victoria decided to follow her passion, her heart.  Along with her fondness for fashion, she had learned she liked the commerce aspect of consumer goods.
Victoria joined Target, one of the nation's top retailers of consumer items.   Target's philosophy, at the time, was to continuously move their management team around in order for the employees to gain exposure to various branches of the business.  Victoria eventually landed in the Seasonal department, working with designers all over the world to buy and create specialty and holiday products 12-18 months in advance of store appearance.  How do you know what people will want or need 18 months from now?  Trend shopping!  The self-proclaimed shopper, admittedly "always trolling and wandering," was paid to shop with the company credit card.    She combed the shops of Europe, typically ahead of U.S. stores trend-wise, and returned to Minneapolis with items she found promising.  She discovered high-end candles in unique jars with beautiful fragrances.   "As hard as it is to believe now, decorative candles were not a thing here yet.  You only saw them in specialty stores," she relates.  When she and her Target team were developing the new candle program, they needed sophisticated fragrances.  At a London fragrance school, Victoria learned to smell and appreciate different scents.    Her next stop was Tokyo to explore their legendary packaging techniques.   "It is fun to look at the market now and see the legacy," she says.
Victoria's search for designs and trends took her all over the world.    Although she considered herself "extremely fortunate," she eventually tired of the frenetic corporate pace.  When Victoria was not on the road, she regularly found time to fit a game of golf into her schedule.  She became increasingly frustrated with trying to find feminine and flattering golf attire.  "I was tired of looking like a man!" she laughs.  She gathered her golfing background, sense of style, business acumen and, ultimately, launched VK Sport.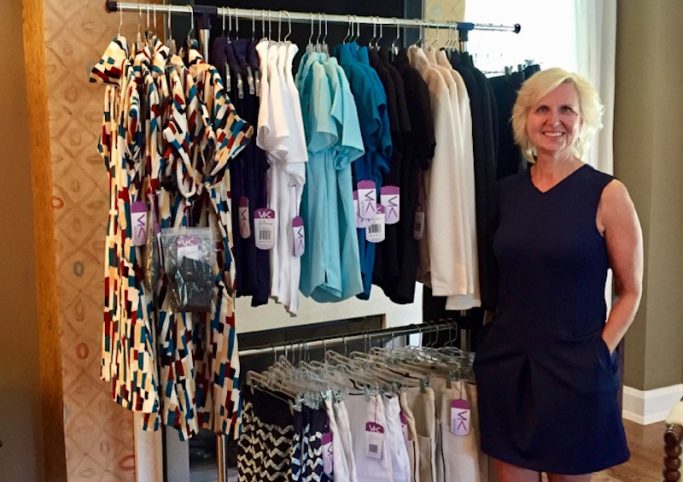 She began the business, working nights and weekends, by connecting with people she'd met along her corporate path.  She placed countless phone calls and did tons of research to find factories, fabrics, and information on producing a clothing line.   "It was HARD," she recalls.    "I knew I would make mistakes, but I also knew I just had to start."    Victoria encountered hurdles and obstacles,  but  she kept plugging away.   As she shows me a skirt, inspired by one she saw on a fashion runway in Milan, Victoria reveals the fun part for her is to take a pattern and add her creative touches – lace or ruching or gathers.  She enjoys choosing the color palette and anticipating what shades might be popular in coming seasons.  "I set out to try to solve the problems that drive women crazy with active clothing.  I wanted the pockets deep enough for cell phones, the sleeves to hit the right part of the arm, the shirts to be tapered and long enough to wear out. Clothing designed by a woman for a woman."
Her resulting collections mirror Victoria.  They are fun, flirty, pulled together, and stylish.   Finding people to actually buy her new line was the next goal.  "You don't just put it out there," she laughs.  "You have to teach people that you exist."   Steering customers to her product involved more hard work.  She  introduced her line with trunk shows – she still does some of these –  and word spread.  She eventually landed a contract with Golfsmith's online division, unfortunately no longer in business.    Losing her anchor was another difficult step on her journey, and she now relies on golf pro shops, trunk shows, and online sales. 
This "older-than-a-millennial" entrepreneur is excited to see what the future holds for VK Sport -and for herself.   She has a long list of places she wants to visit.  As far as her business travels have taken her, she longs to see the Egyptian pyramids someday.  Always a competitor and outdoor enthusiast, golf is still a great "connecting tool" with her family. Every weekend, after golfing with friends, she calls her father to discuss her game – how well she putted, or didn't.  Her very realistic goal for this summer – break a 90 on the course.  And see lots of women clad in VK Sport on the fairways!