Meet Dustin Williams – Violin Maker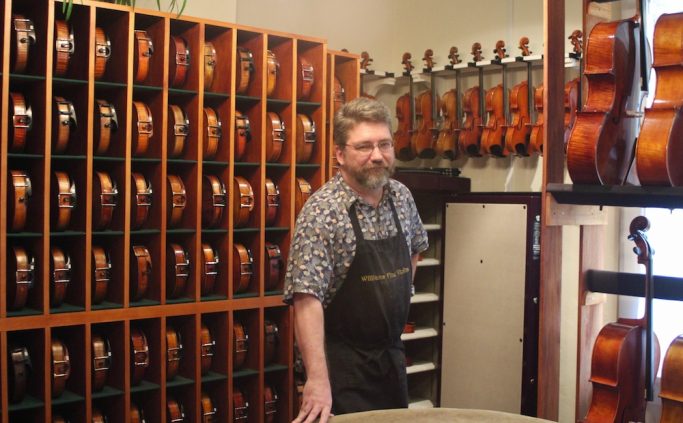 As we wander through the charming, historic Music Row building with the rickety staircases and old-world architecture, Dustin Williams proudly explains, "Everything we have here we fully expect to last 200 years." The older they get, the more valuable. The more they are played, the better they sound.  "We are lucky to be the caretakers of these beautiful instruments."
Almost 20 years ago, Dustin left his job as a high school orchestra teacher in McAllen, Texas.  He wanted to do something different –  where his days and weeks were unpredictable. "Although I absolutely loved teaching and my students, I always knew where I would be on Tuesday mornings at 9:30 – my beginning strings class," Dustin explains.  "Teaching is a somewhat structured environment," he continues, "and I was ready for a change."
Choosing among the other top notch schools in Italy, Germany, and Chicago, Dustin enrolled in a program at the prestigious Violin Making School in Salt Lake City, UT.  He and his classmates from around the world studied the ins and outs of violins all day long, 5 days a week, for 4 straight years.  "You had to like violins," Dustin chuckles quietly.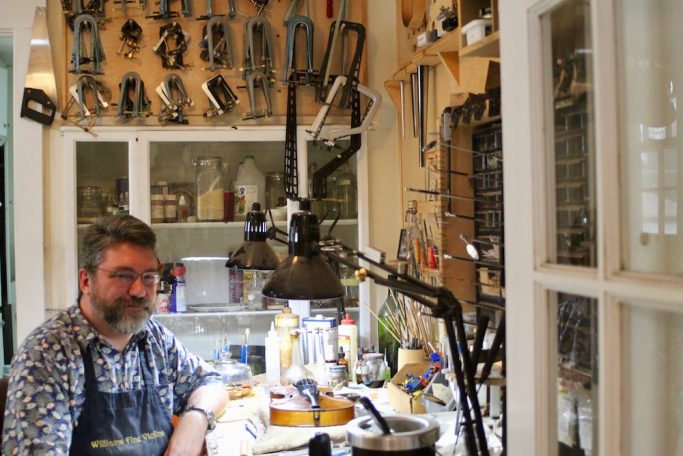 The "naive student right out of violin school" moved his family to Nashville, a music mecca with no violin makers in the area. Dustin set up shop and started building violins.  Pouring 200-250 work hours into each violin, he quickly learned the instruments don't necessarily sell right away.  With rent coming due, he decided to take in a few repairs.  "Next thing I know, I am swamped with repairs," he reflects.  When I guess the musicians were thrilled to see a man with his rare talent come to town, he nods politely in agreement.
The rambling shop is filled with 3 floors of violins, violas, cellos, and basses waiting for Dustin and his crew to refine, finish, and sell.  Some of the instruments are old, others are brand new.   With his reputation for making an instrument sound as good as it possibly can, workshops from all over send their handmade pieces to Dustin.  "We fine tune them, maybe add a new bridge or a new sound post," he says.  Although they arrive in good shape, the job for this ultra-conscientious luthier is to make them "even better."
Luthier – maker of stringed instruments such as violins or guitars
Dustin emphasizes violins are made in workshops, not factories.  Each instrument is handmade, with no machines and electricity required. "Hundreds of years ago these beauties were made by candlelight," he points out, "and we could still do that today."  Like human voices, no two instruments are the same.  "We are working with woods," Dustin remarks, "and every piece is slightly different."
In a workshop, you may find a craftsperson bending maple to shape the violin's ribs. Or you might see an artisan, using gouges and chisels, carving the top of the violin out of spruce. Hundreds of years ago, the luthiers figured out these woods work best, and today's makers stick with them.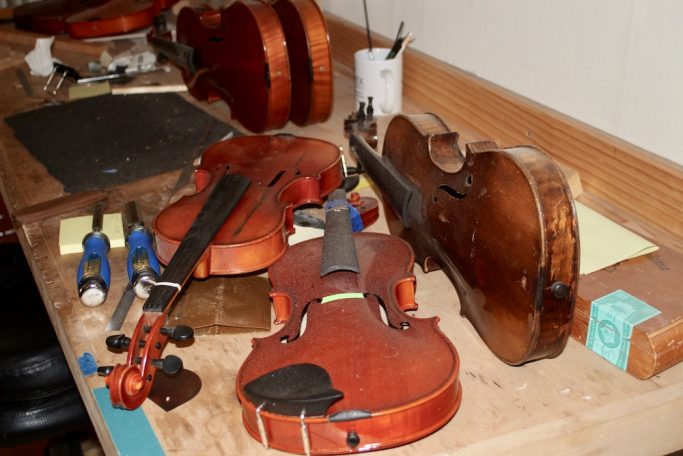 As he plucks on a violin's strings, Dustin confirms the strings were traditionally made out of stretched sheep intestines (catgut).  Today's metal strings –  aluminum, steel, silver, gold-plated, even platinum – cause an instrument to "play" or "respond" in varying ways. 
Pointing to a bowl of murky gunk, Dustin tells me his studio mixes their own varnish to touch up instruments with scratches and dents.  They cook "bug poop (really!), ground up roots, and waxes" and add a bit of aniline dye to the concoction.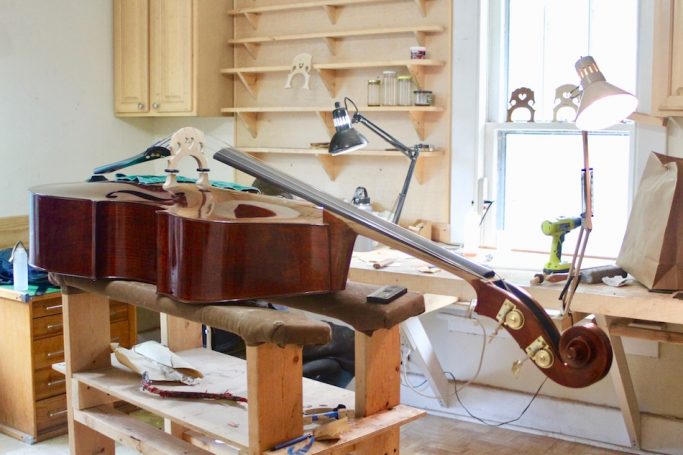 Dustin's workshop in Nashville actually carves some instruments using metal, reusable templates from Antonio Stradivari, the renowned Italian violin maker to kings and queens in the 1600s and 1700s.  "He became the standard for luthiers – the shape of his arches, his scrolls. Every violin here has some type of Stradivari influence in it," Dustin explains.
The best horse hair for the bows this workshop creates comes from Mongolia, still an equestrian society.  And, useful info for your next trivia game,  stallion hair is used because "stallions don't pee on their tails."  The horse hair is "triple drawn" before it arrives at the workshop.  Workers have picked through the tails 3 times by hand, eliminating wiry or curly or imperfect hairs.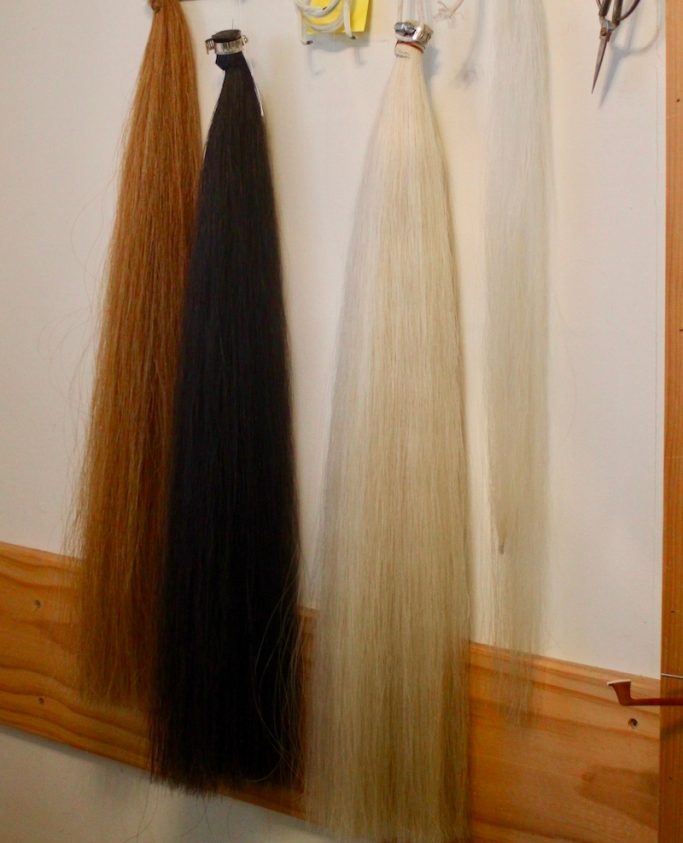 Dustin sells to professional musicians, college music majors, and people picking up a violin for the first time.  Ranging in price from $475 to $30,0000, he admits studio musicians don't look at the price tag. "They are looking for a certain sound, a particular tone and playability," Dustin says.  Symphony players are looking for a life partner, an instrument "able to peel paint all the way to the back of an auditorium." The bluegrass and traveling performers may not spend as much money, since their instruments are more likely to be knocked around on the road.
With all the musicians in this town, most have come to Dustin at one time or another.  Sooner or later, they need a bow or string repair, they've dropped their fiddle on stage, they want a new bridge, case, or instrument.  Dustin tells me with a big grin, "It's not really who we've met – it is who we haven't met.  Eventually they all come around."
Williams Fine Violins is moving to a new and larger location this fall – space to offer more lessons, recitals, and rentals.  I cannot imagine transporting all the inventory to a new site!