Mark Bilbrey – Cheesemonger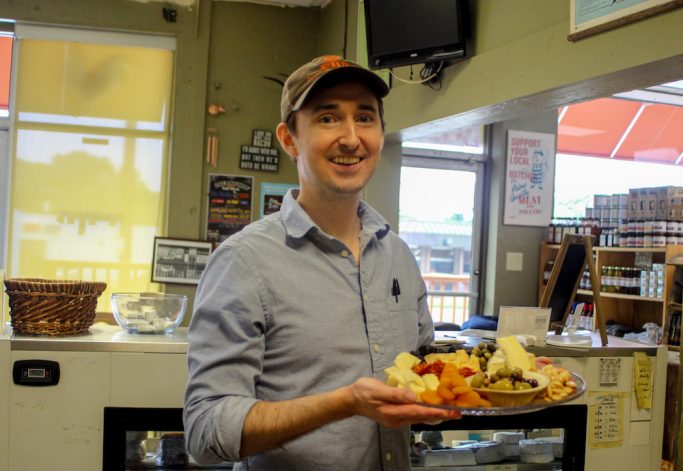 Feeling like old friends, Mark Bilbrey greeted me with a big smile, a warm hug, and invited me behind the cheese case at Porter Road Butcher in East Nashville.  We spent the next two hours laughing and talking and comparing varieties of cheddars and goudas.  Tragically, 3 months later, on November 6, 2018, Mark lost his life in a one-vehicle auto accident on rain-soaked streets.  For his family, friends, colleagues, and the Nashville community, it is truly a heartbreaking loss.  
I wrestled with the idea of  writing the story of Mark and my encounter.  After speaking with his family, this is the article I'd  loved to have been able to share with Mark.   
Mark shows me around the chef-owned butcher shop with hand-cut steaks and locally sourced eggs, honey, and schmaltz (rendered chicken fat to use in place of butter).  As the cheesemonger of Porter Road Butcher, Mark presides over the beautiful array of cheeses and charcuterie. 
Well-versed in literature, poetry, AND cheese, the part-time editor helps his Nashville clientele decide which Manchego or Parmigiano Reggiano or Mozzarella meet their tastes and moods.  Mark pairs the perfect meats and cheeses to match the wine and other foods served, time of day, and his customers' individual preferences.   
Grinning broadly, Mark agrees cheese mongering is quite a leap from his days as a PhD-equipped English professor.  After leaving academia, he set up shop  proofing and editing for graduate students, writers, and scholarship applicants. Giving me a shy smile, Mark remembers the graphic novel he once edited – "very interesting," he chuckles.
Living in Portland, Oregon at the time, Mark wanted something more – a hands-on experience to get him up, out, and interacting with people.    A cheese shop, within walking distance, was willing to train him in "all things cheese," and he fell in love with learning about the aging processes and flavors and pairings.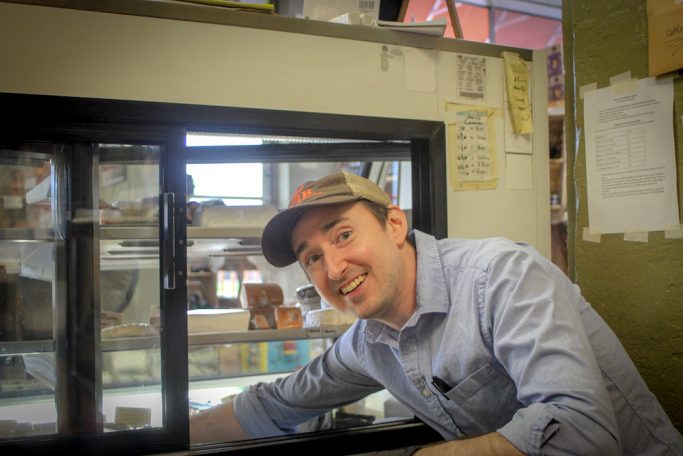 Today, Mark agrees to show me how to put together the perfect meat and cheese tray.   According to my expert host, the ideal platter is "a mix of textures, milks (goat, sheep, cow) and a balance of practicality and aesthetics." 
Mark explains we "don't necessarily want a museum quality tray."  It needs to be "approachable," the avid guitar player and bird watcher points out.
Donning his apron and gloves, he ponders what ingredients my tray will contain.  Noting I am not a big fan of strong and pungent, he settles on "people pleasers" for my platter.  He assures me all will go well with red or white wine and will complement other salads I plan to serve.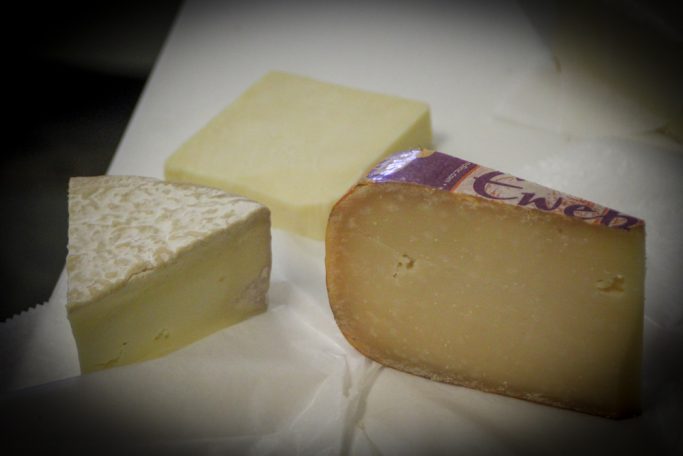 Mark's selects three cheeses, all with distinct textures, colors, and styles.  Nibbling on Prairie Breeze, a sweet, crumbly, white cheddar, the crunchiness is a fun surprise.  Mark explains the "little crunch comes from the calcium crystals developed during the aging process."  Nancy's Camembert, a mix of sheep and cows' milk, tastes amazing on the apple slice Mark offers as a cracker alternative.  Ewephoria, a nutty Gouda, is – as you may guess! – made from sheep's milk.
To preserve the quality and color of cheeses, Mark advises wrapping them in cheese paper.  Similar to wax paper, "it allows the cheese to breathe and keeps it from drying out."   One of his favorite customers, a concert cellist, has Mark place her cheese purchases in jars she brings to the shop.  "Same principle as the paper," Mark explains.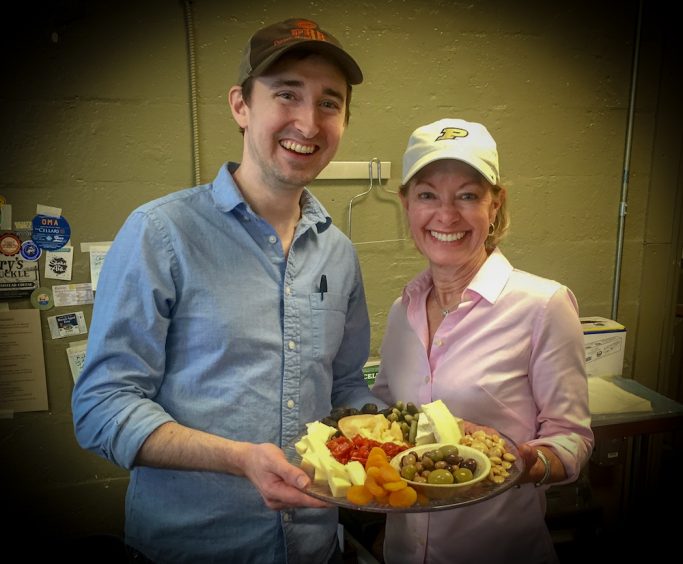 Music blaring one of his songwriter/artist colleague's "test mixes," Mark confides working in this hip, friendly shop is truly special.  "We are like a family, he says, "and I love the neighborhood and its people."  Mark adds – "My job is a definite leap from a PhD, but so very much fun."
Reaching into the meat case for two types of charcuterie, Mark asks how I feel about some spiciness.  Since I love the idea, he selects Porter Road Butcher's very own summer sausage and a  Spanish-style chorizo from Spotted Trotter, a boutique charcuterie in Atlanta. 
As he gets to work on the slicing machine, this purveyor of charcuterie surprisingly announces he is a vegetarian!  But he "definitely tastes all the meats so he knows how they pair with the cheeses."
For pretty presentations, Mark suggests crumbling some cheeses and cutting others into various shapes.  Meats can be folded into flowers "to mix up the plate a bit."  He agrees it is fun to look for inspiration and fresh ideas in books and on social media.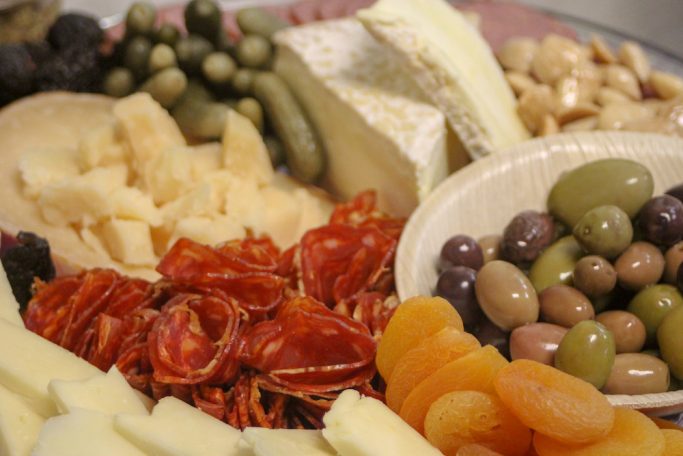 Finishing off his creation, he adds cornichons, dried apricots and figs, marcona almonds (imported from Spain), simple crackers and small dishes of house-made mustard ("fabulous with the chorizo") and local wildflower honey. "Wonderful ingredients make a huge difference," Mark says.
As a final note, he adds a small bowl of olives in a blend of colors and sizes. "Keep the olives in a dish so they don't bleed, and do not remove the pits or they will get mushy," he advises.
Munching on leftovers and admiring our finished product, I am excited to share it – and maybe some cheese knowledge – with my picnic partners this evening.  And, like Mark says, "where there is wine and cheese, there is bound to be fun!"