Katie Talbot – Voice and Performance Coach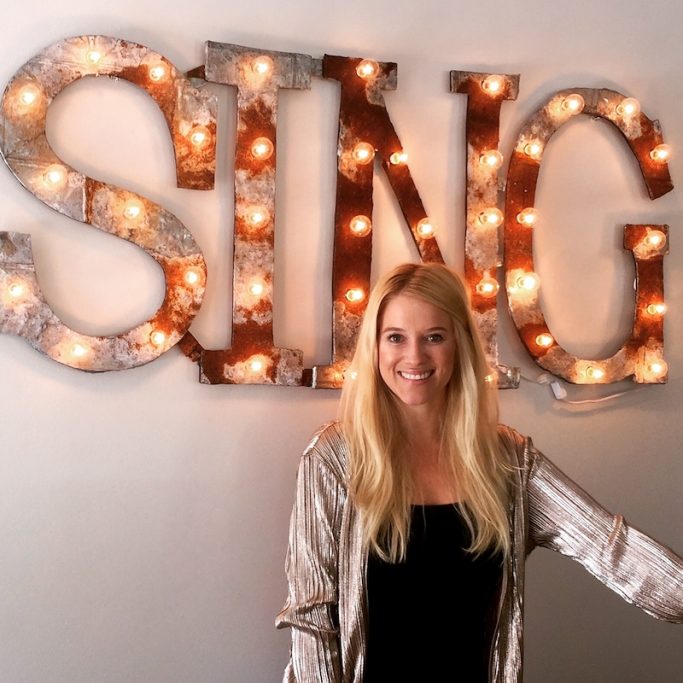 I am trying to imagine this striking young woman hiding inside a Jimmy the Gourd costume.  As a cast member of Veggie Tales, the animated show offering kind and helpful lessons to children, Katie Talbot pulled on a large orange suit with a backpack connected to it.  Depressing a button on the backpack, the suit expanded many times, much like a hoop skirt.   While singing and dancing to the track, Katie manipulated strings to control Jimmy's eye and mouth movements.  In other scenes in the show, she played an actual human being, displaying her acting and musical talent and "having a ball."
A short time later, Katie signed a deal with a Los Angeles record company and started the process of "development."  People worked with her to establish an image, connect her with bands and producers, and teach her stage and performance techniques.  For a variety of reasons, Katie questioned whether she wanted to live her life in the public eye.  "I started really thinking about what I wanted in my life,"  Katie recalls.  She explained to her agent she wanted "to take a pause on me."
Katie rethought her goals and hasn't looked back.   She truly enjoys being on the back end of the performance industry.   From her hip office on Nashville's historic Music Row,  Katie utilizes her experience as an artist to train other musicians.   A sought after voice and performance coach, Katie travels the world with artists on tour, assists in recording sessions, and choreographs performances and movements. When I ask her if there is as much pressure on this end, she initially responds "no," but quickly changes her mind.  "Well, yes there is!", she admits.  "I am in charge of someone else's success, not just my own."
Just as an athlete fine tunes his body with the help of a fitness trainer, established artists continually work with Katie for routine voice maintenance.  She develops personalized singing techniques for voice health, stamina, and preservation.  Although it may not look like a job to us, touring is not easy on the body or voice.  Sleeping on tour buses, eating meals at crazy hours,  and running around a stage in hot weather and high altitudes can all contribute to voice  distress.
Katie trains emerging artists looking for guidance and those wanting to break into the business. She especially loves helping these eager musicians get the best out of their songs – emotionally, mentally, and technically.    She finds it "great fun to watch clients develop their stage presence and their confidence."   Although it seems effortless to us, it takes some practice to know when to take the microphone from the stand or how to move across the stage.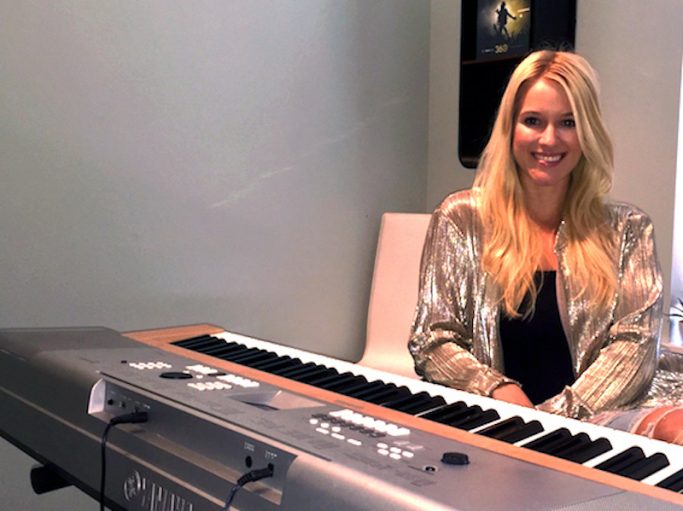 Katie's clients are not all from the music industry, and not everyone wants to be a star.  With his experience limited to singing in the shower and car, Katie remembers a client who successfully surprised his wife by singing a song to her at their wedding anniversary party.  She grows slightly emotional when she mentions an older gentleman who lives in France.  Diagnosed with Parkinson's disease, Katie practices drills and exercises with him via Skype to strengthen his weakening voice.  "When he sings Amazing Grace, it is truly something special," she says.
Voice nodules, similar to callouses on your vocal cords, and voice strain issues are problems Katie deals with on a regular basis.   She explains nodules cause a fatigued, raspy voice and require extended voice rest and therapy to mend.    Every day of healing seems very long to the established artist who is cancelling tour dates or the emerging artist who is just gaining a following and momentum.
Although Katie's excitement for her clients is apparent, I wonder if she misses performing and being on stage.   She says she fills that "sometime longing" with backup singing commitments.    She derives a lot of satisfaction from "being a friend and a backbone."  "I am honestly more fulfilled watching my clients from the side of the stage," she remarks.  Other than watching her clients perform, she admits it is very difficult to simply listen to music.  She is  "always critiquing.   It is hard for me to turn that button off."
When not coaching or singing backup, she and her musician/band member husband are "huge on community."  An ideal day means relaxing with family and friends.  And their cats – "but we aren't cat people, we like large dogs," she laughs.    Dressing up and going out for sushi at Virago's rooftop bar is her idea of the perfect date.  And then going home to play games, eat mochi balls (ice cream and sticky rice combined in a dessert ball), and spend cherished quiet time together.
A generation younger than me and wise beyond her years,  Katie has faced some difficult times in her life.  "All kinds of things came crashing down at once," she says.   She confirms the couple's strong faith guided them through some tough moments in their young marriage.  We discussed how it often takes a crisis of some sort for us to appreciate what we have and stop taking things for granted.  Together, her husband and she have found a type of ministry.  Other industry couples now seek their advice and guidance regarding their own marriages.  In her poised way, Katie reflects people don't often want to talk about their problems and imperfections.  But my husband and I encourage them to "work and walk through their issues.  And make sure to surround yourselves with good people."
Katie is so very excited for her clients when they achieve their successes.  She thinks "they all deserve it.  I am like a proud mama!"  Her personal philosophy is "everyone's voice matters and no one has the authority to tell you how far you can get with your voice.  That's up to you, that's not up to someone else."  When God gives you a voice, she wants to show you how you can best use it.