Jen Lofgren – Casting For Recovery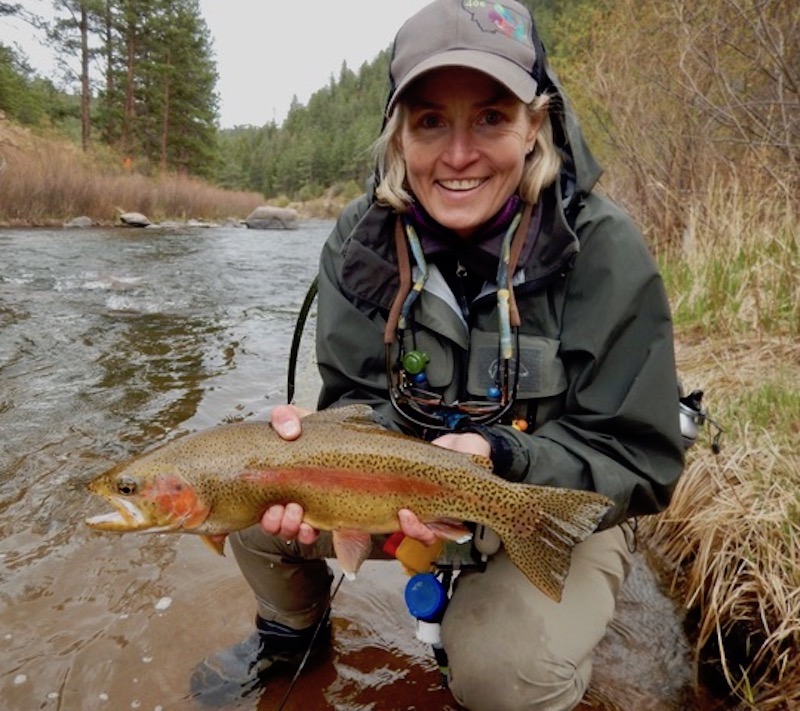 To me, fly fishing seems difficult. Wading in chilly waters, you wait for a hungry trout to nibble on an elaborate gadget composed of hair or feathers. According to Jen Lofgren, the sport doesn't have to be complicated or intimidating. "Besides," she adds, "you learn to appreciate the outdoors,  the tranquility, and your beautiful surroundings. After all, trout don't live in ugly places!"
In 1996, a fly fishing instructor took her friend, a breast cancer reconstructive surgeon, out for a day on the water. After they practiced some basic casts, the surgeon realized the gentle upper body movements might be good therapy for the muscles of her cancer patients. She believed the repetitive motions would increase mobility for the women recovering from surgery or radiation. And a wonderful idea hatched.
Based in Bozeman, Montana, Casting For Recovery offers fly fishing retreats, along with breast cancer education and support, to women at any stage of treatment or recovery. The retreats, stretching all across the country, give women the chance to learn a mentally and physically therapeutic sport while they bond with others in similar life situations. And the entire experience is free of charge.
"Lucky to grow up in Colorado," Jen is grateful to her outdoor-loving parents. "We hiked, backpacked, camped, and fished," she says. From a young age, she learned to respect and protect our resources.
After several years of guiding and instructing fly fishermen and women, Jen went to work in retail sales for Orvis. She'd planned to be a sales associate in the fishing department but instead landed in the women's clothing section.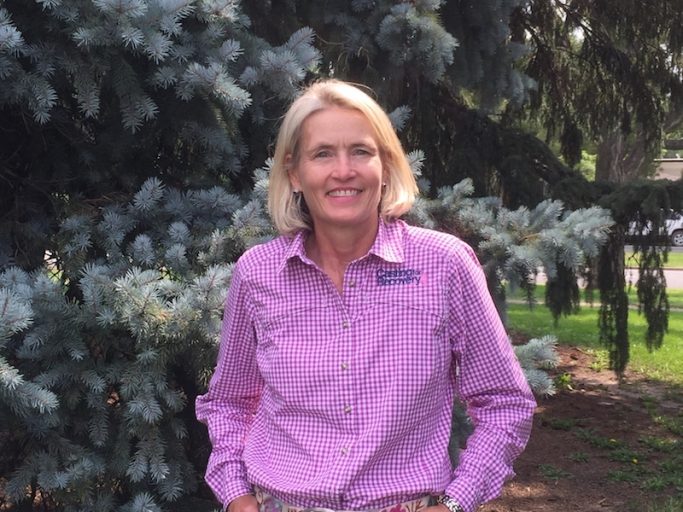 In desperate need of an update, the women's clothing line was "somewhat frumpy" and didn't contain the same techwear and fishing shirts and dry release fabrics as the men's apparel. As she entered the management training program and grew with the company, Jen enjoyed contributing to rebranding the women's clothing line.
While she managed the Denver store, she volunteered her free time to guide fishing trips for Casting For Recovery. She "absolutely fell in love" with the non-profit and its mission, and Jen is now a full-time member of their staff. As she coordinates programs, guides, and volunteers in the Western Region, "Casting For Recovery is the most important thing I am lucky enough to be a part of," Jen says.
Although the disease has not touched Jen personally, I have a hard time imagining a kinder, more compassionate woman teaching a group of breast cancer patients to fly fish. As we chat about how special our  girlfriends are in our lives, Jen points out "how anyone who appreciates the outdoors realizes the healing powers of nature." And then combine the restorative feeling with the wonderful support the women gain by talking and sharing with one another. "For a lot of women, it is the first time they've talked with another person about their diagnosis," Jen explains. 
"Trout don't live in ugly places."
Fresh off a fly fishing retreat in Ketchikan, Alaska, Jen describes the women who attended as "especially hungry" for Casting For Recovery's "information table." Resources available to them, in their rural area, are few and far between. It is eye-opening to learn many of these women travel all the way to Seattle for their treatment—over 1000 miles away. 
As Jen introduces the women to fly rods and leaders and tippets,  she especially enjoys sharing a gorgeous alpine stream with women experiencing the sport for the first time. It's a "magical moment," according to Jen, when someone catches their first fish. By the end of the 2 1/2 day retreats, many kiss the sleek, muscular trout they didn't want to touch when they first arrived. 
When I ask how often she has a chance to fish, Jen replies with a huge smile. "As often as I can," she laughs. She heads out at least once a week, all year round, even in the snow.  
"I am so wowed by all the incredible people involved with Casting For Recovery. I am learning leaps and bounds every day."
After reading The Feather Thief, the true story of a young man who steals a load of priceless birds from a British museum and uses the feathers for fishing flies, I am curious if Jen ties the bait she uses. "It is such a thrill to catch a fish on a fly you tie," says Jen. But it is tedious work, and she buys her flies these days.
"I don't consider myself greedy, but you wouldn't believe how many flies I have!" Jen laughs. And what's the point of having all the different flies? Jen explains she uses assorted flies for the changing water levels, water colors, locale, and air and water temps. Plus, flies imitate the bugs, in various stages of their lives, the trout are looking to chomp on.   
"I cannot tell you how the Casting For Recovery program moves me beyond measure," Jen says. Showing up to one of the fly fishing retreats takes courage. These women—single, married, young, old, wealthy, poor—don't know a soul, head off to a place they know nothing about to learn a new sport, they share a room. "And the resulting connections and friendships—it is amazing what transpires in a short period of time."
Featured image—Jen Lofgren