Fortune Cookie Factory-Chinatown, San Francisco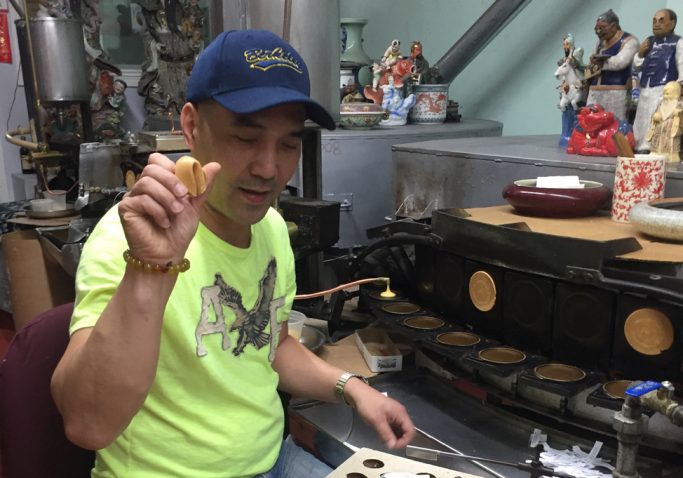 I hesitate, wondering if I am headed in the right direction.  Following my instructions, I turn down a deserted alley, made more gloomy and lonely by the heavy San Francisco rain and gray January morning.  The alley consists of back doors and fire escapes and garbage dumpsters and Chinese signs.  I come upon one tiny English sign and smile – I am in the right place. 
The Golden Gate Fortune Cookie Factory is a hidden treat in the middle of Chinatown. Inside the iron-gated front door,  help yourself to a plate of flat, warm cookies.  Kevin Chan, the factory manager and owner's son, talks with me, shows me around, keeps the production line going, greets tourists, and answers phone calls.  A man of many hats, Kevin and his  family do almost everything to keep this fortune cookie bakery running. 
Small and compact, the factory (think large apartment) is a good example of how you really don't need a lot of space to make things work.   Along one wall, Mr. Chan's uncle is surrounded by boxes and bags and is packaging cookies by hand.  Piles of fortune cookies are scooped into containers for shipping to Chinatown customers and other restaurants and toy companies around the US and beyond.
In the far back of the shop, Mr. Chan's mother is mixing the cookie batter.  She's good at it— she's prepared the batter by hand for 47 years.  Although her mixture  is her own secret recipe, the typical fortune cookie is some combination of flour, sugar, butter, eggs, vanilla, and sesame seed oil.  The classic fortune cookie is a somewhat forgiving dessert, containing only about 30 calories.  A reason Mr Chan is able to eat  25 cookies each day!
The assembly and production area take over the center of the room.   It's a fascinating and fun  process to watch as two women sit with trays in their laps at large griddle ovens.  A spigot continually pours batter into the tiny pancake-like molds on the hot, rotating griddles.   The flat, circular cookies are baked and kept warm as the device turns.  The women take the flat cookies off the griddle, plop a fortune in the center, and fold the cookie over a  rod to create the familiar fortune cookie shape – all done in 4 seconds before the cookie cools and hardens. 
It looks to be a hot and hard job, and the women have no set number of cookies they are required to produce.  "No quota, I wouldn't do that to them. They are longtime employees and family to us.   Of course they like the salary, but they also like making the cookies by hand.  It's part of their culture and who they are,"  Mr. Chan explains. 
As Mr. Chan shows me around and explains the process, his enthusiasm and pride are evident.   He is proud of his family's business and the fact  Golden Gate stills does everything by hand, which differentiates them from the other factories.  Golden Gate churns out about ten thousand cookies a day.  Machine operated companies can produce a million cookies a day.  "Ours is a labor of love," says Mr. Chan.   He sees the factory as an extension of his history, heritage, and culture. 
I stop at the fortune writing counter to create my own souvenirs.   I hand my fortunes to one of the assembly ladies, and she hands my finished fortune cookies back to me to put in a little takeout container. Golden Gate also sells strawberry, chocolate, and x-rated  fortune cookies and will  prepare custom orders.  Their giant cookies are popular for wedding proposals and gifts.
While Mr. Chan munches on a crisp, flat cookie, he states "We are not the biggest producer, but I think we have the best tasting cookie in this business. Most people who work in a food business don't eat their own product.  They get tired of looking at what they produce!  I still eat our cookies all day long.  I never get tired of them!"
The Golden Gate Fortune Cookie Factory is located at 56 Ross Alley, near Washington and Grant, in the Chinatown area of San Francisco.  For orders, 415-806-8243.  Drop in 9am to 6pm, 7 days a week to see or buy fortune cookies. Allow 10-15 minutes to look around.  You may have to wait in line for entry – only 10 people are allowed inside at any given time.  Visit is free of charge, but donations are appreciated.  There is a fee to take photos and make your own personalized fortune cookies.