Evelyn Henson – Happy Art and Artist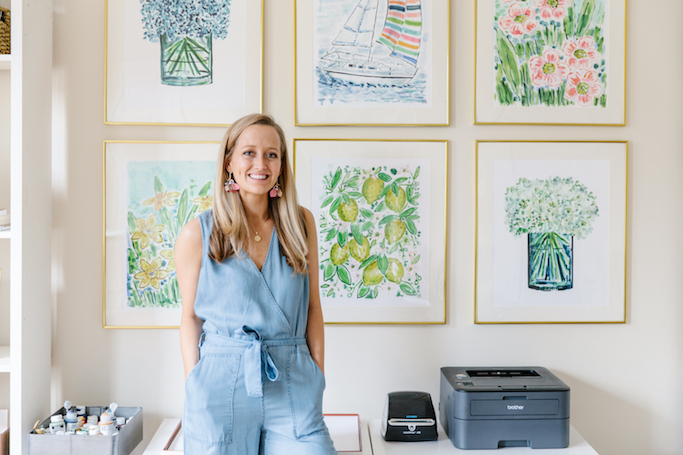 In a world with disturbing news coming at us from every angle, Evelyn Henson's art makes me smile. And don't we all need a little happy these days? Loaded with bright colors, delightful animals, and spirited landscapes, her colorful art is "meant to brighten your day and bring sunshine to your home for years to come." Mission accomplished.
As I browse the splashy paintings and mugs and beach towels and pillows on her website, it's hard for me to imagine Evelyn once lacked the confidence to consider her talent as more than a hobby. In a Studio Art class at Furman University, the young woman from small-town Georgia didn't feel she belonged. Her skills "weren't good enough." She studied Art History and "never envisioned a career with a paintbrush in my own hand."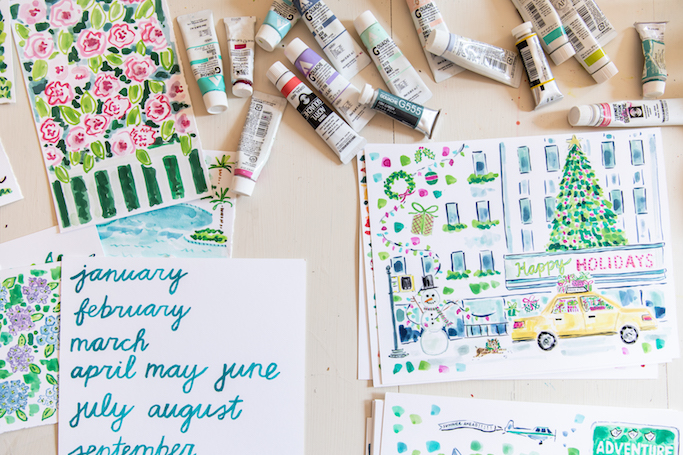 Eight years ago, Evelyn finished school and moved back home to Columbus, GA while she hunted for a position at an art museum or in a marketing department. The job market was lean. "I would've swept the floors for free at a museum," she laughs.
When not submitting resumes or preparing for interviews, Evelyn pulled out a paint set a friend had given her.  Several flower and champagne bottle and palm tree paintings later, Evelyn created a website shop on Etsy—an online marketplace for handmade goods—and hit the "publish" button.
"What are you doing?" several friends asked. Evelyn wondered the same thing. After all, this was a path completely different from what she—and others—expected.
She was doing what she loved—and the timing was right.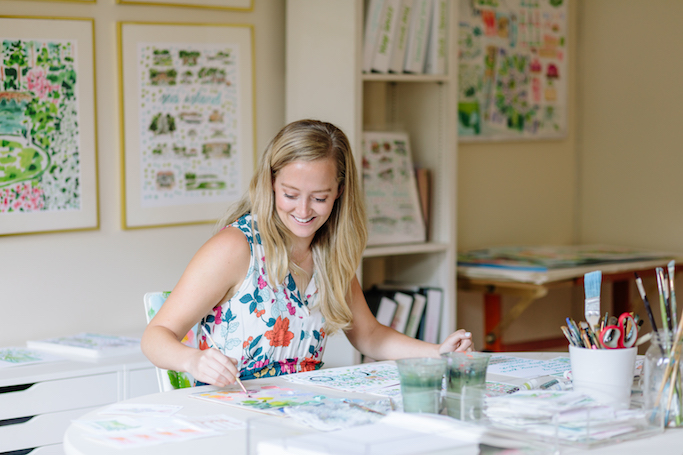 Many of her college friends and Alpha Delta Pi sorority sisters were starting jobs and moving into new apartments. The young grads loved and bought Evelyn's fun, well-priced paintings. They also sang her praises on Instagram, still in its early stages with only a few artists on the platform.
Evelyn's art—her side hustle—was providing a good income after a short while. "I am going to do this for real. This is working," she thought. 
"I think I should go back to school—art school," Evelyn announced to her supportive parents one day. But dad pumped the brakes on that idea.
"Before you sink money into more education, why don't you see where this goes?" he suggested.
And Evelyn is glad she listened. 
Nowadays, Evelyn works out of Charlotte's Dilworth Artisan station, a former furniture factory repurposed into a hub for creatives and techies. The triplet, and oldest of five, welcomes visitors—in non-COVID times.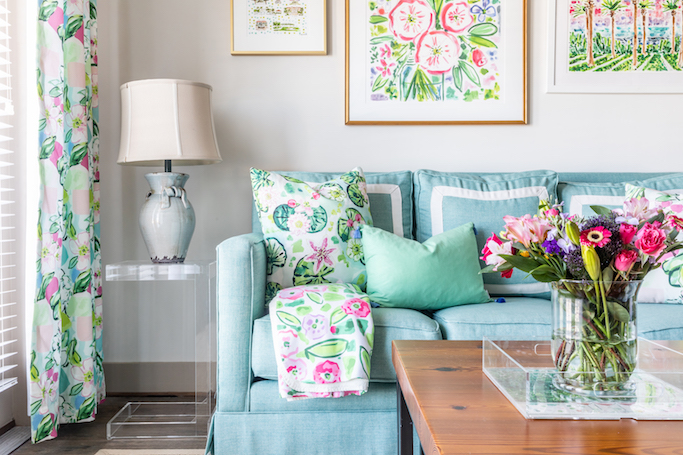 Her notepaper and trays and blankets sell in 100 boutiques nationwide. Featured in People, Southern Living, and Glamour, Evelyn manages a wide array of licensing agreements and partnerships. Recently, she collaborated with NBC Sports, her artwork—horses and big hats and mint juleps—promoting the Kentucky Derby. For Staples, she created a coloring book for one of their promotions.
I discovered Evelyn and her art a couple of years ago when I saw a photo of her latest happy project, The Confetti Hearts mural in Charlotte, NC.
"Typically painting on paper, I had a lot to figure out with the murals I've done," she says. After receiving her OSHA certificate and watching instructional videos, she could legally operate the scissor lift that moved her up and down the concrete walls. "You can learn anything on You Tube," she laughs.
So how does she feel when she sees photos of smiling people in front of her two murals in Charlotte? Or the Confetti Sunshine mural in Columbus? "Art museums can be intimidating, especially for kids," she says. "Public art is a more inviting and engaging way to reach people who may not otherwise interact with art."
As we talk on Zoom, Evelyn holds up her morning coffee mug, illustrated with a, of course, happy puppy. Her collection of dog mugs, the original designed as a joke gift for her sister, is her site's top seller. Her city map prints—depicting vivid scenes in Palm Beach and Savannah and Austin—were early hits and helped launch her career.
Someday I'll travel to Charlotte. I can't wait to visit Dilworth Station and take photos in front of Evelyn's walls. She suggests I spend a day outdoors at the Whitewater Center and another at the Bechtler and Mint Museums. Take the Art Walks CLT tour. All the places she loves.
"My goal is to make people smile when they look at my art," says Evelyn. And, for now, that will do.
Photos courtesy of Evelyn Henson
Other happy stories you may enjoy: A photographer, her grandkids, and an Australian Labradoodle, A Florida man and his doughnut truck, An historical fiction author and her iconic landmark novels.