Destiney Patton – Our Personal Guide Through Second Harvest Food Bank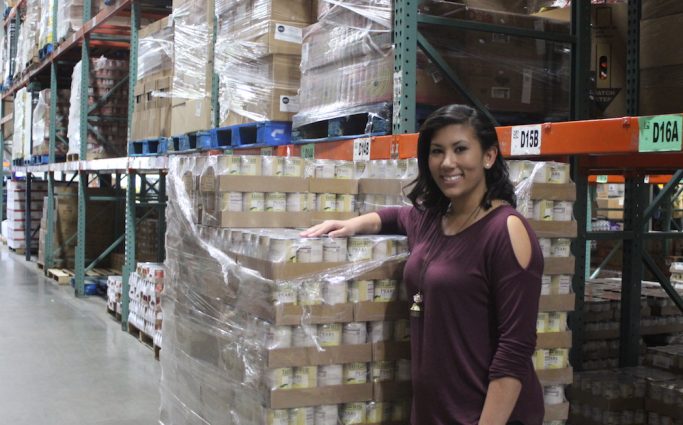 Folks with illnesses requiring time off from work, individuals with sudden Injuries or disabilities, seniors with smaller incomes, people who've lost their jobs, kids in at-risk homes. It is impossible to keep track of everyone who needs help.  Many won't ask for assistance.  Some are embarrassed to seek aid.  Others don't know how to get support. One thing is for certain – many faces of hunger exist all across our country.
Destiney Patton, the Manager of Donor Relationships at Second Harvest Food Bank, describes herself as the GPS on a potential contributor's journey to alleviating hunger.  Her mission is to make it easy for people, companies, and groups to navigate the twists and turns on their mission to donate time, money, or food to the 1 in 7 people in Tennessee (1 in 6 in the US) who are hungry.
Beginning as an intern while earning her Master's at nearby Lipscomb University in Nashville, Destiney worked primarily with the Kids Café Feeding Program. Providing free meals, snacks, and nutrition education to at-risk children, Destiney remembers many of the kids needed more than just the food.  "It was about me being a consistent person for them, a reliable presence every week," she says.
Winding our way through the gigantic warehouse, Destiney explains Second Harvest Food Bank is the central distribution center for individuals or groups who want to donate food to hungry Tennesseans. Like other food banks, I learn Second Harvest doesn't actually give the food to needy individuals.  Their round-the-clock volunteers sort, inspect, and distribute the  food to 490 non-profit partner agencies (churches, food pantries, after school programs, senior centers, soup kitchens) across middle and west Tennessee.   One of the largest and most sophisticated food banks in the country, Second Harvest amasses and provides meats, fruits, and vegetables to a long list of community agencies.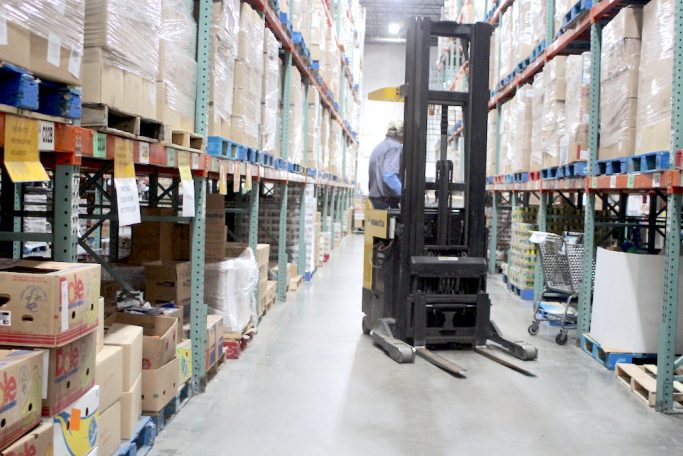 In her cheerful and rapid-fire way, Destiney explains this complicated and overwhelming coordination effort began 4 decades ago with a simple emergency food box program.  Still in operation today, these boxes provide 2-3 days of food for people suddenly faced with unemployment, health emergencies, or the death of a breadwinner.   "People trying to make it through a rough patch," says Destiney.
Moving through the warehouse, Destiney tells me 1/3 of the food Second Harvest distributes is produce.  Forklift operators stack the boxes of produce, and meat and other perishables, on tables in the special and roomy refrigerator and freezer rooms.  Watching the rooms' plastic garage doors swooshing up and down, and the frost swirling in the air, I am thoroughly impressed with the scope of their operation.
Sending trucks to 200 grocery stores each week, Second Harvest "rescues" perfectly fine foods the stores simply cannot sell – cans with dents, produce not in tip top shape, products with outdated labeling, meats soon to expire.  "Wal-Mart and Kroger have enough stock to warrant daily pickups for this grocery rescue program, but we don't have the resources to pick up every single day," Destiney explains.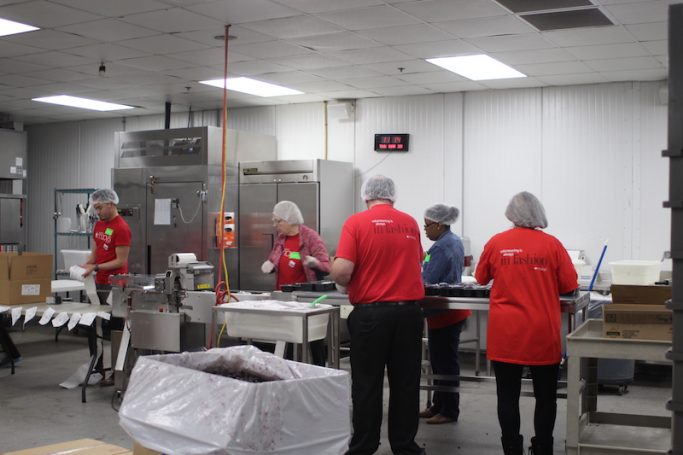 Thinking about all the restaurants in our area and the large quantities of leftover food they must see each day, I ask Destiney what happens with all this excess food.  The jigsaw puzzle aficionado eagerly tells me about the "great new partnership between Second Harvest and Starbucks."  Launching at the start of this year, Second Harvest trucks drive to area Starbucks shortly after closing time each evening.  Loading up with breads, pastries, sandwiches, yogurts, and protein packs not sold during the day, these items go to feed hungry people at the Nashville Rescue Mission.
Destiney points out several smaller restaurants bring their excess ingredients to the food bank to distribute as needed.  Of course, Second Harvest is always hoping the number of participating restaurants rises.   "Every little bit helps and no contribution is too small," Destiney reminds me.  "Just look at Ms. Cheap's (a local newspaper columnist) annual penny drive" benefitting Second Harvest.  "By donating spare change, the drive raised almost  $87,000 last year," she continues.
Donning lab coats and hair nets, we head into the section housing Project Preserve, a Destiney favorite. Another example of small things adding up to make a significant impact, a local produce distributor donates 1% of their tomato supply every single week.  With the first-quality tomatoes and an impressive machine-driven production room, Second Harvest employees add seasonings to the tomatoes to crank out 8000 pouches of tomato sauce each week.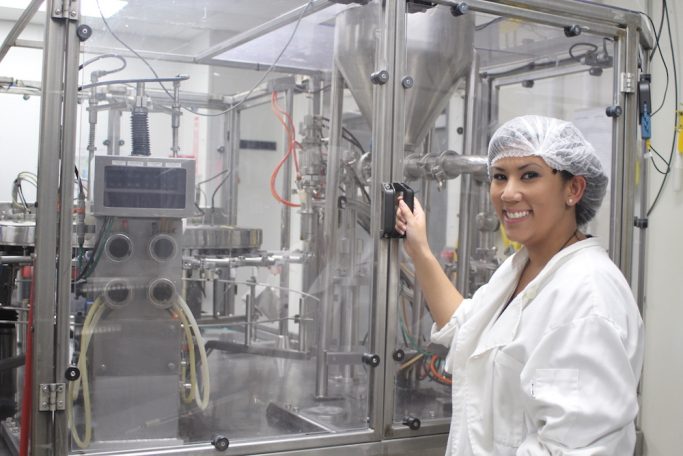 In the next section, volunteers are busily spooning fruits, vegetables, and ground beef into individual trays. Destiney explains Second Harvest is the only food bank in the country using a cook-chill process to turn meats into meals.  They are able to cook donated ground beef, extending its expiration date, and transform it into tacos, burritos, or another proper meal. 
People often stand in line for hours at the mobile food pantries hosted by churches and other non-profit agencies.  These grateful folks return home with 1-2 weeks of groceries, including meats and produce.
I wonder if Second Harvest receives sweets to pass along to those in need? Destiney replies they do receive cookies and sodas, and they absolutely put "whatever we get to use."  Sometimes the treat a hungry family receives is the celebration cake they wanted for a birthday and didn't have the money to purchase.  "Everything is good in moderation," she smiles. 
To find your local food bank and learn more about ways to help, please go to www.feedingamerica.org
For more information on how you or your group may donate time, money, or food to Second Harvest Food Bank of Middle Tennessee, please visit www.secondharvestmidtn.org
In TN, if you know of someone who is hungry and needs assistance, please encourage them to dial 211 on their phone for helpful instructions