Bruce Tyler – Give Without Expectations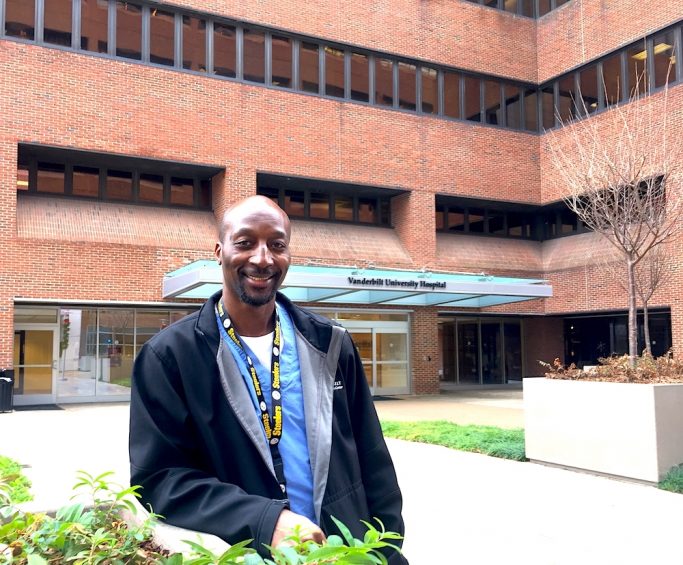 I recently accompanied a friend to the hospital for a routine, albeit still unsettling, outpatient procedure.  Sitting in the waiting area, I noticed a gentleman staff member, dressed in scrubs, who escorted patients to their assigned medical spaces.  As he greeted and directed a constant flow of patients, I continued to watch and listen to him.  He captured my attention by being an exception.  In this world of instant gratification and often being treated like a number, this man was compassionate and caring. His words did not seem to come from a memorized script. 
Often attending to 80 patients a day, Bruce Tyler is their first contact in the Gastrointestinal Endoscopy Lab at Vanderbilt University Medical Center.  He meets each person with a comforting smile as he escorts them to their medical destination.    "We are going to take care of you today."  "You let me know what I can do to help you."  "I hope you had a good night's sleep." With his gentle disposition and genuine empathetic manner, he relaxes me.  And I am only watching him!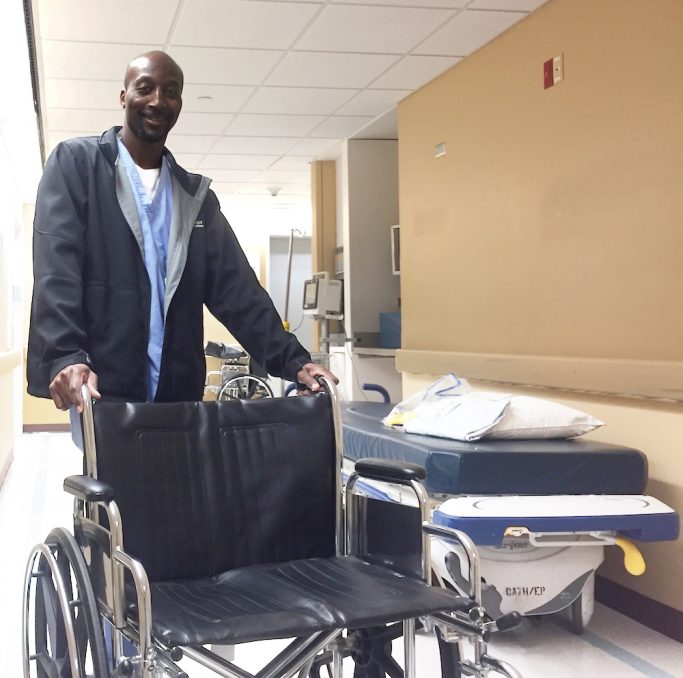 When Bruce and I meet for coffee a few weeks later,  I point out I noticed him because he was so extraordinarily kind.  Shy and soft-spoken, Bruce slowly admits he simply treats people like he wants to be treated.   In our often me-oriented society,  Bruce tells he he really does try to think about what the other person may be going through.  "You just never know what is happening inside of people," he says. 
As we talk about how sometimes it takes a crisis for us to realize what truly matters,  I see a glimpse into Bruce's thoughtful mindset.  Growing up in a small North Carolina town, Bruce was only 9 years old when he watched his father die of a heart attack.  His mother, who made certain the family went to church every Sunday,  passed away 8 years later.   He lived with an older sister until he graduated from high school and eventually made his way to Nashville in search of employment.  Smiling, he says "Nashville felt like home, only bigger."
Fourteen years ago, Bruce began working at the Vanderbilt hospital in the housekeeping department.  He describes how cleaning patients' rooms and operating rooms opened his eyes.  Unlike his previous jobs at hotels and warehouses, the hospital environment reinforced what he learned the hard way with his parents' deaths – life is precious and short.  Bruce now happily works the day shift as a patient transporter, directing patients when they arrive and pushing their wheelchairs at the end of their procedures.
"Kindness is more important than wisdom, and the recognition of this is the beginning of wisdom." – Theodore Isaac Rubin
Working days gives Bruce time to help his younger children with homework and his wife with meals.  Bruce is proud of his son and 4 daughters, ranging in age from 13-26.  "I try to really listen to them," he says, "and steer them."  "Although kids will be kids,"  he adds with a grin and a shake of his head.   Bruce hopes his children think of him as kind – and fun.  They go to church together on Sundays and like to eat out afterwards. 
It is clear to me this peaceful man of few words cherishes his job and his co-workers and interacting with the public.   A high school athlete and rabid Pittsburgh Steelers fan, he loves a game of pickup basketball.   "I can hang with the younger guys for about 2 games," he laughs.  Besides attending a Steelers game, I wonder what else is on Bruce's bucket list?  He wants to learn to swim, play a game of tennis, and run with the bulls!
As I head into the new year, Bruce reminds me of things I certainly know but need to keep in mind.  He "tries to give without expectations, without looking for anything in return."   No matter what the covering on the outside looks like, everyone has a story.  Our own personal mixture of good and bad, hard times and joy, make us who we are today.