Brittany Fuson – Fashion Illustrator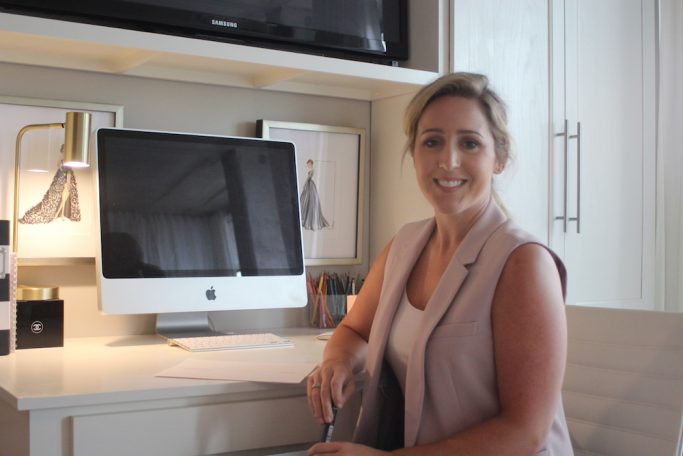 Crazy about pretty clothes, great shoes, and lists of all sorts, I fell in love with Brittany Fuson and her long-legged girls. Dressed in fabulous dresses and carrying the latest handbags, her blondes and brunettes and redheads sport everything I ever hope to find hanging in my dream closet.
As she finished up her Apparel Design degree at the University of Alabama back in 2009, Brittany wanted to give each of her close friends a memorable graduation gift.  She sketched and colored each BFF, with their individual hair and fashion styles, and created custom stationery for all the young women.  The lucky recipients gushed over their special gifts, and Brittany Fuson Paper was born.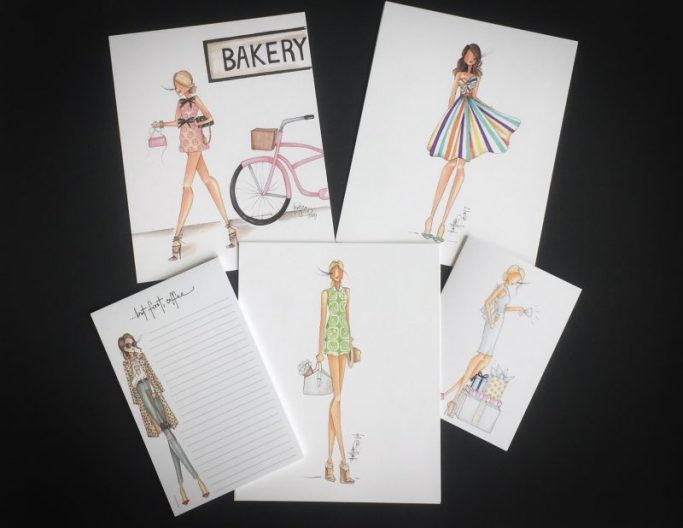 We chat in her small, stylish condo in the middle of all the Nashville action. It's hard for Brittany to realize her business has been going strong for almost ten years. Pointing to her large white desk with the dreamy evening gown drawings on either side, Brittany says hers is a one-woman show. From illustrating designs for luggage tags to handling sales calls to shipping online orders of cups and cards, Brittany does it all. 
Is it difficult for this sweet-natured millennial, who once peddled cigar box handbags at her brother's baseball games, to balance the design with the administrative side? She prefers to take her markers and pencils and devote an entire day to sketching new ideas and designs for her fashionistas. Although her designs look effortless, as any well-put-together woman strives to be, they "take some time to come together."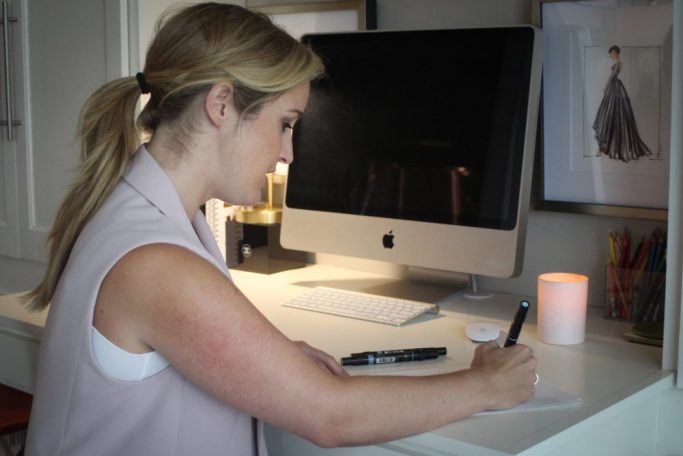 "And my first sketch of a session is never great," Brittany laughs. "When I don't sketch every day," she continues, "I get a little stiff." Like any sport, she needs to warm up her drawing arm.
Brittany tells the story of a professor in college who asked each student to sign their name on the classroom whiteboard. His point? Each individual's signature would evolve into the designer's personal illustration style. Brittany's handwriting, with the big y's and loopy t's,  developed into her trademark feature—the exaggerated eyelash on each of her models.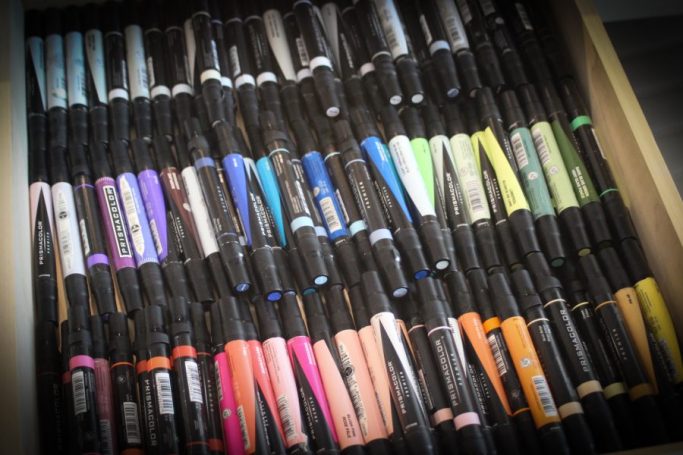 Whether they wear the latest trends or sip a coffee or champagne,  Brittany's "girls"—with their long eyelashes and heart-shaped mouths—always make me smile. When she combines her fashion savvy and artistic talent, Brittany's designs are just plain fun —and focus on things she loves. Dressed for the beach, the Oscars, a football game, or New York Fashion Week, Brittany looks to social media to draw customers and collaborators to her website. From time to time, she will illustrate people in the public eye, with the hope they will repost her sketches and spread her name around.
"Not everyone writes as many thank you notes as I do, but they should."
Royal wedding attire is a crowd favorite, as are bridal gown sketches, custom save-the-date cards, and mother/daughter wedding prints. When she attended a wedding a few years ago, Brittany grabbed the pencil in the church pew and absent-mindedly "doodled" the bride's gown in the border of the wedding program. "I really was paying attention to the ceremony," she laughs. So began her tradition of gifting illustrations to the happy couple as keepsakes of their special day.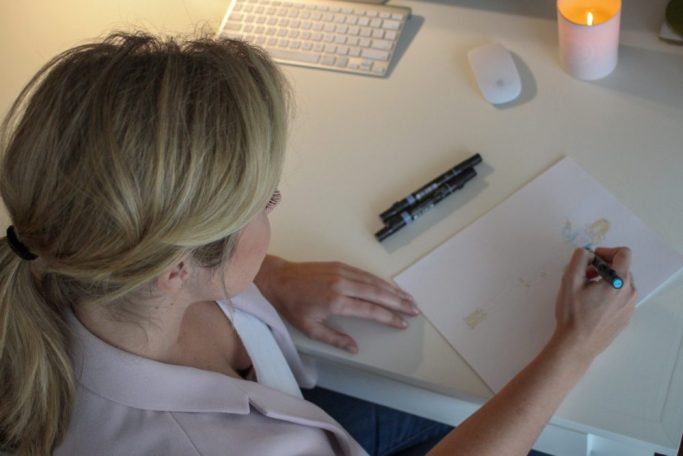 When she started her business, Brittany flipped through piles and piles of fashion magazines for inspiration. Nowadays, she browses websites and social media for outfit ideas. "I'll see a top I like and think it will look great with a pair of distressed jeans," Brittany explains. Or her starting point will be an off-the-shoulder sweater she comes across. Then it's off to find the perfect pair of shoes—or she will "invent" an amazing heel or bootie.
"Social media pushes me to put a new design, a new sketch, out there every day," Brittany says. Around certain holidays, she may post her "Valentine's Day or Christmas girls," but "other than that, all my sketches are different almost every single day." One of my personal favorites, and a collection Brittany particularly likes, are her stylishly-clad paper dolls overlaid on photos of Charleston and New York and Venice—travel destinations she enjoys.
"I like my money right where I can see it:

 

Hanging in my closet." –

-Carrie Bradshaw
After we finish today, Brittany will return to work on the tags, stickers, and cards she designs for the Christmas holidays. She's saved various images she loves—a girl with a red boot, another with a particular shopping bag, a great winter coat—and will brainstorm about how to combine those items into a fun outfit to print on her paper.   
What's next for Brittany and her girls?  "Since not everyone loves to write thank you notes as much as I do," she smiles, "I'd like to expand into more non-paper items."  Apparel perhaps.  Maybe a tote bag, a fun accessory item.  "Items that would be a nice gift for a friend," says Brittany.