Bill Nolan – Butterball Turkey Hotline Expert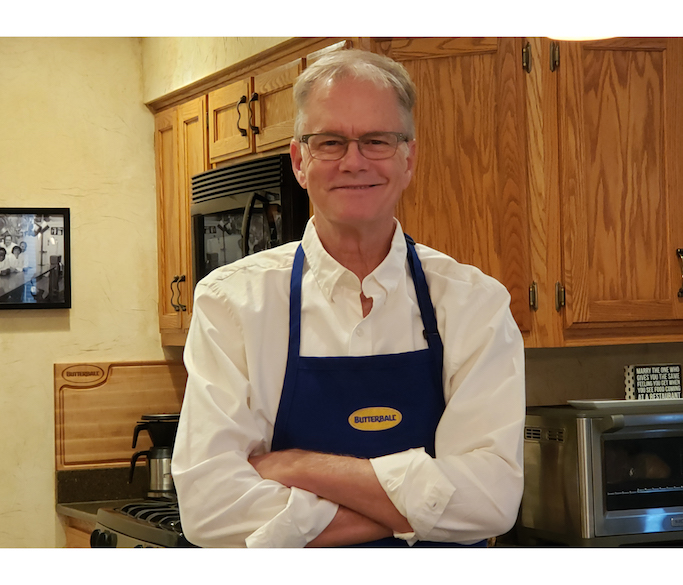 "I lost my wife a few months ago," said the polite, older gentleman. "She always made the Thanksgiving turkey, and I want to cook a nice dinner this year. As a gift to my kids, in memory of their mom and my wife. But I need some help."
While the caller took notes, Bill Nolan walked the man through the fine points of cooking a perfect Thanksgiving turkey. Step by step. Although he's received loads of wild questions and crazy phone calls at the Butterball turkey hotline, "That's the call that sticks with me," says Bill.
"Cooking a turkey is truly one of the easiest meals to make," the turkey hotline expert says. The problem? Most of us undertake this project once a year, once every few years. We don't repeat the task, so we are not proficient at it.
And then add in those intimidating details like how to defrost the big bird, what size to buy, and timing its completion to coincide with the potatoes and stuffing and gravy. Whew.
"Our goal is to ease that process," says Bill.
A slice of Americana, the Butterball turkey hotline debuted 39 years ago. Six home economists fielded questions from callers who wondered about the proper temperature and techniques for roasting the Thanksgiving bird.
Bill has four Thanksgiving seasons under his belt. "I'm one of the relatively new talk line experts," says Bill. "We have folks who've answered phones almost since the beginning." Nowadays, 50 experts spread their knowledge across telephone lines, email, texts, live chat, and social media. And Amazon's Alexa too.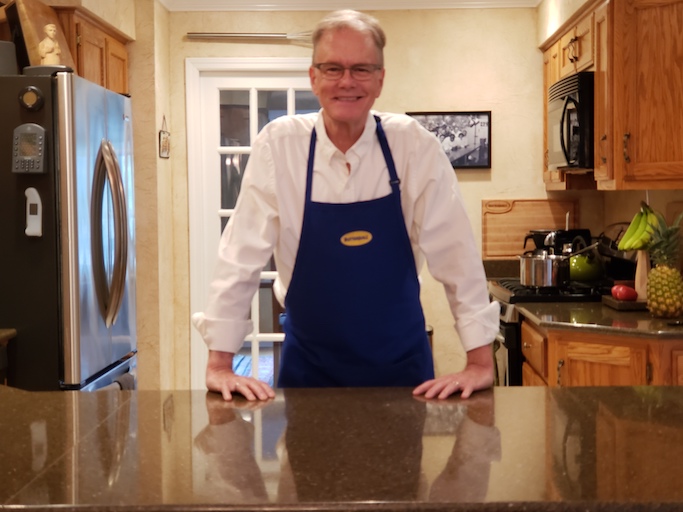 Many long for this temporary, seasonal gig at the Butterball facility in Naperville, Illinois. The few vacancies each year typically fill by referrals—people connected in the food industry. "All talk line experts have some sort of a food background," explains Bill. A dietician, food stylist, chef, educator, or health inspector are all ready to tackle the thousands of turkey-related questions that pour in each year.
Once employed by a Chicago-area utility company, Bill switched course and enrolled in culinary school. Upon graduation, through the National Restaurant Association, he taught culinary arts and restaurant management to high schoolers around the globe. He later partnered with Guy Fieri to promote the Food Network celebrity's Cooking with Kids foundation. Finished with "a heavy-duty travel schedule" and now a "semi-retired private chef," Bill derives satisfaction from walking "sometimes panicked" callers through their turkey problems.
Bill and the rest of the hotline staff eat plates of leftover turkey before Thanksgiving Day arrives. The group trains in the Butterball kitchens, with its nine ovens, on the best way to grill, deep fry, and air fry a turkey. "We want them to know what the callers are talking about," says Bill, one of the supervisors. "Foods and prep methods are always changing, and we want to be ready."
To keep current with cooking techniques and trends, the hotline staff receives turkey homework. This year's assignment focused on spatchcocking—the process of removing the backbone so the bird lies flat. The 50 experts received spatchcocking instructions and a turkey to prepare one of three ways—roasting at 325 degrees in the oven, roasting at 400 degrees in the oven, or grilling.
When I tell Bill I'd thought about spatchcocking this year, his eyes light up. "The results were incredible, absolutely delicious," he says. "But a warning—make sure you have a large pan and a large oven."
His favorite tried-and-true way of cooking the perfect turkey? Bill always recommends "the Butterball method."
Place turkey in a roasting pan, resting on a flat rack
Rub with olive oil, salt and pepper
Stuff the cavity with chopped, halved, or quartered onions and a quartered orange
Throw a handful of fresh herbs into the cavity
Pop in oven at 325 degrees
Bill does not baste his turkey, and opening the oven door lengthens the cooking time
Use a reliable meat thermometer. 170 degrees for the breast, 180 degrees in the thigh means it's done.
Cover with foil toward the end of cooking time to keep the breast from drying out.
That's it! Enjoy!
For turkey tips and tricks, or to reach the holiday hotline, visit the Butterball website.
P.S. Pumpkin recipes and a wine guy
Are you making a turkey this year? What method are you using? Have you ever called the hotline?
(Photos courtesy of Bill Nolan)