April George – Turkey on the Table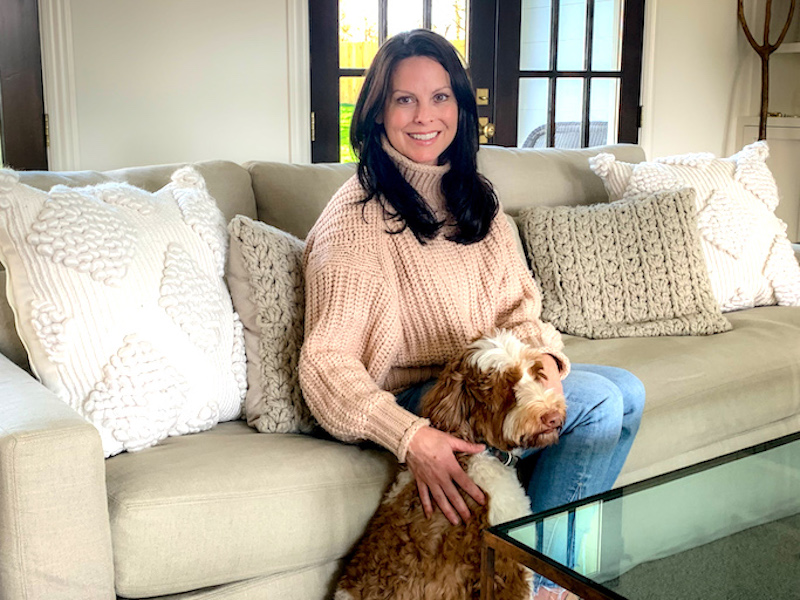 In my attempts to achieve gold-star grandmother status, I'm always on the lookout for ideas to inspire teachable moments. And, not trying to rush the fall season, I can't wait to introduce you to a new feathered friend with a good lesson behind him. My granddaughter may be a bit young this year, but Mr. Turkey on the Table is all set to head west for his first Thanksgiving in Colorado.
Before the pandemic, I visited with April George at her home in Nashville. In her living room, overlooking a sprawling backyard, April says her spacious surroundings are "quite different from the way I grew up in Oklahoma."
"We didn't set out to start a company," says April, who moved to Nashville eighteen months ago. Back in Alamo, California, she and her now business partner, Kerry Maunus, deposited their children at school, walked through the nearby neighborhood, and as moms do, talked about what they wanted for their kids.
Neither grew up with as much as April's two daughters and Kerry's three sons. And the young moms wanted to, somehow, teach their children to appreciate all the trappings of their young lives.
Raising little people in Northern California, they worried their sons and daughters might grow to expect tech gadgets and family vacations and trendy clothing. Their goal was to raise children who were thankful for their many blessings.
Turkey on the Table
When their chats along the walking trail turned to the holidays and Thanksgiving, one thought led to another. April and Kerry hatched an idea—a turkey and feathers kit for the Thanksgiving table or kitchen countertop. Each day in November, they envisioned parents and kids (and grandparents too) decorating a feather with something in their lives they feel lucky to have.
As Thanksgiving nears, Mr. Turkey's feathers would grow, and so would the list of blessings. April and Kerry imagined families gathered around the holiday table, reading the feathers aloud.
"We were so excited," says April. "We thought we'd come up with a fun idea, a project our families would enjoy."
The two women discovered the idea of brainstorming a cute, kid-friendly turkey was the easy part. Designing and creating the little fellow was a struggle. After several trips to hobby stores and failures to craft the perfect bird, April and Kerry threw up their hands in frustration. 
"Let me take a crack at it," said April's husband.
Sculpting styrofoam balls and carving beaks out of champagne corks, he produced the "cutest turkey ever."
About to enter its sixth Thanksgiving season, Turkey on the Table has appeared on the Today show, Good Morning America, and in Good Housekeeping and People magazines.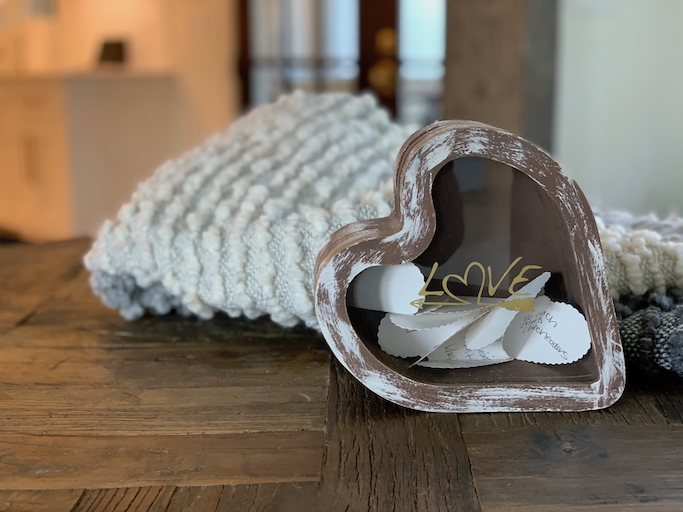 Besides fostering thankfulness among children and their families, Turkey on the Table serves a double purpose. For each Turkey on the Table kit purchased, ten meals are donated to Feeding America. April reports their turkey kits have generated one million meals for needy individuals through their partnership.
"Since the turkey is seasonal, why not another product?" people asked April and Kerry. Laughing, April tells me it was all they could do to keep their heads above water with one product.
But as she and Kerry talked to their kids—about lending a hand and noticing and thanking people—they also had conversations about love.
"When someone passes away, we tend to gather and talk about how the person enriched our lives," says April. "But how many of us tell those we love what they mean to us before it is too late?"
The Love Bank
Their newest product, The Love Bank, debuted last year. The pretty wooden heart, much easier to design than the turkey, sits on a shelf, desk, or counter. Family members may slip love notes to siblings, moms, babysitters, or pets into the bank's slot.
"We originally designed The Love Bank as a gift for Valentine's Day," says April. But retailers persuaded the moms to "remove their blinders." Customers buy the rustic hearts and stuff them with notes for grandparent anniversaries, girlfriend birthdays, Mother's Day, and teacher gifts. And each sale provides a meal to Feeding America.
"Gratitude might be in your heart, but it's a great exercise to release it, get it out in the world. We feel the same way about love," says April. And don't you think the world needs more of this sentiment and habit right now?
How to Order
To order a turkey kit for your family's or classroom's Thanksgiving season—shop Amazon or visit the Turkey on the Table website.