Agenia Clark – Girl Scout Cookies and a Taste Test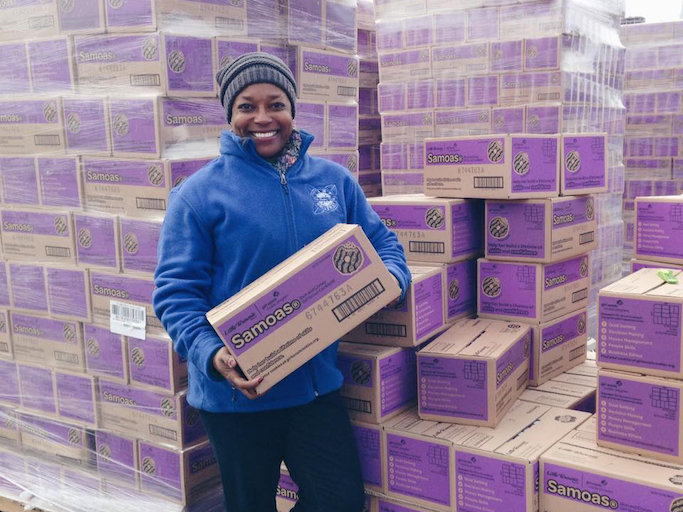 At the risk of sounding like a dinosaur, I once peddled Girl Scout cookies for 75 cents a box. They now sell for $4 and up. Agenia Clark, CEO of Girl Scouts of Middle Tennessee, laughed long and loud when I admitted this.
But I won't hold it against her.
Thanks to the lovely Agenia, and the Girl Scout cookies she provided, our holiday household conducted a taste test last month. We gathered around the table, tore into the packages, and analyzed seven cookie varieties.
"Girl Scouts sell cookies, in various regions of the country, at different times of the year," says Agenia. And for many scout troops, including those in Middle Tennessee, the young ladies are busy taking orders from family and friends now.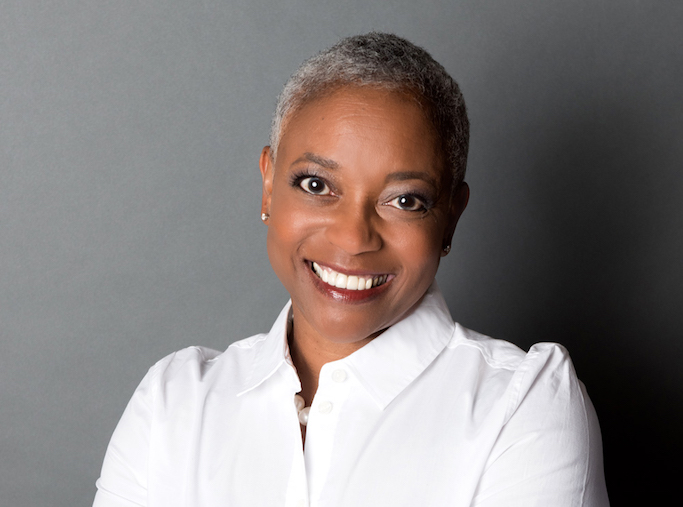 They'll set up cookie booths—although not as many this year— outside markets and libraries and stores. Cookie lovers can download an app to locate the booths and times. Online ordering is another option. With an individual girl scout's id code, customers can place an order and select the preferred delivery method.
"Remember, for every package of cookies sold, you contribute to a young woman's development," says Agenia. Girl Scouts "could easily sell cookies from our offices and pass the proceeds on to the young women."
But, when they sell the cookies, future female leaders build character and confidence. When the young women ask for a sale and follow through with delivery, they gain business experience. "Goal-setting, decision-making, money management, customer service…girls learn skills to set them up for success," says Agenia.
"I buy from every girl who asks me," says Agenia. She stocks her freezer with cookies so she can spread joy, offer thanks, and create awareness all year long. She passes them out to car mechanics, store clerks, friends, and service workers. Who wouldn't love to receive a box of cookies?
Agenia's favorite? The Trefoil. In the shape of the Girl Scout logo, this bite-sized shortbread cookie is perfect with her morning coffee or afternoon tea. And Agenia keeps plenty on hand to make her signature ice cream pie, a decadent blend of buttery crust, ice cream, and chocolate sauce. Or the luscious Toffee And Chocolate Bark, the grand prize winner of a National Girl Scout Cookie Recipe contest.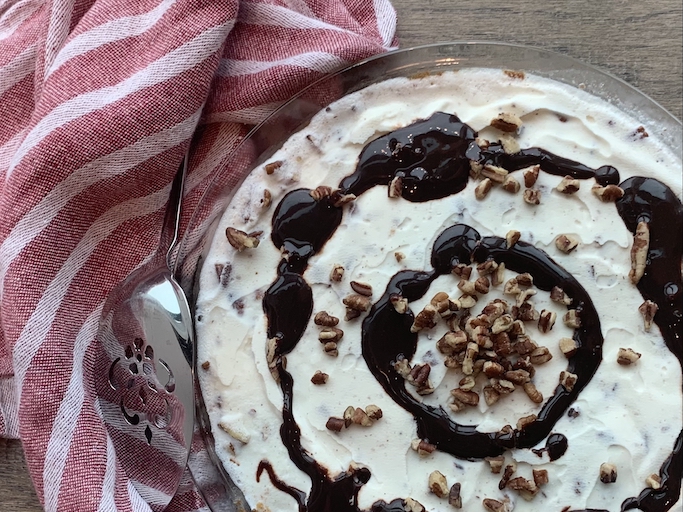 Our four-person tasting panel is partial to chocolate, caramel, and coconut, so the Samoas received three of our first-place votes.
When we lived in Texas, this cookie went by a different name—the Caramel deLite. "Two U.S. bakeries bake all the Girl Scout cookies," explains Agenia. ABC Bakers, in Brownsburg, Indiana, and Little Brownie Bakers in Louisville, Kentucky, both make a menu of cookies for scouts across the country. Same great recipe and flavor with, sometimes, a unique cookie name.   
Fellow peanut butter fans will love the Do Si Dos (or Peanut Butter Sandwich in some locales), my number one pick. An oatmeal sandwich with peanut butter filling, this cookie is best dunked in a tall glass of milk.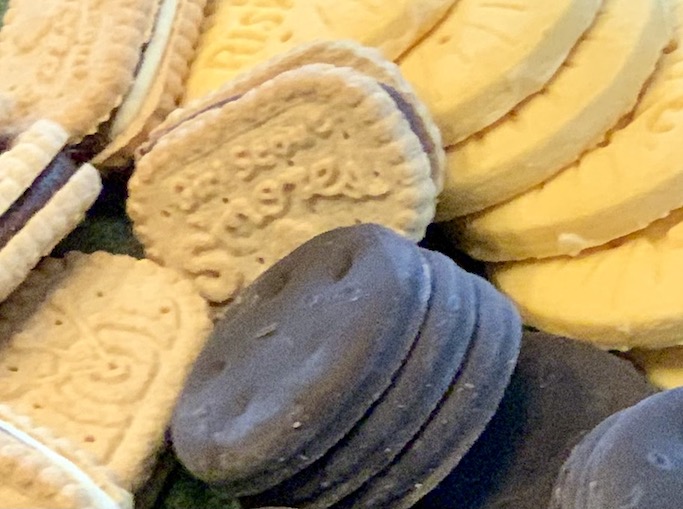 Our group's unanimous number two pick—the Tagalongs. With soft fudge wrapped around peanut butter, "a classic combo," said my daughter-in-law.
In the middle of the pack, our group placed the unassuming Trefoils and chocolatey Thin Mints. A crunchy version of mint chocolate chip ice cream, Thin Mints taste best straight out of the freezer. "We don't like minty cookies," our male tasters said. So, the females devoured them all.
Of course, we liked ALL the cookies, but a couple of our tasters aren't lemon or marshmallow lovers. Our apologies to Lemon-Ups and S'mores for bringing up the rear of our tasting field.
Lemon enthusiasts will adore the simple shortbread Lemon-Ups with inspiring messages etched into them—risk-taker, gutsy innovator, strong. A graham sandwich cookie, the S'mores ooze a creamy chocolate-marshmallow filling.
Last year, ten thousand young Girl Scouts in Middle Tennessee sold 2.1 million boxes of cookies. The cookie program funds more than campouts and field trips and lego robotics sessions. All proceeds remain local and help support community organizations also.
"We're fortunate to have strong business support in our council, in the form of our Entrepreneur Center," says Agenia. "Our community invests in our young ladies now, so they are ready and prepared for their future."
A huge thank you to Agenia, and the Girl Scouts of Middle Tennessee, for our wonderful cookie samples.
PS—a fortune cookie factory, a doughnut truck, and beautiful cookbooks
Photos of Agenia Clark courtesy of Girl Scouts of Middle Tennessee