Adam Schallau – Grand Canyon and Southwest Photographer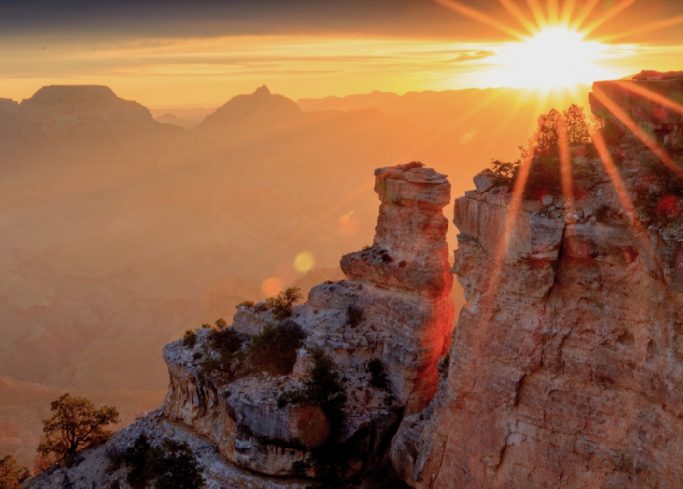 Adam Schallau greeted me with more cheeriness than I could muster at 4:45 AM. "You get up and moving and a story unfolds," he smiled. As we headed down dark trails to a ledge a mile above the Colorado River,  I realized how much I would learn from one of the Southwest's premier landscape photographers.
I watched Adam track the moon and the clouds, and he saw changes in the morning sky I couldn't begin to see. While we waited for the perfect morning light for our sunrise photo shoot along the Grand Canyon's South Rim, Adam talked comfortably about this national park that holds a special spot in his heart. 
A Grand Canyon aficionado and ambassador of sorts,  Adam earned a coveted post as an Artist-in-Residence several years ago. The program allowed him to concentrate on his craft and hone his photography skills while learning about the topography, history, and people of our great national treasure.
As he patiently set up our tripods and cameras, Adam seemed to truly care what I learned on this trip. He hoped to send me home with new photography skills and also an appreciation for this awe-inspiring environment. 
Adam fell in love with the Southwest when he was young, traveling with his family and painting oil landscapes. The former search and rescue volunteer got his first taste of photography when he hauled the equipment for a Colorado photographer.
"I was the pack mule, but I watched and learned," he recalled.
In later years, Adam worked in a New Mexico camera shop, teaching customers how to use the brand new digital cameras. Although money was tight, Adam continued to analyze his photography with self discipline and commitment. Historic St. Francis de Assisi church, often the subject of Georgia O'Keefe and Ansel Adams, was a short distance from his home.
Every evening Adam walked to the church, with notes on light, texture, form and shape in hand, and composed one or two well-planned shots. With his meticulous and organized nature, he documented the light, focus, and angles of the photos he took.   
At the end of each month, he had enough extra money to develop one roll of 36-exposure film.  After viewing his photos, he compared his images and made more notes on techniques and settings. "Every single shot was important to me – it was an investment in my art," he explained.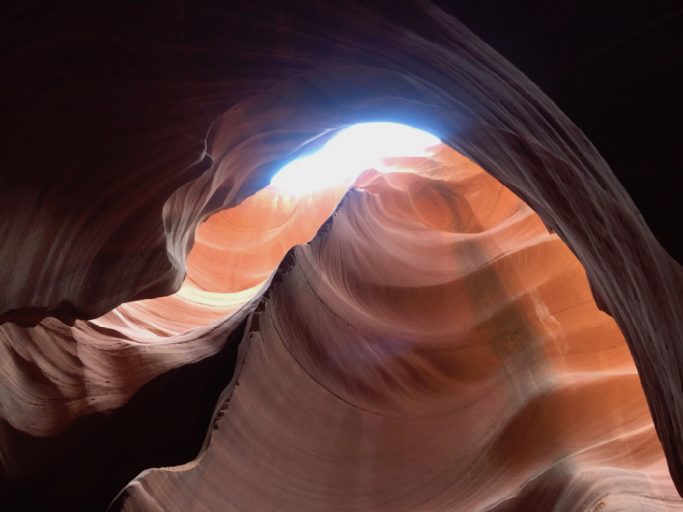 Adam is a true example of hard work paying off.
With his fine art prints displayed in museums, galleries, and private and corporate collections, he spends more than 70 days each year photographing the Grand Canyon and leading photography workshops and tours. "You always hope your work can bring attention to the areas we've managed to protect and preserve," he reflected.  
When pushed to describe a favorite photograph, the natural storyteller recalls a memorable photo taken along the San Juan River in southeast Utah. One evening, while he guided the photography portion of a multi-day rafting trip, Adam took his turn on kitchen duty. As he assisted with dinner preparations, a thunderstorm rolled through the camp.
He looked at the sky, always considering photo possibilities, and realized the weather was going to clear right around sunset
.
Dinner duties forgotten, he grabbed his camera, lens, and tripod and ran toward a picture-perfect spot
.
He arrived at the Red Rock Cliffs, with its stream and water pools, as the light sliced through the clouds.
Trembling to set up before he missed his shot, Adam was very much aware of the stunning fire-red reflection off the rocks – and a double rainbow
.
"It's what every photographer hopes for," he explained.
"It illustrates why these areas should be protected and the value of preservation and conservation."
Adam's cherished photograph
, with the rare double rainbow, was one of 50 photos exhibited at the Utah Natural History Museum to celebrate 50 Years of Utah Wilderness.
He continues to share his love for the Grand Canyon with others and make it a meaningful place for them.
A series of Grand Canyon prints he created, on watercolor paper, will travel with him on a  2 1/2 week rafting journey this fall
.
"I want the art to float with me on this trip. It's a new idea, something that spoke to me."
He plans to sign the photographs on location, using water from the Colorado River to add his signature
.
Adam hopes his artwork and guide expeditions are treasured by people forever
. "I teach photography, but I hope I always give folks an experience they will never forget."
The Grand Canyon is "one great sight which every American should see" –

 

President Theodore Roosevelt, 1903