Jim Laurent and His Brahman Cattle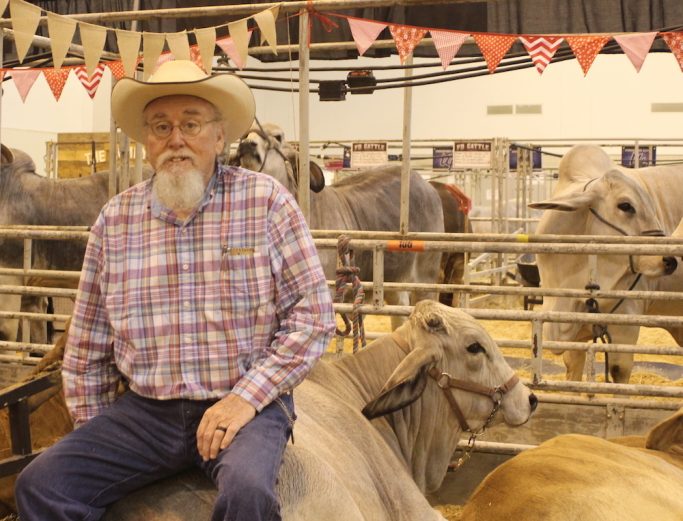 Jim Laurent is relaxing with a book in the straw-filled "home" he and his wife share in the cavernous exhibit hall.  Their area is neatly swept, and a crockpot of chili is simmering on a cloth covered portable table.  The background noise is a constant and comfortable lull – goats, pigs, and cows bellowing to get attention.
One of the largest and richest rodeos in the world, the Houston Livestock Show and Rodeo runs for 3 weeks every March. Drawing city slickers and rural folks alike, the show promotes the agricultural sciences and funds millions in scholarships for Texas college students. 30,000 volunteers pull together to put on this first class event to include nightly concerts  (Garth Brooks performed twice this year), wine auctions, art contests, fabulous bbq recipes, and livestock bidding.
From a small town in East Texas, Jim and his wife make the rounds of southwest livestock shows with their floppy-eared, humpback Brahman cattle. Fourteen years ago his daughter, heavily involved in 4H, successfully chased and haltered a calf in this very rodeo's calf scramble.  For city dwellers, picture 100 or so kids running after a handful of nimble calves around the dirt-covered floor of a professional football stadium.  For the fortunate few who drag their haltered – and often uncooperative – calf to the special area of the arena, they receive money to put toward purchasing their own "project calf."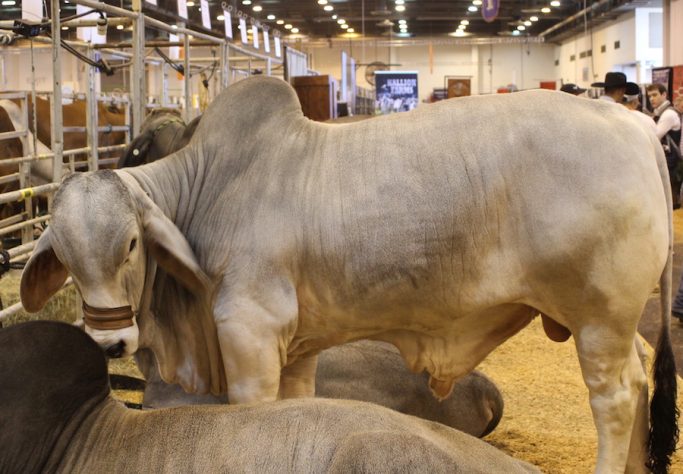 And that's how it all began. Now retired from the poultry business, Jim used to travel around to farms and advise chicken growers on matters concerning nutrition, health, and conditions.  Nowadays, he spends his days surrounded by 18 head of Brahman cattle.  A Vietnam combat veteran, Jim says these docile creatures "soothe his soul" and are comforting to him.
As I listen to this kind-hearted cowboy with a Southern twang talk about his war experiences, I realize Brahman cattle are different from the livestock I encountered growing up in the Midwest.  With their floppy ears and signature hump, Jim explains his Brahmans are a lot like dogs, like pets.  Each with their own loving personality, they are intelligent and respond well to humans. "I talk to them," he says, smiling broadly.  "And they listen and don't judge!"
On Jim's acreage, he likes to sit in a folding chair inside the calves' creep pen.  This is an area older cattle are too large to enter, and babies come to eat the specially fortified creep feed.  When the Brahman calves see him heading towards the pen, they race from the pasture with ears and tails flying to greet him. The calves know he is their friend. "When you work with them, they know you," Jim smiles.  Just like a dog, they love to get their rubs and scratches. And it's good for Jim too.
In a perfect world, Jim will sell his cattle to Agriculture kids (4H, Future Farmers of America) for their projects and head back home with an empty trailer.  How does he feel about parting ways and leaving his hoofed friends behind?  With his barrel laugh and big grin he says "That's what it is all about." 
"Rodeo bulls used to be Brahman bulls, giving the gentle creatures a bad rap."
One of his cattle may bring $5,000-$10,0000.  Animals from bigger, fancier ranches will go for as much as $35,0000.  After all, this is the International Brahman Show, the biggest Brahman show in the world.  Breeders from South America, Mexico, and even Thailand will buy and then ship the cattle to faraway countries for breeding purposes. 
Petting Sabine, the 1500 pound gray female at Jim's feet, I am happy to hear Brahmans are often raised only for breeding purposes in the U.S., and not always for their meat.  Resistant to heat and disease and pests, the thick-skinned Brahmans do well in the hot and humid summer months.   They are sometimes raised to breed with other types of cattle, such as Angus.  Sad for this animal lover to hear, those offspring will be led to the slaughterhouse and sold for the Brangus beef we find in grocery stores. 
With a new theme every spring, Jim's wife and daughter have lots of fun naming the new calves.    Chuckling, Jim points out Boone's Farm and Chianti lounging in the straw, the products of a "wine year."  Roaming their ranch are cattle named after the Game of Thrones series, the musical Hamilton, and Texas rivers.  Christian Grey and Anastasia Steele, from 50 Shades of Grey, were big barn favorites when they came to Houston a few years ago.   Happily and proudly, Jim announces this year's theme is Famous Texas Democratic politicians!
According to Jim, the Brahman's hump is a combination of muscle, tissue, and fat.

 

People sometimes, most often outside the US, cook the meat – low and slow, like brisket.
Jim's daughter, now grown and working in San Antonio, TX, completely funded her Bachelor's and Master's degrees at Texas Tech University with scholarship money she earned showing her family's beloved Brahman cattle.  This year ALONE, the  Houston Livestock Show and Rodeo has committed more than $26 million to scholarships, the calf scramble, youth exhibitors, and other educational programs.  This is the purpose of  the huge extravaganza year after year.  As Jim put it so well, "That's what it's all about."