Apron Strings-Trust and Thank and Pray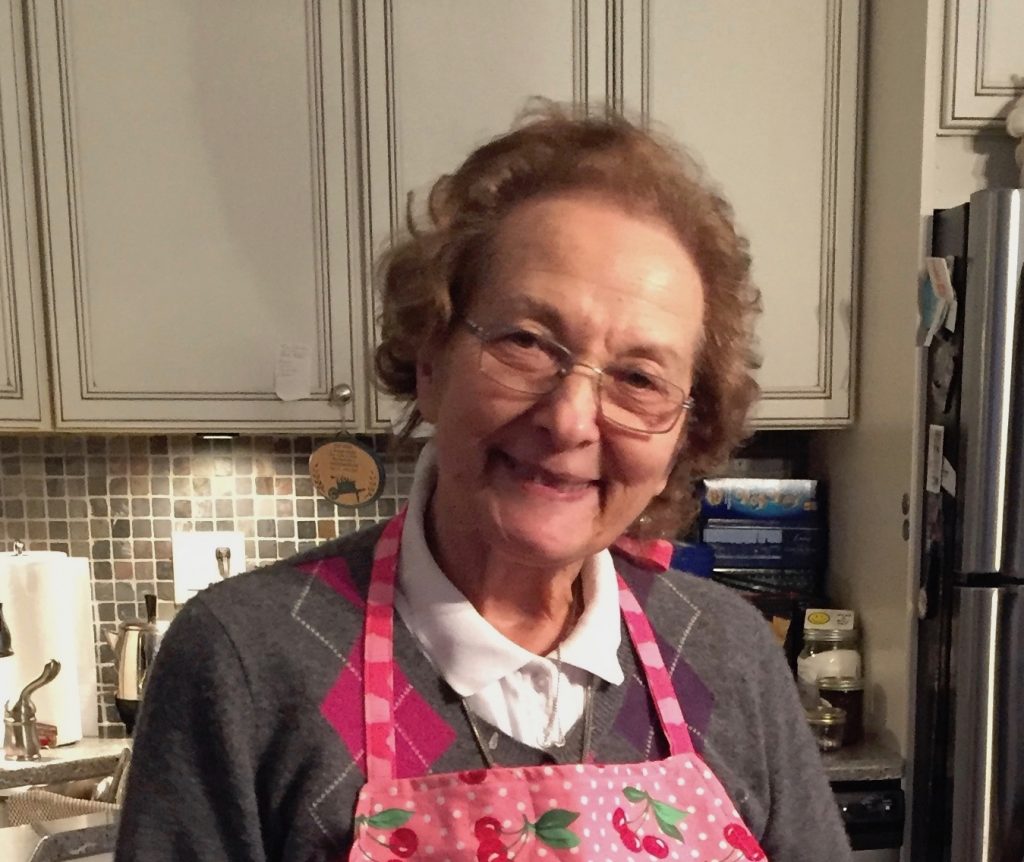 We've certainly had our share of disagreements,  but Meme has consistently made me feel adored, cherished, and respected.   She hasn't missed a chance to proclaim how lucky she is to have me as her "other daughter."  Despite all my mistakes, and on my worst days, she has  gushed about what a great wife and mother I am.  I truly love my mother-in-law.
Meme  was always there for me – despite being hundreds of miles away.  She was the one who stepped in to help after  both our babies were born.  She comforted and advised me, in the middle of the night, when her grandsons were sick.   When I telephoned, she  stopped  whatever she was doing to offer advice or listen to me vent about life – which often meant  her son.  She was there when we moved our small boys and dogs to Houston.  "We are  building memories," she liked to say.
Meme's passions were sewing and church.  Sewing did not interest me,  but I enjoyed listening to stories about her Bible studies and relationship with God.   During our family moves and struggles and life bumps, she helped put concerns in perspective and reminded me that God always has a plan.  He works to make good come out of all situations.  My job was to trust and thank and pray.
After our  sons went off to college,  I talked with Meme almost every day.  She was interested to hear how I was coping with our quiet house, what was going on in my world.  Without judgement, she listened to my worries and fears and continually encouraged me to trust the plan God has for me. 
Time has changed the circumstances  for both Meme and me.  Meme now struggles with Alzheimers and  doesn't remember most people or events.   She can no longer  travel and doesn't like to be away from home.  Our  phone calls are limited to conversations about events that happened decades ago. 
Coinciding with her decline, my husband and I moved to a new city.  Although I have now found my happy place here, I was less than excited with our new adventure.  I left good friends and a full life behind in Houston.  I longed to pick up the phone and have Meme reassure me, tell me she was praying for me, tell me that God has a plan in place, that good will come.  I wanted her to hug me and tell me it was all going to  be ok. 
Attempting to acclimate to our new city, I enrolled in a sewing class.  Why?!?!  friends and I, myself, wondered.   I guess I needed a creative outlet in my new place, and maybe I hoped  to share some things with Meme.  I wanted to tell her what I was learning  and have her possibly remember how she used to sew.  My first project was a brightly colored, flower patterned apron.   I wrapped it up and shipped it to Meme – the one person I hoped would be excited. 
She WAS  excited and and exclaimed over and over  and over about the simple apron.  And she continued to exclaim.  She put that apron on every day – not for cooking or cleaning.  She wore it over her clothing  and proudly proclaimed to  everyone she encountered that her wonderful daughter- in-law made it for her.  Over and over again, every single day.
Well- I decided if  Meme was going to dress in an apron everyday,  she needed a bit more of a wardrobe.  So I got out my sewing machine and made aprons for her.   Bunnies for Easter, pumpkins for October, a variety of Christmas styles.  Beach umbrellas, fish, whales.  She loves every one.
I can't know how much longer Meme will remember who I am or recall where the aprons actually come from. So for now, I am happy to  see her excited about something she can recognize – and I thank God for that.   I thank God for the mother-in-law I  have known- the one who provided the support I needed for myself and my family.  The one who taught me about faith and prayer. 
Although I am frightened to totally lose her to this disease, I can hear her reassuring me – telling me I can do this – accept where she is.  This is God's plan.  Out of all the horribleness and the messiness, good will come.  Trust and thank and pray.