Soups to Warm Up Your Winter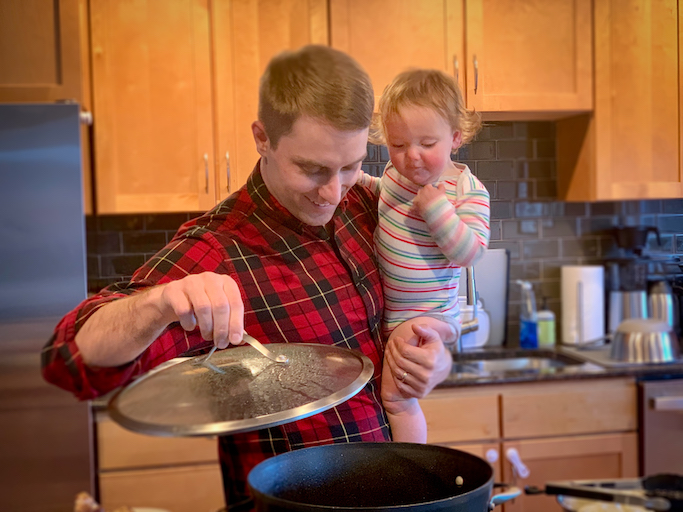 Outdoor dining has screeched to a halt—at least in my part of the country. The holidays are over, the decorations are down, and it's dark by 5:30. The cold, dreary months of January and February stretch before us.
To combat the winter blues, my friend, Janet has developed a coping mechanism. Instead of grumbling about the short days and freezing temps, she adopts a positive attitude. "Hurray," she says. "I get to read more books, plan my spring garden, and make soups."
So, January, here we are. I get to make soups! And here are a few I've tried….
Creamy Tomato Basil Soup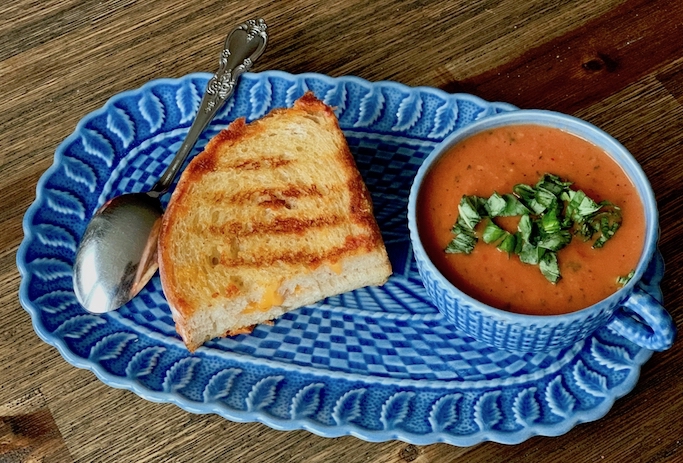 One of my favorite things in life is a grilled cheese sandwich. Pair it with a bowl of steaming, creamy, tomato basil soup, and I am one happy gal. Best comfort food there is! This soup, from Ashlea Carver Adams, is a healthier version of the one I used to crave at La Madeleine, a little French bakery and cafe in Houston. In her recipe, instead of the heavy cream, Ashlea uses coconut milk (Greek yogurt works too). Although the basil gives the soup a lovely taste, I've substituted spinach in a pinch. It freezes well, and I'll be making it again and again.
Chicken Noodle Soup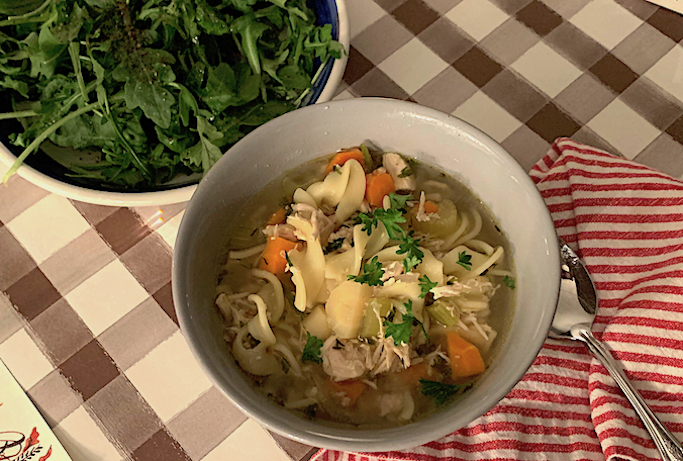 This soup, from Corey at Family Fresh Meals, is the perfect cure for the wintertime blahs. Pulse the vegetables in a food processor, dump the ingredients in a slow cooker, and check make dinner off the list. The recipe calls for two cups of egg noodles—I throw in an extra handful. Makes enough for lunch the next day or two. A favorite in our house!
Rosemary White Bean Soup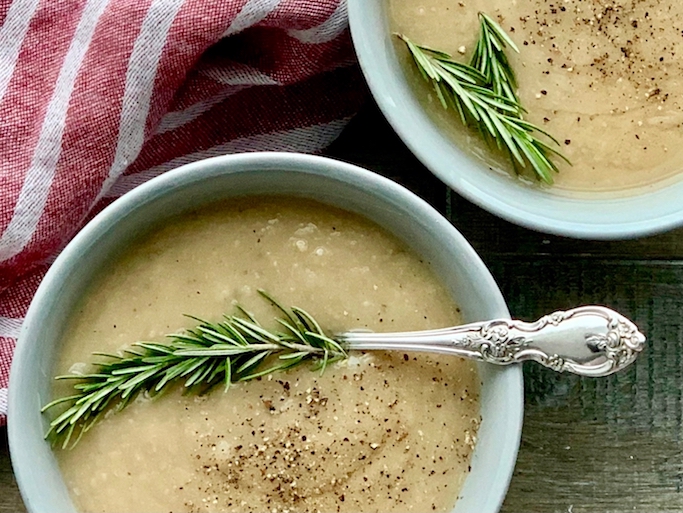 When you want a meatless meal, this soup, from Ina Garten, the foodie guru behind the Barefoot Contessa, is a longtime favorite in our family. Plan ahead for this recipe. The beans—I can never find dried cannellini, so I sub northern—must soak overnight. A food processor (a 2020 birthday gift to myself!) comes in handy to slice the onions, and an immersion blender gently purees this healthy, light soup. And the fresh rosemary branch makes the house smell wonderful.
Crockpot White Chicken Chili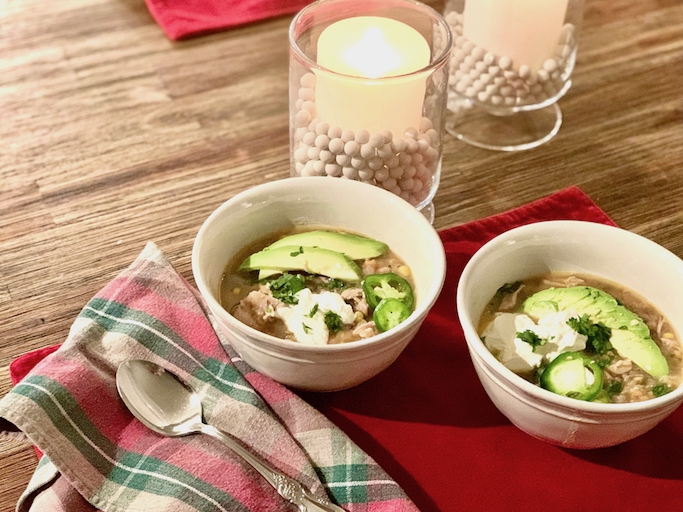 Thanks to a slow cooker, this flavorful, warm hug of a soup/chili comes together quickly. While we dismantled our holiday decorations on New Year's Day, the soup simmered for three hours. Instead of chicken breasts, I used the same weight in thighs. The market was out of frozen corn (?!), so I substituted half a can of drained corn. To brighten the taste, we threw in extra lime juice. Some of the website reviews mention the chili has a watery consistency, but I didn't find that to be true. I thought it was just right!
Black Bean Soup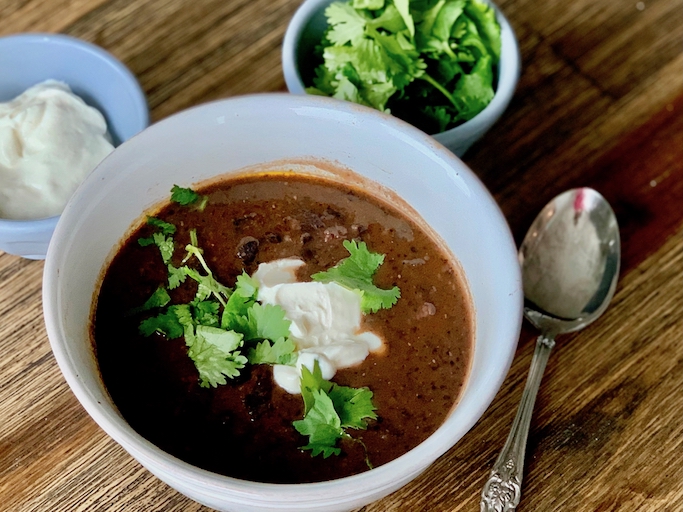 You knew I'd have a Defined Dish recipe on this list! Alex's is one of my go-to recipe sites, and she never disappoints. How can a soup with bacon be anything but delicious? This mighty soup is packed with fiber and protein and makes a perfect lunch. (And we're both around for lunch every single day…) My tip—I used a few slices of jalapeño instead of serrano pepper. Also cooked the beans an extra 30-ish minutes.
Lentil Soup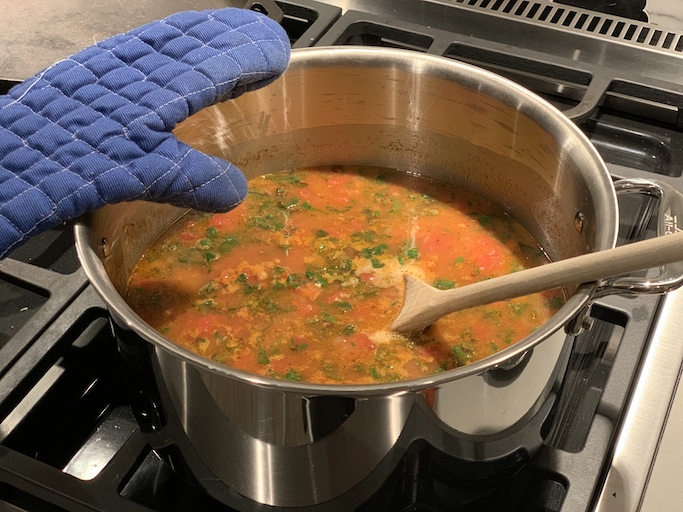 "Let's make a lentil soup," my husband has been saying for weeks. It's not my favorite type of soup, but I finally gave in to his wishes. And, I have to agree with Kate (and her crumb-catching, canine companion, Cookie), her recipe is the best lentil soup. I subbed what I had on hand—chicken broth instead of vegetable broth, swiss chard for the greens. Since I detest washing my regular blender, my little immersion blender made Step #5 a breeze. Mark likes a spicy kick, so he sliced jalapeños on top of his bowl. And declared it "Great—a definite make again." And I agree!
All photos by Pam