Kelley Teckman – Food Stylist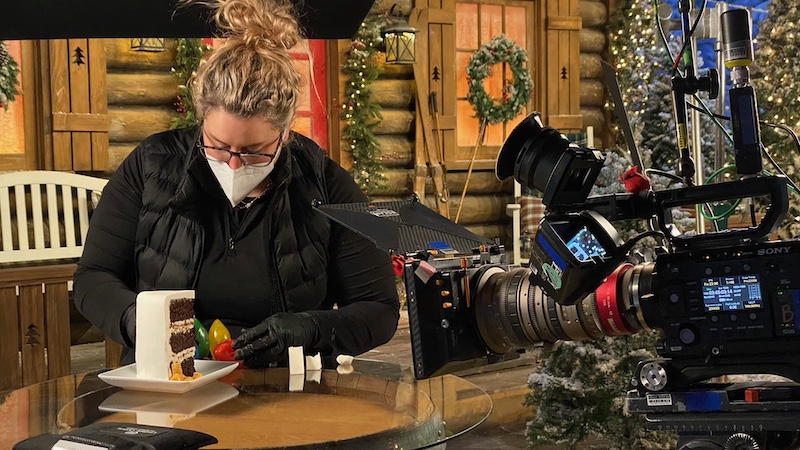 A few years ago, I had lunch with an author who was in Nashville to promote her new cookbook. I wondered, after a late night flight, how she'd organized and prepared the dishes she'd cooked on an early morning television program. "Oh no, the food stylists do all that," the author said. And I wanted to learn more.
Kelley Teckman, in her mid-thirties, has already had a lot of enviable career experiences. After being the fourth generation family member to graduate from Miami of Ohio, she set off for Los Angeles in search of tv or film work. 
Several Years at NBC
Anyone remember Kenneth the page on 30 Rock? It's a real gig. Kelley applied for a coveted NBC page position, a year-long management training program with various assignments in NBC departments. "It was a great way to learn, gain experience, and network," says Kelley. 
The competitive program helped her land a position on The Tonight Show with Jay Leno. After a stint settling audiences and giving studio tours, Kelley booked the late-night talk show's musical guests. When Jay Leno ended its twenty-year reign (Jimmy Fallon brought his own crew), Kelly moved on to NBC's comedy development group. 
In this department, she sifted through scripts, searching for promising plot pitches. If studio bosses liked an idea, they gave the developers a stipend to make one episode—a  pilot. Major advertisers reviewed hundreds of pilots at "upfronts" in New York City each May. After watching the pilots, advertising executives determined the shows they'd put their money behind and which would make it to television. 
Kelly earned good money, enjoyed her job, and gained valuable experience. But, like so many millennials, she wanted to follow her heart—and wasn't afraid to make the necessary changes. 
A Change to Food
At the Culinary Institute of America, in Hyde Park, NY, Kelley honed her baking and pastry skills. She'd always harbored the idea of opening a bakery someday or maybe trying her hand as a food stylist. 
"Food stylists do so many different things in various branches of the industry," says Kelley. Some develop recipes for television, cookbook authors, or social media stars. Others artfully arrange the food and props in photo shoots. Many work behind the scenes on television shows to organize pantries, assemble ingredients, or shop for and inventory groceries. 
Most food stylists work on freelance assignments. Kelley began her food career testing recipes at America's Test Kitchen's massive Boston seaport headquarters. "ATK is known for having reliable, works every time recipes," she says. So Kelley fine-tuned, for example, a lemon cake recipe. Over and over and over—in a gas oven, an electric oven, various rack positions. She baked the cake in glass and metal pans. Will the cake turn out well if the home cook doesn't own a scale?
Competition Show Food Styling
Nowadays, she tackles food stylist assignments for the Food Network and its popular shows centered around chefs, cooking, and eating. With her dog in tow, Kelley travels wherever the episodes film—including LA, New York, New Orleans—and lives out of hotels or Airbnbs for months. "I'm paid well for the 12-16 hour days," says Kelley, who loves learning about food, ingredients, and cooking. 
And no two days are the same.
"I do a lot of competition show work with the Food Network," says Kelley. For Beat Bobby Flay, she utilizes her "tools of the trade" to make a pan of lasagna appear bubbly and tempting and delicious. A spritz of vinegar fluffs flat salad greens or veggies. On Holiday Gingerbread Showdown, Christmas Cookie Challenge, or Easter Basket Challenge, she paints canola oil on the sweet creations, so they appear shinier and prettier. For funny, lighthearted Worst Cooks in America–one of Kelley's favorites—she works onstage and communicates "between on-air talent and the control room."
Behind the Scenes Food Styling
And, like my cookbook author friend…When a cookbook author or celebrity appears on tv, someone like Kelley preps the segment. A team of people behind the scenes prepares each stage of the recipe.
A food stylist passes the "talent" a mixing bowl, and she (the talent) adds a few premeasured and neatly displayed ingredients. As the camera cuts, a food stylist hands over the batter. Back on air, the talent stirs, smiles, and talks to the camera. It's the same process for the dish going into and coming out of the oven.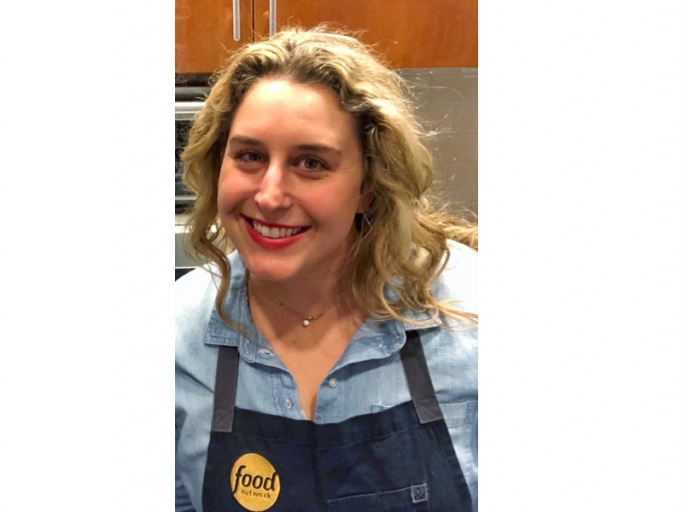 When Kelley has free time back in New York, she bakes dishes to sell on the Wood Spoon app. She specializes in comfort food and prepares servings of lasagna, enchiladas, biscuits, quiches, and soups for NYC residents searching for a home-cooked meal.
Photos courtesy of Kelley Teckman