Karen-Lee Ryan – Walking Food Tour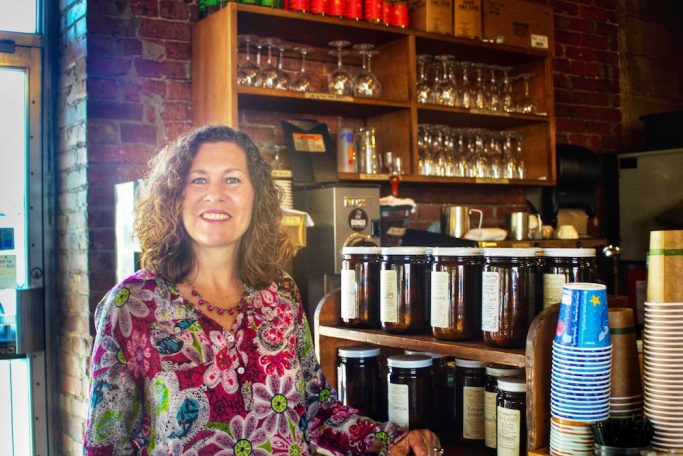 Whether exploring a new city or tracking down a coffee shop in my own town, I prefer to park my car and set out on foot. When I meander through a neighborhood, I notice flowers and window displays and people I don't see from the backseat of an Uber or behind the steering wheel of my car. And – even more fun still? – wandering through a community while devouring cuisine from the best local chefs.
Determined to get out from behind her journalism desk, Karen-Lee Ryan longed to move around, interact with her East Nashville neighbors, and share her passion for the city with others. Also one who enjoys a nice walk, Karen-Lee spent a portion of her strolling time contemplating what type of walking tour business she could bring to Nashville.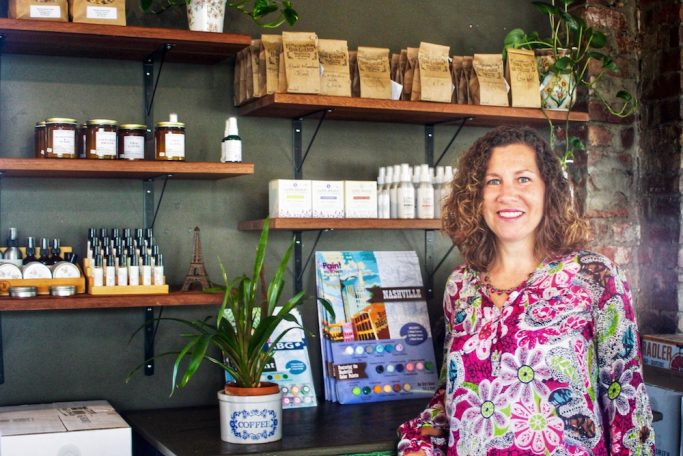 And then – problem solved. Returning to Music City in 2014, after a stint in San Antonio, Karen-Lee discovered "the city was absolutely exploding with a new and vibrant culinary scene." She knew she "just had to incorporate food" into her new venture.
Karen-Lee and her team of Walk Eat Nashville foodie storytellers usher guests through the streets of East Nashville's Victorian homes, Downtown's museums and honky tonks, and Midtown's Vanderbilt campus. Listening to the tour guides describe the history of the area while stopping for fine cuisine at Etch, bbq at Edley's, seasonal samples at The Farm House, or hot dogs at the I Dream of Weenie truck, visitors and locals enjoy learning how Nashville evolved into the "it" city it seems to be today.
"If more of us valued food and cheer and song above hoarded gold, it would be a merrier world." 


― 
Settling in at Marche Artisan Foods, a stop on her tour since the  beginning days of Walk Eat Nashville, Karen-Lee steers me through the French-inspired brunch menu in her easy, rapid-fire style. Describing the dishes with perfect adjectives and just the right amount of flavorful commentary,  her enthusiasm for whatever is going on around her is contagious. A "grab life by the horns" sort of gal, she mentions a Ryman concert, symphony show, beach walk in Florida, and movie at the Belcourt. All this past week.
Watching me dig into my fruit tartine with luscious strawberries and marscapone, Karen-Lee admits she eats out "a lot." Popping in for a meal or coffee at each Walk Eat Nashville spot once a month, she likes to check in and be present with the chefs and owners supporting her tours. Such an unfortunate part of her job…..
Her solid stable of thirty-five restaurants includes some of the best and brightest places in Nashville – Husk, Union Common, Butcher and Bee, Elliston Place Soda Shop, Five Points Pizza, Margot Cafe and Bar. "I want my restaurant partners to know how much I love what they do," says Karen-Lee. 
Although "beg" is a strong word, I am guessing Karen-Lee, like most other new business owners, had to do some serious selling to get the first few restaurants to commit to her walking tour. Fortunately, the folks at Lockeland Table – possibly my favorite restaurant in the city – immediately embraced her idea. And when you have Lockeland Table – a former dry goods store with a streetcar stop outside – on board, restaurant partners two and three and four come a bit easier.
Several years back, Karen-Lee and her husband packed their belongings, loaded their camping gear, and headed out from their journalism desks in Washington DC. With no jobs and no specific destination in mind, they were "literally in search of a change and a place to call home." Filled with trepidation about starting over in a new city, Karen-Lee finally told herself, "If I am not happy, I can always move on."
Landing in Nashville, "was like closing my eyes and throwing a dart at a map," she laughs.  Although a much smaller city then, it just felt right – it felt like home.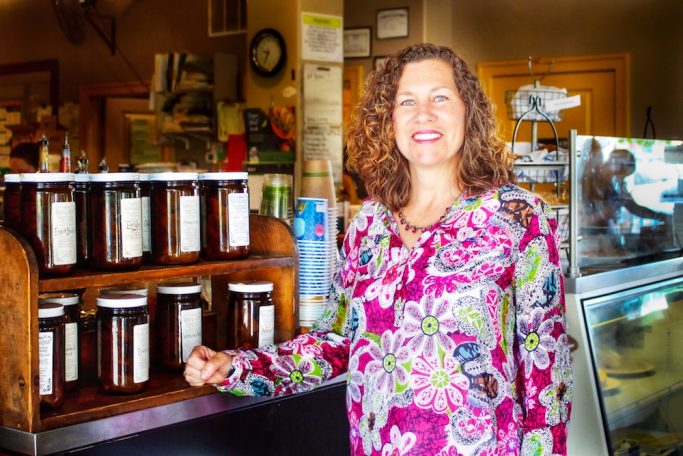 From personal experiences, we both agree living in various places teaches us to be open to new and different things. Moving around was difficult as a teenager, – from Boston to Milwaukee to Cincinnati – and Karen-Lee learned to be resilient and receptive to everyone. "I was always the outsider trying to fit in," she recalls. "Now I am the one who makes a new friend before I reach the front of the coffee line," she laughs.
People sometimes ask a startled Karen-Lee if it becomes "tiresome" leading the tours week after week. "I get so much joy introducing people to the places I love," she says. The chefs are excited to welcome the tours, and many make a new dish for the groups every single week. Guests receive a real dose of southern hospitality, and Karen-Lee gets to shine a spotlight on her wonderful community. "Believe me, this will never get old," she smiles.
I always recommend Walk Eat Nashville tours for visitors to Nashville. They also make great gifts for locals! Make sure to plan ahead – tours book quickly.