Eat Me Ice Cream – Rochester, NY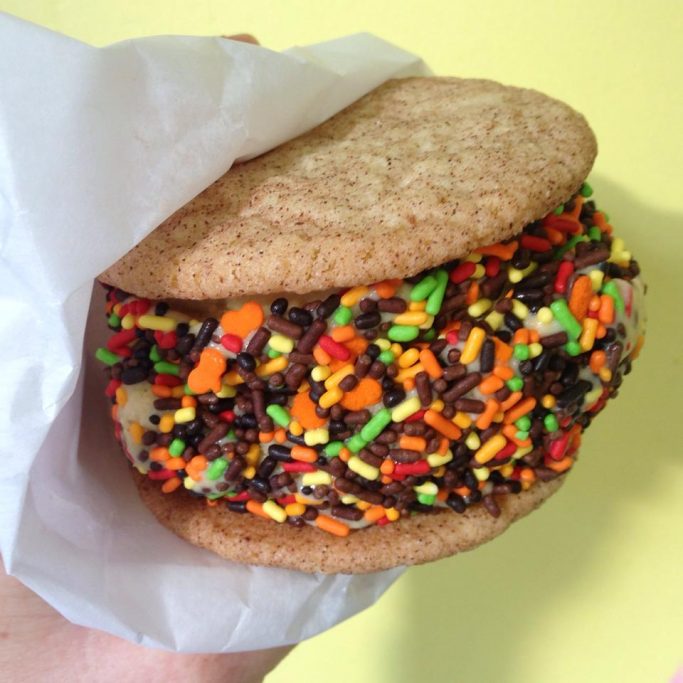 Concord grape ice cream, topped with a homemade and torched cinnamon marshmallow sauce, nestled between two homemade, and very special,  graham crackers
Sweet corn ice cream, spread with a black currant jam, on savory jalapeño corn meal cookies
Fresh mint ice cream, covered with a velvety mixture of white chocolate and crunchy wasabi peas, sandwiched between two extraordinary sugar cookies
Scrolling through the Eat Me website is a luscious experience.   Every flavor has its own mouth-watering, and somewhat seductive, photograph and description.  Visiting this small batch, Rochester, NY ice cream company – and sampling their amazing flavors –  is even more of a treat!  The craft ice cream start up specializes in creative and decadent ice cream sandwiches, also producing pints, pops, cakes, and more for restaurants, groceries, and special events.
The Eat Me kitchen is a whirlwind of activity on this Wednesday afternoon.  Housed in Rochester's repurposed Hungerford building, the ice cream start up resides alongside artist studios and offices in the gentrifying, hip, historic section of town.   Today's three flavors on the production line – salty caramel, vanilla coconut, and coffee bean – are spinning in mixers and simmering on the stove.   Although I have arrived on a "rather vanilla day", according to co-founders Amber Odhner and Catelyn Augustine, the smooth and creamy swirling masses of delight don't look at all boring or basic to me.  I am tempted to grab a spoon and dig in as the heavenly concoctions are ladled into a variety of artistic containers. 
Both artists-at-heart and by training, Catelyn and Amber refer to themselves as spirit whisperers.  When prodded for a definition, Catelyn replied "we try to be quiet and open and use our intuitions.  We try to tap in to our surroundings through guidance and observation."   Touchy-feely stuff aside,  when these young women get going, they talk fast, and you see their determination and drive and ambition and focus.  Barely 30, Amber and Catelyn are the kind of young women you really want to succeed.  They have poured their hearts and souls into this endeavor.  No family member or wealthy friend gave them money to play with in order to get their business up and running in 2011.   Aside from a $10,000 cash prize for placing third in a Creative Startups competition in 2016, old fashioned hard work, perseverance, and lots of trial and error have propelled them to where they are.   Since Eat Me's inception, Catelyn and Amber have seen a nice uptick in profits, most of which go back into their business.
So –  how do two young artists and yoga lovers go about starting a craft ice cream business? High school lacrosse teammates, the pair went their separate ways after graduation.  Amber studied painting in college, while Catelyn's love for colors and fabrics took her the textile and fashion route.  Reuniting in Rochester a few years later, they enjoyed researching food trends and studying different flavors and textures.  They ordered a $40 two-quart ice cream maker from Craig's List, "when it was still cool", and experimented with ice cream recipes.  In Amber's  kitchen, they invented and baked cookies to complement their unique ice cream flavors.  Their goal at the time was to "make a product and get it to Rochester's Public Market."   They "wondered if other people would like our sandwiches as much as we did?"  Yes – other people did!  The Eat Me ladies, dispensing sandwiches out of a customized giant trike,  sold out every weekend and word spread about their sweets.  Catelyn and Amber discovered their faithful customers liked, and continued to buy, any of the flavors they concocted.
Spring is their favorite time for masterminding flavors.  The Finger Lakes growing season, and what's sprouting in their own gardens, inspire them.  The region's pretty purple lilacs in bloom bring – what else?! –  lilac ice cream to the Eat Me kitchen.   Amber and Catelyn pick the flowers at their homes and process them, eventually churning out a gorgeous mixture of pale violet.  Asparagus with black pepper caramel is coming in early June, and lavender goat cheese is also on the production schedule.  How does  crystallized ginger "with a hint of cashew curry coconut" sound?   Amber described their new dark chocolate as "irresistible" and "my current boyfriend."   This was my first time to try, and like,  IPA ice cream.  The slightly hoppy dessert and IPA milkshakes are on tap for an event with a craft brewery next weekend.   Also offering  a large variety of coconut milk  flavors for their vegan following, the duo continues to dream up offbeat and imaginative flavors.
A blue cheese and celery ice cream cake adorned with spicy chicken wings was a hit at a recent birthday party.  As unappealing as it may sound to some (me included), the birthplace of the hot and spicy chicken wing craze is, after all, western New York.  Taco sammies are another often requested creation receiving rave reviews – homemade corn cookies filled with spicy tomato, pinto bean, and avocado cilantro ice cream.  Catelyn  winced as she recalled a couple of flops along the way.  "We discovered beets do not blend well into goat cheese.  What a mess!" she said.  Or the time, early on, when they didn't temper the eggs in their ice cream base the correct way.   The error turned out scrambled egg ice cream – what everyone wants for $10 a pint! 
With their boundless creativity and self-taught business savvy, Catelyn and Amber are an impressive team.   Aside from handling the administrative tasks, Catelyn enjoys  the business development side of Eat Me, working with restaurants, hotels, and even ballparks.  Amber is, in effect, the plant manager –  ordering ingredients, coordinating packaging, and organizing production schedules.  They have a part-time employee who assists them on production days and a long-time baker who, using secret recipes, makes hundreds of special sandwich cookies each week.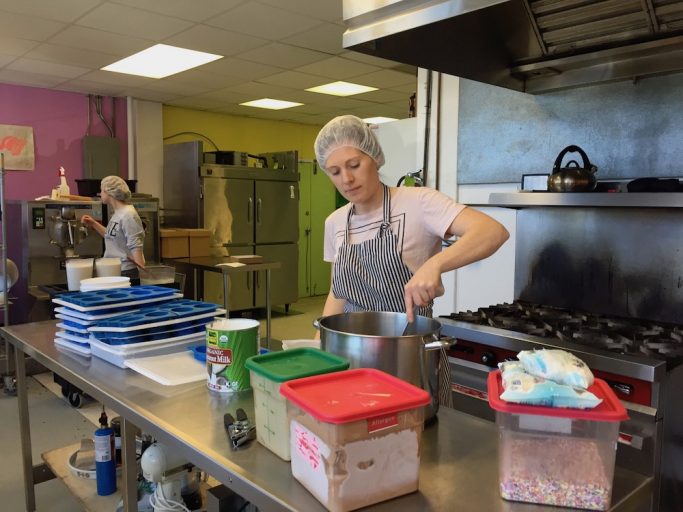 "There is so much happening with craft food right now.  We want to be innovators and influencers," remarked Amber.  According to Catelyn,  "Although young and old enjoy our product, millennials are our target market.  They are generally clean eaters and are done with dyes and artificial stuff in their food."  The women discussed how, with craft foods, we are seeing the true cost of food.   Good ingredients are expensive, while  "poor food is cheaper."
Do they ever get tired of tasting ice cream?  "No!" they reply in unison.  As Catelyn says,  "When we taste the ice cream, we realize why we are doing this."