Nancy Davis Kho – The Thank You Project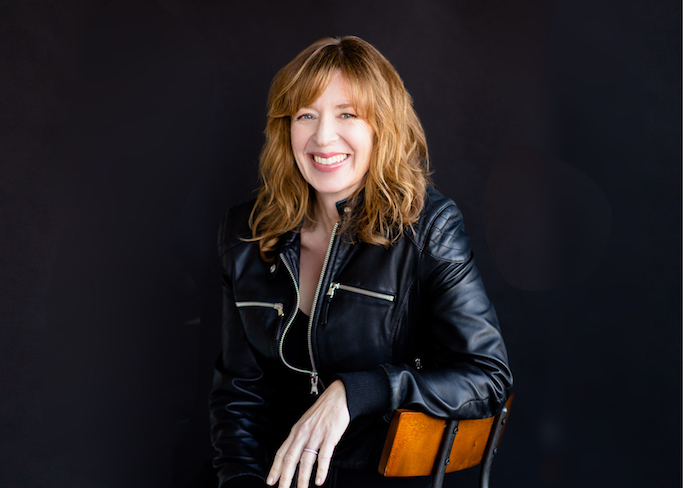 Studies about the benefits of gratitude are plentiful. If we write in a daily gratitude journal or jot down three things we are thankful for each morning, happiness levels increase. Instead of seeing the negative around us, as humans tend to do, gratefulness will help us to view our world in a more positive light.
As she approached her 50th birthday, Nancy Davis Kho put this gratitude theory to a test. She set out on a mission to write thank you letters – the almost-obsolete kind you pop in an envelope and drop in the mail  –  to those people who had helped, shaped, or inspired her over the years.
Every Friday afternoon – when her work-from-home business development job wrapped up for the week, and it was still too early to pour a glass of wine – Nancy sat down to write.
"We tend to take the people we love the most for granted," says Nancy. And so, as she outlines in her book, The Thank You Project, she began her undertaking with letters to her husband, parents, and two teenage daughters.
Over the course of 17 months and 52 letters, Nancy penned thank you notes to close friends, colleagues, herself, pets, events, and, even, her home city of Oakland. This thank you letter exercise reminded her a slew of other people – and things –  have contributed to her makeup. She didn't get to where she is alone. None of us do.
Nancy didn't mail every letter she wrote.
We all have those people in our lives. The ones we struggled with and realized, when we connect the dots years later, they shaped us into who we are now. In a good way.
Ex-loves who taught us what to look for – or avoid – in relationships. The angry parent we might have had who modeled behavior we don't want to repeat. Events which, at the time, felt like failure but were actually stepping stones to a good place. "We can be thankful for the hard times in our lives," says Nancy.
Her project became a positive loop. Nancy found it easier and easier to find reasons to be grateful. "Yes," says Nancy, "it has changed the way I look at those around me. I am more forgiving, less quick to judge." She is better at "turning a blind eye" to the unimportant stuff and letting the little issues go.
Gratitude turns what we have into enough.
Music is Nancy's knitting, her baking, her scrapbooking. Like many of us, she attended concerts and followed new music in high school. And she's never stopped. "I don't want to be 20 years old again, but concerts help me remember who I was and help me reconnect with a younger me," she tells me. 
Once a month she'll "rest up," gather friends, and head to a concert in the Bay Area. Besides hosting her Midlife Mixtapes podcast, Nancy loves to read music memoirs and backstories of bands, sweat in hip hop class, and create the "perfect playlists." (I need to outsource my playlists to Nancy!)
She wrote her own midlife-crisis music memoir a few years ago. It took three years to learn it was a no-go. She was told the story wasn't enough of a struggle, it was too happy. "I was happy, and I was thankful for my happiness," she says.
And so she wrote her thank you letters. Writing letters and her subsequent book took place against the backdrop of a difficult time. Her dad passed away and her mom became ill. As she wrote, and read her letters over and over, her gratitude turned into a centering process.
"No one who achieves success does so without the help of others. The wise and confident acknowledge this help with gratitude." – Alfred North Whitehead
One of the proven byproducts of gratitude is the increased inclination to reflect on what's gone right in our lives. Referred to as Positive Recall Bias, our brains learn to dwell on the positive aspects of situations – and people. "When I sat down to write a letter, I remembered all the ways a particular person made my life better," Nancy says. She stopped clinging to what they didn't do or what went wrong over the years.
"If you could sell gratitude as a pill, you'd be wealthy," laughs Nancy.
Nancy learned thankfulness and happiness do indeed go hand in hand. Consistent gratitude helped her create "a habit of noticing and being thankful" she will carry into the next half of her life.
"The more I gave it away, the more I filled back up," she says. And her stores of gratitude are not depleted. Nancy will continue to crank out thank you letters, although at a less rigorous pace. After all, she has a long – and growing –  list of folks she intends to thank.