David Sipress – The New Yorker Cartoonist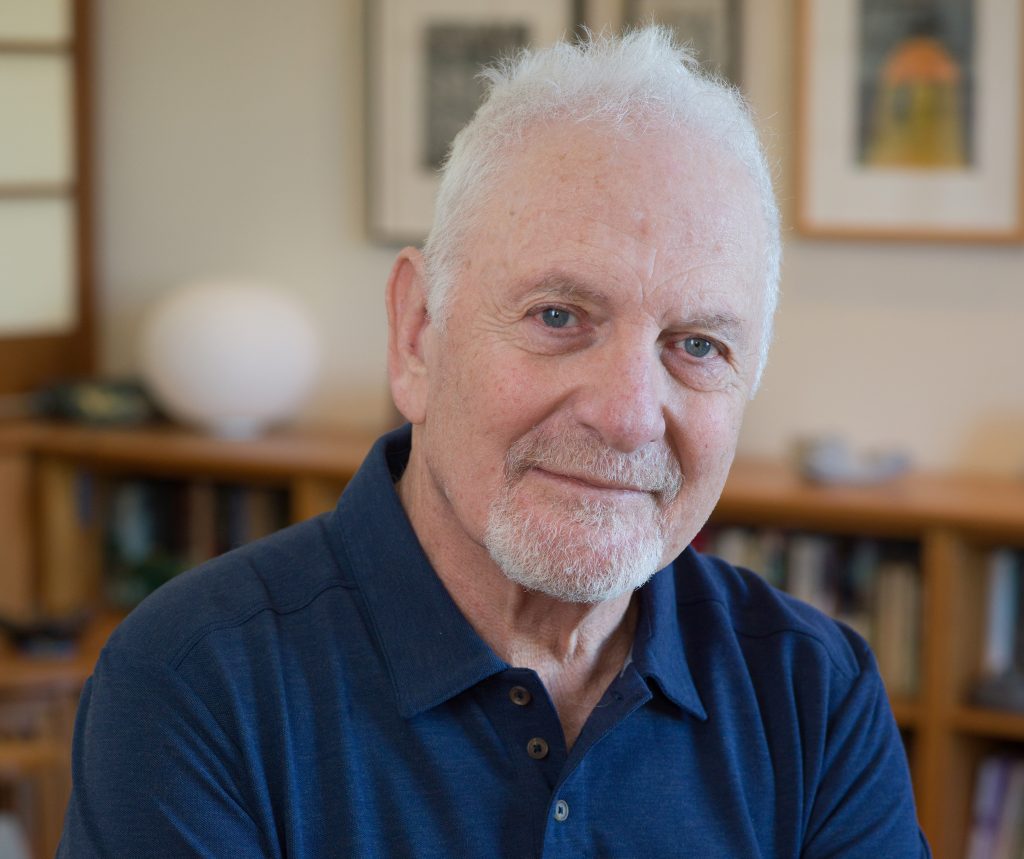 For decades, David Sipress' cartoons, depicting what most people think and laugh and worry about, appeared in "almost every magazine and publication." Except The New Yorker. He "couldn't crack the tower on the hill."
In the olden days, every Tuesday, David batched up his latest cartoons and dropped them off with the receptionist at the midtown The New Yorker office. He returned on Friday to retrieve his packet. "I'd stand by the elevator, say a little prayer, and open my envelope," says David. And there it was—a rejection slip. Week after week after week. For 25 years.
As "humiliating as the process was," over and over and over again, David continued to submit. For every cartoonist, publication in The New Yorker is the shining star, the winning goal, the frosting on the cake.
A 50th Birthday Present
And then, in 1997, the year he turned 50—and possibly due to staff changes and fresh eyes—David sold his first cartoon to The New Yorker. After he phoned his wife to share the news, David called his father. A respected East Side jeweler and Ukrainian immigrant, his dad doubted his son could earn a living drawing cartoons. "But even my dad understood The New Yorker was something special," says David.
Nowadays, as a staff cartoonist (a distinction shared by only 10-15% of contributors), David must offer the iconic magazine "first right of refusal" to his work.
And they've published almost 700 of his cartoons.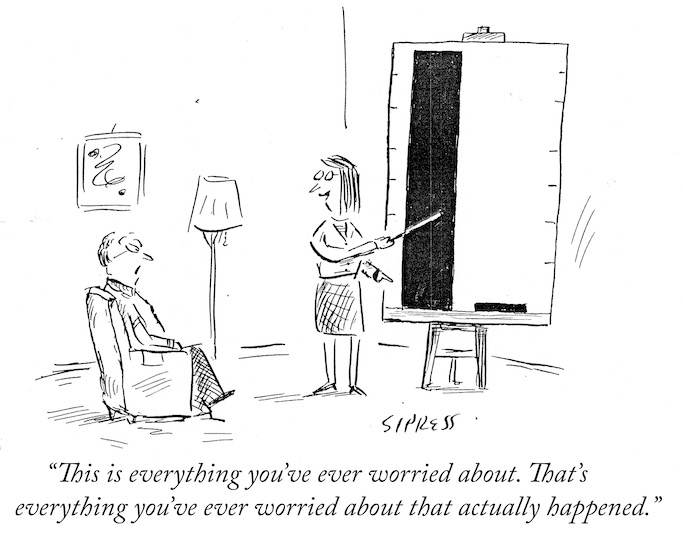 Every day, David walks fifteen minutes to his Brooklyn studio. "It's important I get up, dress, and head off to work," he says. Going to an office helps him manage the lifelong guilt his father bestowed on him—that David doesn't have a serious job.
"My creativity is a way of navigating and enduring the difficult things in my life," says David. He turns his experiences into cartoons that resonate with readers and how they feel. Readers relate to his drawings depicting current events and worrisome thoughts and aging parents. "If I can come up with a cartoon in the middle of a live situation, it gives me a bit of a window on what's good about life," says David.
Happy Accidents
When an idea pops into his mind, David dabs his Crow Quill pen into the inkpot and draws. In "one to ten minutes" he's sketched a cartoon, complete with a witty caption. He likes his drawings to show mistakes—"happy accidents"—and look spontaneous.
Although Tuesday is still deadline day, David now scans his artwork and submits "roughs" digitally. If The New Yorker accepts the cartoon for publication, he'll draw a final copy on (nice) paper.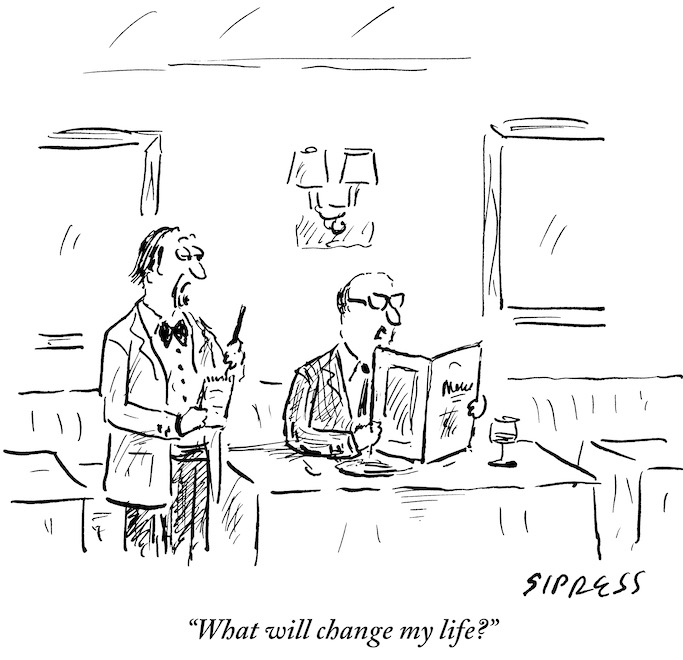 Is it difficult to re-create the same image? Sometimes he "cheats" and employs a light box, a tool allowing an artist to trace an image to another paper. "But I only use the light box as a guide," says David. He lets his "hand and mind do what they want," retaining the cartoon's spontaneous look.
In David's studio, file cabinets bulge with rejected cartoons. "All cartoonists understand the editor looks at a thousand or so cartoons each week," says David. It's a good bet they can't remember all they've seen. David will give those cartoons he likes and have been rejected a second, third, or fifth chance. A large percentage of those sold and published are cartoons he's submitted more than once.
First The New Yorker Cartoon
Back to David's first The New Yorker cartoon…When a cartoon sells, the artist doesn't know when it will appear in the publication. David's proud father scoured The New Yorker every week. He asked David—many times—if he "was certain the magazine really bought it." Sadly, the cartoon ran after David's father died.
Besides churning out cartoons, David lectures to art groups and writes essays for The New Yorker. And cooks. He prepares "almost anything you can think of in an Italian vein." Except pizza. For that, he and his wife make the 40-minute trek across the Brooklyn Bridge to Eataly. Tonight's menu chez Sipress? David will slather a chicken with butter, season with rosemary, lemons, and garlic heads, and roast it in an iron skillet.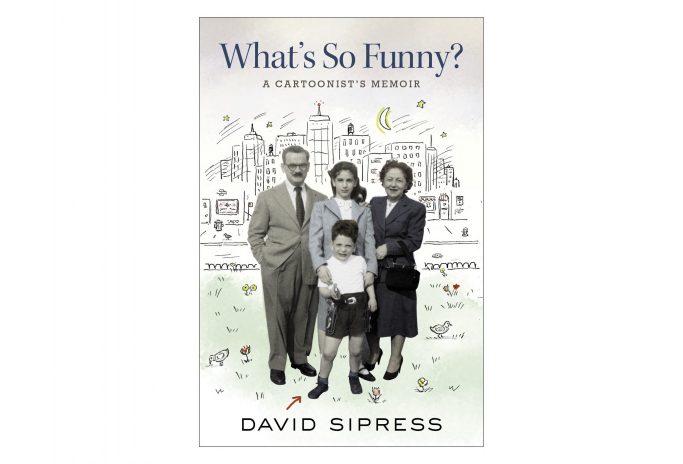 A Yankees fan—I won't hold it against him—and 30-year practitioner of Iyengar yoga and pilates, 75-year-old David can't contemplate the idea of shelving his sketchpad.
Lucky for us, we will spot David's cartoons for quite some time. "Retirement? What's retirement? Not working is unthinkable for me," he says.
Photos courtesy of David Sipress
PS—A New York City doorman, a Brooklyn photographer, and a Charlotte artist
David's book, WHAT'S SO FUNNY? A CARTOONIST'S MEMOIR is available now
To order cartoon downloads or an original drawing, contact David